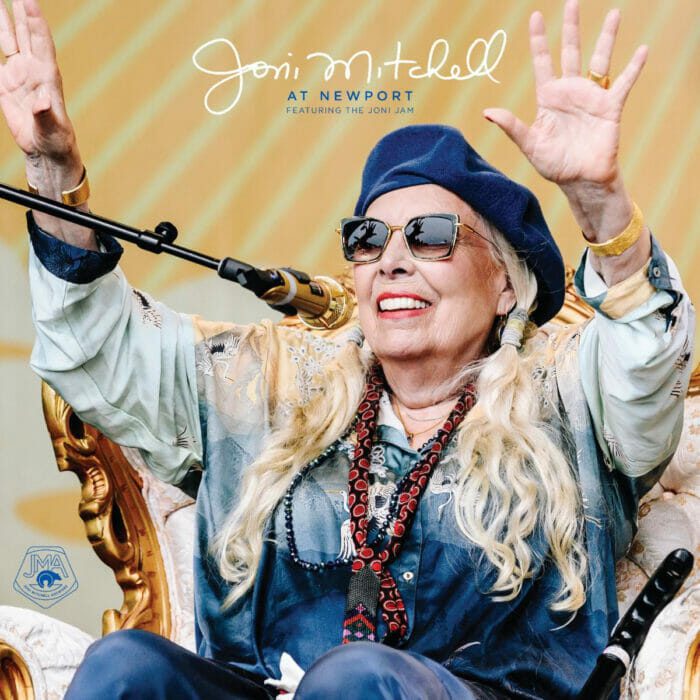 Photo Credit: Nina Westervelt
Last summer, at the Newport Folk Festival, Joni Mitchell stunned attendees when she returned to the stage for the first time in 20 years, cutting into a heartfelt set filled with her most beloved material. As a follow-up to her legendary performance, Mitchell's July 24, 2022 stand will be featured on a new live album dubbed At Newport, due on July 28 via Rhino. 
The new live set was produced by Brandi Carlile, who also helped out during Mitchell's frame at the Newport Folk Festival, along with her band and fellow guest stand-ins, Wynonna Judd, Marcus Mumford, Celisse, Jess Wolfe and Holly Laessig of Lucius, Taylor Goldsmith of Dawes, and more.
Mitchell's distinct and treasured vocals blend beside her collaborators on renditions of "Big Yellow Taxi," "A Case Of You," and "Both Sides Now." In addition to her lyrical delivery, At Newport sees Mitchell pick up the guitar for a solo instrumental take on "Just Like This Train," which appeared on her 1974 LP Court and Spark. 
The forthcoming batch of live tunes will be presented beside linear notes provided by Cameron Crowe, who writes about Mitchell's recovery from a life-threatening brain aneurysm in 2015 that led to her emotional return at Newport.
"Mitchell emerged from the side of the stage, swaying smoothly, in fine summer-style with beret and sunglasses. Her good-natured mood instantly set the tone. This performance would be an intimate gathering of friends, not unlike the Joni Jams she'd been hosting in her own living room over the last few years of recovery," Crowe penned. 
"Smiling broadly, Mitchell made her surprise appearance, taking her on-stage seat alongside Carlile. Within minutes, the news had rocketed around the globe. Mitchell was back, sparkling with enthusiasm, delivering a tender and passionate set of 13 songs, ending with a joyful sing-along of 'The Circle Game,'" the journalist, known for his Almost Famous lineage, concluded. 
Prior to the release of At Newport, Mitchell will headline the Joni Jam on June 10, 2023, at the esteemed Gorge Amphitheater in Quincy, Wash., with special guest Brandi Carlile. The appearance represents Mitchell's first-ticketed show in 20 years. The concert sold out immediately when it was announced last fall.
At Newport will be available on digital and streaming services and Dolby Atmos on July 28. A clear-vinyl version of the 2-LP set will be available exclusively from Indie Retail and Barnes & Noble. Mitchell's Newport performance of her classic song "Both Sides Now" is available today digitally. 
Pre-order At Newport now. Scroll down to view the complete tracking list. 
At Newport- CD Track Listing
1.    Introduction by Brandi Carlile
2.    "Big Yellow Taxi"
3.    "A Case Of You"
4.    "Amelia"
5.    "Both Sides Now"
6.    "Just Like This Train"
7.    "Summertime"
8.    "Carey"
9.    "Help Me" – Celisse
10. "Come In From The Cold"
11. "Shine"
12. "The Circle Game"
At Newport– 2-LP Track Listing:
Side One
1.    Introduction by Brandi Carlile
2.    "Big Yellow Taxi"
3.    "A Case Of You"
4.    "Amelia"
Side Two
1.    "Both Sides Now"
2.    "Just Like This Train"
3.    "Summertime"
Side Three
1.    "Carey"
2.    "Help Me"
3.    "Come In From The Cold"
Side Four                               
1.    "Shine"
"The Circle Game"