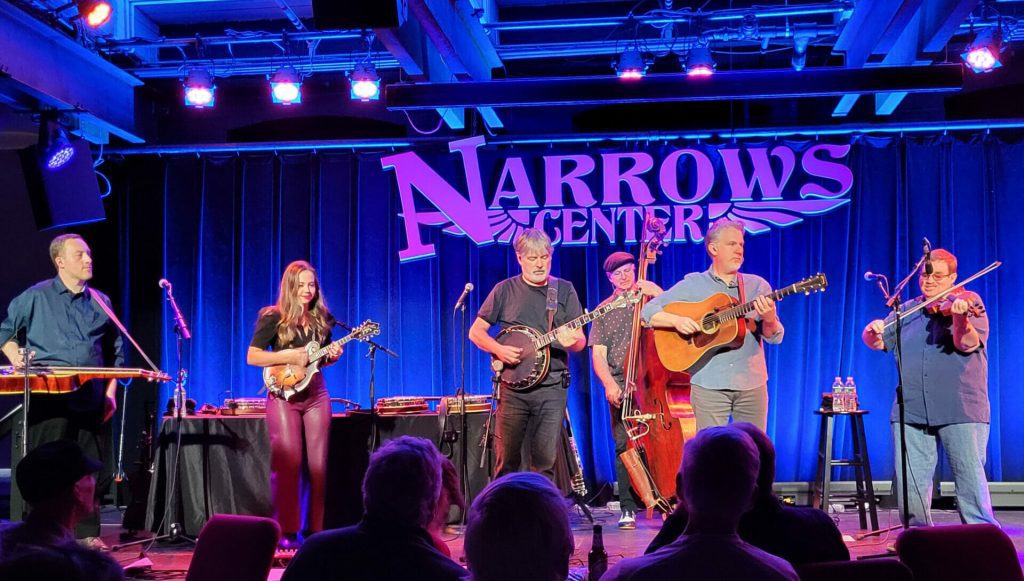 Featuring Michael Cleveland, Sierra Hull, Justin Moses, Mark Schatz, Bryan Sutton
The six musicians walked a circuitous route from their hospitality room to the stage, navigating in the shadows around the outer edge of the seated audience stretched to capacity. As they did, the crowd's applause built to a fervent crescendo. The sextet's leader- the banjo virtuoso, Bela Fleck- wryly acknowledged the very warm welcoming. "I hope we're good," Fleck said, smiling.
By the time they finished "Strider," kicking off the next two-and-a-half hours of stunningly sharp and expressively elegant musicianship, "good" was a profane understatement. As for the talent onstage, it was an abundance of riches. And in a room as intimate and historic as the Narrows, it was an evening that evoked a reverential, almost noble sense of appreciation in celebrating Fleck's affinity for the bluegrass art form.
Even as Fleck aspires to and achieves a beautifully sophisticated, yet accessible balance between the foundation of bluegrass, the swing of jazz, and the compositional integrity of classical music, it isn't without humility and humor. Banter with guitarist Bryan Sutton, or violinist Michael Cleveland, or mandolinist Sierra Hull deftly deflected from what was obvious throughout the two-set performance: these are six of the more accomplished and acclaimed players on the planet; collecting International Bluegrass Music Association awards with such frequency, each should have them named in their honors.
The evening's repertoire leaned heavily on Fleck's Grammy-winning, 2021 double-album, My Bluegrass Heart, delving early into burners such as "Vertigo," or double-helix expeditions- what Fleck refers to as the "other kind" of bluegrass- on "Hug Point" and "Charm School." Mostly the selections were instrumentals, though a few vocal numbers were on the list, including "Bound to Ride," sweetly sung by Hull and her husband, multi-instrumentalist, Justin Moses.
Moses is the group's Swiss Army knife, flanking stage right, on resonator guitar, or pairing with Fleck for the twin-banjo symmetry of "Boulderdash." Or with Cleveland for twin fiddles on a second-set "Hunter's Moon," which Fleck temporarily renamed "Super Moon," paying homage to the recent lunar event. Hull, next to him on the line, is the ensemble's generator, with her awe-inducing fluidity of rhythm and economically potent soloing, and with her perpetual motion; bopping and grooving without pause.
Sutton and Cleveland displayed their respective mastery on the opposite end, with Sutton's original, "Time Has Come," prefaced by the guitarist's call for basic conversation in this politically-charged era. It was a moment that betrayed his role as Fleck's comedic foil; that and all of his note-perfect guitar work.  As for Cleveland, he too, was flawless, commanding his instrument with the gentlest of strokes, incendiary flourishes, or plucking accompaniment. The incomparable acoustic bassist, and Massachusetts' native, Mark Schatz, kept the low-end down and slinky, or ramped up and running.
Fleck revels at the center of this beautiful conflagration. His conscientious arrangements treat the material with orchestral esteem and elevation, and demand such ability and understanding in return. A 15-time Grammy winner, he is, and has been for decades, a banjo player of the highest order, but one with a wildly creative streak that slashes away at the instrument's typecasting, even while dropping in a passing wink to The Beverly Hillbillies' theme.
It was that TV series intro song- performed by bluegrass legends, Flatt and Scruggs- that first turned the New York City native's ear as a child. So, surprising as it was, Fleck's encore- Gershwin's "Rhapsody in Blue;" a piece conceptualized a century ago on a train trip from New York to Boston- was a perfectly natural fit. Fleck and his five, rising, falling, and rising again with an immaculate sense of time and composition, carrying a spirit of freedom along a steeled path, twisting the old adages until the sum of the journey's parts are greater than the final destination.