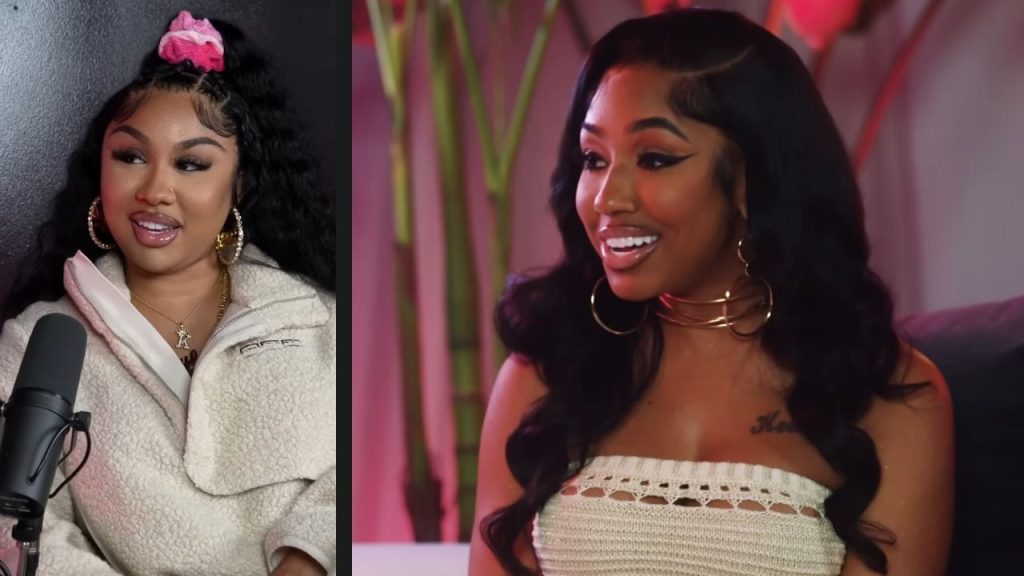 Yung Miami is returning with her popular REVOLT podcast, Caresha, Please, at Revolt World. This time, the City Girl will be joined by Instagram sensation Ari Fletcher for an exclusive live interview.
New Live Episode Of 'Caresha, Please' 
On September 6, Revolt World announced that Yung Miami will return with her podcast Caresha, Please, featuring an exclusive live interview with Ari Fletcher. 
The highly anticipated interview will be part of the Revolt World Festival, which is set to take place from September 22nd to September 24th at the REVOLT WORLD in Atlanta, GA. The vibrant Miami native will grill Ari live on stage, promising an unfiltered and explosive conversation.
The news has sent fans into a frenzy, eager to see what unfolds when these two outspoken personalities collide.
Fans on Twitter(X) are already buzzing with excitement. 
One user wrote, "OMG!! Ari is going on Caresha Please LIVEEEEE! Y'all know @AriTheDon or @YungMiami305 ain't got no filter!!! This one is going to be sooo good!!!" Another fan exclaimed, "Ari gone be on Caresha Please I can't wait for the 23rd."
'Caresha, Please' Breaks Viewership Records
Yung Miami, known for her candid and no-holds-barred style, has earned a loyal fan base through her previous interviews on Caresha, Please. Her previous guest, Summer Walker, brought in record-breaking views. 
Now, fans are eagerly awaiting the clash of the titans as Yung Miami takes the stage with Ari Fletcher.
Updated By: Kynedei Iman Hobbs (9/7/23 at 3:42 pm)
Diddy's Revolt World Festival Lineup Announced, Featuring Yung Miami's "Caresha, Please, The Jason Lee Show & More
Revolt World, the brainchild of Sean 'Diddy' Combs, has revealed the lineup for their first-ever festival. Revolt World, presented by Walmart, is scheduled to occur in Atlanta, Georgia, from September 22 to September 24. From Yung Miami's Caresha, Please to The Jason Lee Show, N.O.R.E., and DJ EFN's Drink Champs, attendees can expect a mix of captivating entertainment.
Revolt World Festival Lineup
The Revolt World Festival will cater to music enthusiasts and provide a platform for notable speakers such as Lauren London, Queen Naija, Jeezy, Omarion, and more. With an impressive musical roster, headliners including Houston native Don Toliver, Moneybagg Yo, Mr. Eazi's Choplife SoundSystem, and Uncle Waffles are sure to captivate the audience. 
This three-day extravaganza will feature powerhouse musical performances and incorporate REVOLT's popular TV shows, such as Caresha, Please, The Jason Lee Show, and Drink Champs. Additionally, artists like Babyface Ray, Saucy Santana, Maiya The Don, and others promise noteworthy performances.
Tickets are on sale now, with 3-Day Early Bird General Admission passes priced at $149. For those seeking a more exclusive experience, VIP 3-Day Passes are available for $399.
Take advantage of this outstanding lineup and unforgettable music, entertainment, and inspiration weekend.
Updated By: Yasmine Duhé (8/16/23 at 2:45 pm)
Diddy's Revolt World Set To Take Atlanta By Storm
Sean "Diddy" Combs has announced an exciting new event, Revolt World, as part of the Revolt Summit. The three-day interactive experience, set to take place in Atlanta from September 22 to the 24 at Pangaea Studios, promises to be a groundbreaking celebration of culture, creativity, and the global impact of Hip Hop.
Revolt World
Revolt, known as America's fastest-growing Black-owned multimedia empire, is reimagining the intersection of culture and creativity with Revolt World. The event will feature top Revolt shows, live performances, brand activations, masterclasses, networking opportunities, and more. 
Presented by Walmart, Revolt World aims to empower the Black community by showcasing cultural leaders and inspiring discussions.
Under the theme "We Are Hip Hop," Revolt World pays homage to Hip Hop's global impact and serves as a unifying declaration of Revolt's position as a cultural authority and leading multimedia network. This year marks the 10th anniversary of Revolt and the 50th anniversary of Hip Hop, making the event even more special as it explores the depths of Black culture and creativity on a global scale.
The First Of-Its-Kind
Detavio Samuels, the CEO of Revolt, expressed:
"We are excited to introduce this first-of-its-kind event in Revolt World that reimagines and builds on the success of our annual Summit to deliver an immersive experience that showcases the expansive impact of Revolt  and the global influence of Hip Hop across every category of contemporary culture." 
The event will provide attendees access to transformative spaces such as a gaming house, wellness space, creator studio, podcast village, insights lab, and career center.
Revolt's core mission has always been to be a catalyst for the Black community. Revolt World continues that commitment by empowering emerging Black leaders with invaluable tools, knowledge, and life-changing opportunities. 
A 3-Day Experience
The three-day experience will immerse attendees in the world of Hip Hop through Revolt's lens, offering impactful networking opportunities and activities. At Revolt World, attendees will explore interactive touch points such as panels and conversations, day parties, the Revolt World Market, Short & Fresh Film Festival, and more. 
The event promises to be a historic milestone for Revolt as it celebrates its 10th anniversary, creating a space for influential changemakers to connect, collaborate, and uplift Black culture.
Diddy's commitment to empowering the Black community extends beyond Revolt World. Recently, he announced the launch of Empower Global, an e-commerce platform dedicated to supporting Black-owned businesses. With over 70 brands and 1000 products, Empower Global is a testament to the potential of supporting Black entrepreneurs.
For fans and aspiring changemakers, more information and presale tickets for Revolt World can be found on the official Revolt website.
Snoop Dogg Introduces New Ice Cream Brand
In other news, Snoop Dogg is making headlines again, but this time it's not for his music or pet brand ventures. The legendary rapper unveiled his latest business endeavor: a line of ice cream flavors under Dr. Bombay. The West Coast rap icon's inspiration came from his habit of "mixing and matching" different ice creams to find the perfect taste.
Originally Written By: Catherine Dallum (7/28/23 at 2:35 pm)