Kanye West has taken legal action against an unidentified individual for illegally leaking his music. Recently, West filed a lawsuit alleging unauthorized online distribution.
'Does' The Leaker
On September 6, Kanye West filed a lawsuit in Los Angeles Superior Court against a defendant listed as "Does" for distributing his music online without permission. 
The accused is known on social media platforms as "DaUnreleasedGod" and allegedly shared footage of West recording unreleased songs in the studio, some featuring artists like Rihanna and Pusha T. The Instagram account of the leaker has since been deactivated.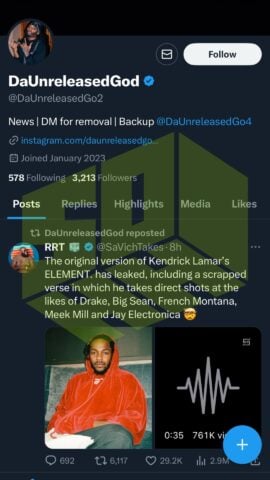 West claims to have suffered significant financial losses as a result of this unauthorized leak, describing it as "the theft of a trade secret." 
 "The Defendant's actions amount to the theft of a trade secret. Ye's musical composition, with its distinctive arrangement and unique elements, constitutes a trade secret due to its economic value, secrecy and the efforts taken to safeguard it," said in the document. 
The releases from the leaker began as early as March 2023, and West is now seeking a permanent injunction against the responsible party. It remains uncertain whether the leaked songs are from West's upcoming album, which has yet to be named.
Kanye Continues To Make Moves
In related news, Ye is set to release a new album soon, following the February 2022 drop of Donda 2. Reports suggest that West has been working on new songs for the summer, hinting at an imminent album release. 
Additionally, an HBO Max documentary titled Kim vs. Kanye: The Divorce chronicles West's divorce from ex-wife Kim Kardashian and sheds light on the couple's struggles and two-year divorce process.
Hundreds Of Songs By Gunna, Young Thug, Young Nudy & More LEAKED
This case of music leaks adds to a growing trend in the industry. In December 2022, multiple rappers, including Gunna, Young Thug, Young Nudy, and 21 Savage, released hundreds of songs from an account called Leaked.cx.