Drake recently announced the release date for his highly anticipated eighth studio album, For All The Dogs. In a nostalgic move, the Canadian rap sensation made the announcement by sharing a vintage clip of his father performing in 1991. 
A Nostalgic Announcement
On Wednesday, September 6, Drake took to his Instagram to reveal the release date of his upcoming album, For All The Dogs. This announcement was accompanied by a throwback video of his father, Dennis Graham's performance from 1991. 
Drake captioned the post and wrote, "FOR ALL THE DOGS SEPTEMBER 22." Adding to the excitement, Drake's father also took to Instagram to express his thoughts on the album. He wrote:
"I had the pleasure of sitting in my Son's dressing room and listening to this new album and I must say that it some of the best music that I've heard him do, and I am sure that every Drake fan throughout the entire world is going feel this one, everything about For All The Dogs is what we've been waiting for, Congratulations Son I really feel this one".  Drake responded with gratitude saying, "Thanks dad, I was so happy you loved it"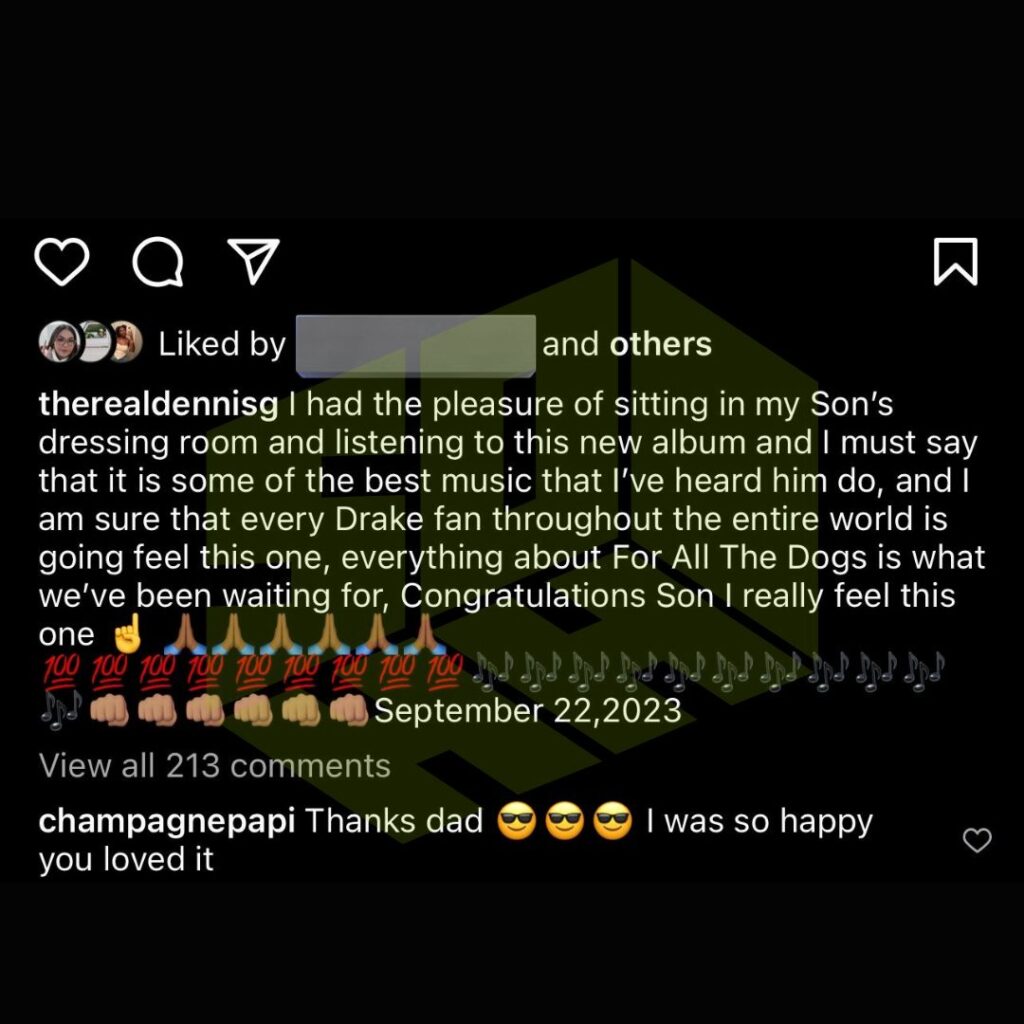 With the release date officially announced, fans are eagerly awaiting the arrival of "For All The Dogs." One fan expressed their excitement on social media, writing, "Drake finally dropping FOR ALL THE DOGS on September 22nd, let the dawgs eat!"
'Nothing Was The Same'
The timing of the album release holds great significance as well. For All The Dogs is set to be released on Friday, September 22, which is only two days before the tenth anniversary of Drizzy's third studio album, Nothing Was The Same. 
In his song "Tuscan Leather," released in 2013, Drake rapped, "Just give it time, we'll see who's still round a decade from now." 
This line led many fans to believe that Drizzy's eighth album released around the same time as Nothing Was The Same, was a deliberate move. 
One fan wrote, I've been a Drake fan since Room for Improvement (let's see who else are real fans) and the longevity this man has is literally unmatched. 10+ years in the rap and he has proven a huge contender."
Updated By: Yasmine Duhé (9/7/23 at 3:00 pm)
Drake's New Album Cover Features Son's Artwork, Nicki Minaj Cosigns
Drake has recently revealed the cover art for his highly anticipated new album. The artwork features a white dog with red eyes, which was drawn by his son, Adonis. Shortly after, the Queen of Rap hinted at a possible collaboration.
"FOR ALL THE DOGS Cover By Adonis" 
The popular Canadian rapper shared the cover on his Instagram account, captioning it with, "FOR ALL THE DOGS Cover by Adonis."  This artistic collaboration between Drake and his son has garnered much attention and excitement among his fans.
In addition to the cover reveal, fellow rapper and former label mate Nicki Minaj supported Drizzy's upcoming album. She posted the artwork on her Instagram story with eye emojis, hinting at a possible collaboration between the two artists. 
Fans Excited For Upcoming Album
Fans took to social media to express their excitement for the album. One Twitter user (@donhenzzy) commented, "I speak for everyone when I say we're so hyped for this one."  Another fan (@xandergraphix) stated, "Drake just broke Spotify rap records, imagine after this song drops." 
However, despite the buzz surrounding the cover art reveal, there has been no official announcement regarding the album's release date. Fans eagerly await any updates or news from Drake or his representatives. 
"International Artist of the Year" Nominee
This isn't the only recent unveiling that Drake has been a part of. On August 21st, he was nominated by the Headies Awards for "International Artist of the Year." This recognition further solidifies Drake's position as a global music icon and highlights his influence in the industry.
Quavo Has Galactic Celebration For "Rocket Power"
While fans await the release of Drake's new album, other artists have been making their announcements. Quavo, part of the popular rap group Migos, recently held a listening party for his new album, Rocket Power, and unveiled its cover art.
Originally Written By: Kynedei Iman Hobbs