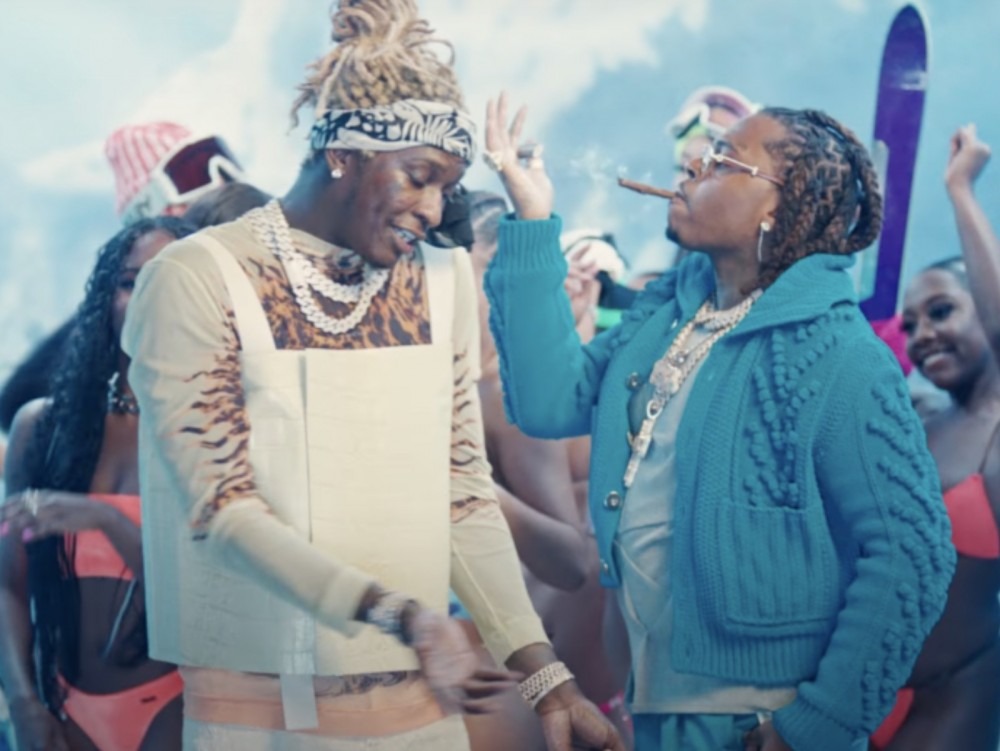 Atlanta rap star Young Thug's Slime Language 2 is a very big deal. The hip-hop star's compilation album is reportedly en route to dominate the sales charts in the coming days.

212 Views
Comments Off on Young Thug's Huge Slime Language 2 First Week Estimates
Young Thug's Huge Slime Language 2 Projections
Based on early estimates, the jam-packed project should easily sell well over 100,000 copies. Along with a huge tally, the LP is expected to easily secure the No. 1 spot on Billboard's Top 200.
UMG's historic run at #1 will end after 19 weeks as Young Thug & Gunna's Slime Language II compilation starts off strong. Lava/Republic's Greta Van Fleet and EMI Nashville's Eric Church should debut in the Top 10 on next week's HITS Top 50. Young Stoner Life, Young Thug & Gunna (Young Stoner Life/Atlantic) 125-140k total activity, 3-5k albums Eric Church (EMI Nashville) 45-50k, 35-40k Greta Van Fleet (Lava/Republic) 35-40k, 30-35k (HITS Daily Double)
Young Thug Battles Ice Cold Temps
Heading into the weekend, Thug dropped his new "Ski" music video. Clocking in at under 3 minutes, YT protégé Gunna is featured and shares screen time with an endless number of collaborators including Swae Lee, NAV and T-Shyne.
Today, in one momentous drop, Young Thug and Young Stoner Life Records release the video for 'Ski' with Gunna, PLUS the long-awaited, highly anticipated album Slime Language 2. Going viral even before its official release due to Young Thug's video on Instagram, fans have been eagerly awaiting 'Ski' from Thugger and Gunna. Directed by Omar Jones, the 'Ski' video features the likes of Young Stoner Life Record's own T-Shyne, Strick and Lil Duke, artists Swae Lee, Nav, and NFL player, DK Metcalf.
Dreezy + Busta Rhymes Co-Sign SL2
Hours prior, Thugger hyped up the studio project. YT shared a promo clip showing the album artwork and previewing tunes off the LP.
"SL2 NOW‼️‼️‼️"
Rap artists Dreezy and Busta Rhymes hit up the comments section to geek out over the LP.
"🔥🔥🔥🔥🔥🔥🔥🔥🔥" -Busta Rhymes
"🔥🔥🔥" -Dreezy
Earlier in the week, Thugger broke the album news to the world. Slime shared the project's presumed cover art which even features a green dog.
"4/16 THE ALBUM"
The follow-up to 2018's Slime Language received a co-sign from hip-hop artist and singer 6lack in the comments section.
"🐍🐍🐍" -6lack
Young Thug Hits Studio W/ Lil Wayne
Recently, Thug sparked headlines after linking up with a true rap icon. Footage went viral showing Young and Young Money boss Lil Wayne in a recording studio.