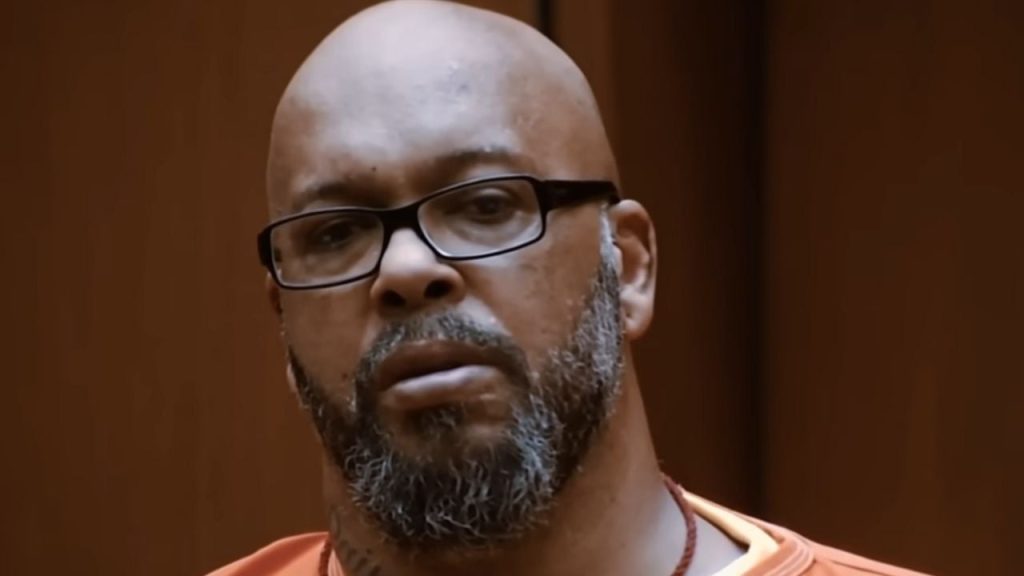 Suge Knight is not letting his incarceration stop him from staying connected with the music industry. Knight has teamed up with media company Breakbeat Media and its CEO to launch his podcast, Collect Calls with Suge Knight. Knight plans to address long-standing beef in this groundbreaking series with industry figures such as Akon, Master P, Snoop Dogg, and more. 
'Collect Calls With Suge Knight'
Suge Knight has officially teamed up with media company Breakbeat Media and its CEO to launch his podcast, Collect Calls with Suge Knight. According to TMZ, Breakbeats Media CEO and The Source Magazine founder, Dave Mays, expressed his excitement about working with Knight: 
"I'm so excited to be able to enlist the help of my longtime friend and one of hip-hop's most formidable, pioneering, and fearless leaders to help Breakbeat continue to achieve this goal. "Collect Call With Suge Knight' will awaken hip-hop fans worldwide and build bridges across multiple generations."
Fans can expect an exclusive sneak peek of the first conversation on October 24, with the video dropping on Halloween via the Breakbeat Media YouTube channel.
In addition to addressing his ongoing beef, Knight seized the opportunity to respond to recent developments in the Tupac murder case. While Keefe D confessed to his involvement, Knight had a different take on the matter. 
He denied any negative thoughts towards the alleged shooter, Orlando Anderson, stating: 
" I'll tell you this. I never had nothing bad to say about Orlando. No. 1, he wasn't the shooter. No. 2, he came to my hearing and told [expletive] to let me go and told the truth. They still didn't let me go…It wasn't Anderson, that's all I have to say about that part."
'Welcome To Death Row'
The announcement of Knight's podcast has been met with mixed reactions from fans. 
Some expressed their excitement, with one Instagram user commenting, "He's going to get a lot of commissary." Others compared Knight to the outspoken Lavar Ball of the rap industry, acknowledging his boldness and influence even from behind bars.
In April 2023, it was announced that Knight's hip-hop biopic series, Welcome To Death Row, was picked up by streaming network BLK Prime. The series was set to delve into Knight's influential hip-hop career and was slated to air in the fall of 2023.
Young Thug Drops New Heat From Jail
Suge Knight's podcast endeavor is not the first time an artist has made moves in the music industry while incarcerated. Young Thug recently released the single "From A Man" from jail, showcasing his unwavering commitment to his music.
Add'l Reporting By: Kynedei Iman Hobbs