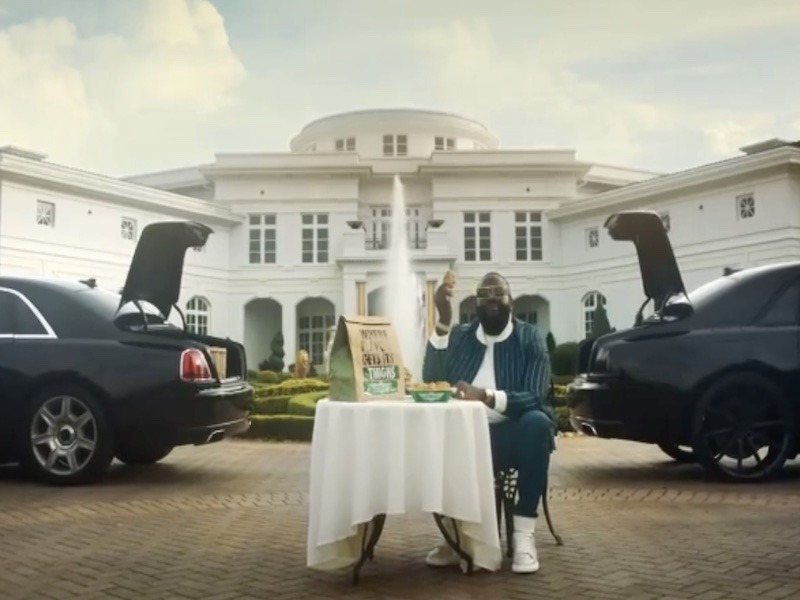 Maybach Music Group boss and Wingstop franchise owner Rick Ross wants to go to the moon with a bag of fried chicken thighs. After recently announcing the launch of ThighStop, Ricky Rozay is hoping billionaire Jeff Bezos will sponsor a trip to the moon.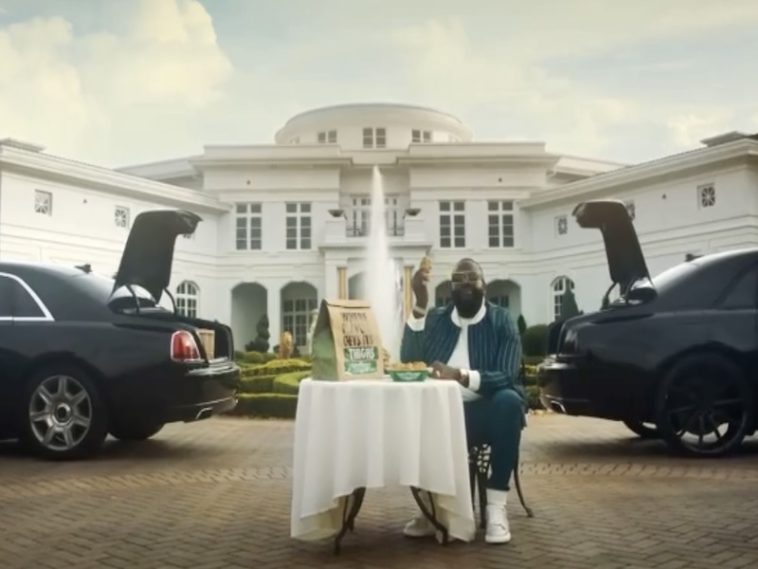 189 Views
Comments Off on Rick Ross Asks Billionaire Jeff Bezos A Planet-Sized Favor
Rick Ross Wants To Be The First With Thighs On The Moon
Rick Ross and the team at Wingstop recently launched a virtual extension of the restaurant which will sell fried chicken thighs exclusively. While this was taking place, billionaires Jeff Bezos, Elon Musk and Richard Branson have all been competing in a "Space Race" that has come to a head within the past few months as they prepare to take off.
Rick Ross decided he would like to be a part of the "Space Race" so he can bring ThighStop products into outer space.
"I wanna go outta space. I'll provide the thighs. Look Jeff Bezos…We can make this happen…Let's do this. I just want to be the first person on the moon with thighs…"
Rick Ross Is In A Chevy-Buying Craze
Outside of billionaire requests, Ross has kept busy showing off his admiration for luxury whips. The Bawwwwse loves more than just the Maybach brand. The hip-hop star recently came forward to acknowledge his obsession with Chevrolet vehicles and even extended an offer to purchase a throwback car to the masses.
A few days ago, Yung Renzel went to his Instagram page to share details of a recent profile his car collection received. Ross also detailedhis intent to purchase a Chevy dating back to the mid-50's.
"My collection of @chevrolet (s) has recently been recognized by @jaylenosgarage @barrett_jackson & now @robbreport . Great pastime. Actually currently looking for a 49' mercury sled, a 'blk n gold' Smokey n the bandit Pontiac and all @chevrolet 55,56,57 Belair pics are welcome. • chk websites or entire article 🔥 • DM pics off all old school cars/trucks 4sale"
Rick Ross Links W/ Jay Leno
In other news related to Rick, Renzel recently went to his Instagram page with a must-see shot. Ross acknowledged hooking up with former TV late night talk show legend Jay Leno over their love for fancy vintage vehicles.
"I thank Jay Leno @jaylenosgarage for bringing me and my team @geterk_183rd @iamlexpierrelouis to Burbank,California to film an episode starring my prized possession '57 Renzel' built by @57freddy out of Miami.I got to ride thru Cali hills top down,windows up talking classic rides with the Legend today.Cool shit huh..episode coming stay tuned!!! Dade county just took it to another Level 💯"
Rick Ross Saves At Least $1 Million Annually
Yung Renzel recently talked about saving bank on doing a little landscaping of his own. Ross revealed he actually busts out the cutting tools to take care of his own lawn instead of paying out bundles of money on cutting the grass.
"When I bought the Fayetteville estate, locals would see me walk out of a restaurant and scream, 'You know Holyfield spent $1 million a year to cut the grass.' So I decided that I was gonna cut my own grass. And that's what I did. I went down to John Deere and asked to see the biggest tractor, the most efficient tractor. I told them I had 200-plus acres that I wanted to keep cut, and they pointed out the right tractor. … I may have sat in the same spot for two hours before I got everything working, but once I got it going, I didn't stop. I cut grass for about five hours." (Forbes)