Nicki Minaj is back in the spotlight, receiving her flowers as she has impressively secured five nominations from the 2023 MTV Video Music Awards (VMA). With nods in key categories like "Artist of the Year" and "Best Hip Hop," the Queen of Rap further cements her stature as a leading female rap icon. 
Nicki Minaj Gets Her Flowers
Nicki Minaj, also known as Onika Tanya Maraj-Petty, has been nominated for five awards at the 2023 MTV Video Music Awards (VMA). The "Chun Li" legend has received nominations for "Artist of the Year," "Best Music Video," "Best Video Effects," and "Best Hip Hop," including her feature on Yung Bleu's "Love In The Way," earning her a nomination for one of the top six R&B tracks of 2023. 
At a loss for words, the Trinidadian-born and Queens-bred rapper reposted the nominee announcement to her Twitter, saying, "Oh wow. Wtf. thx," expressing her utter shock and gratitude to the Barbz fanbase and supporters worldwide.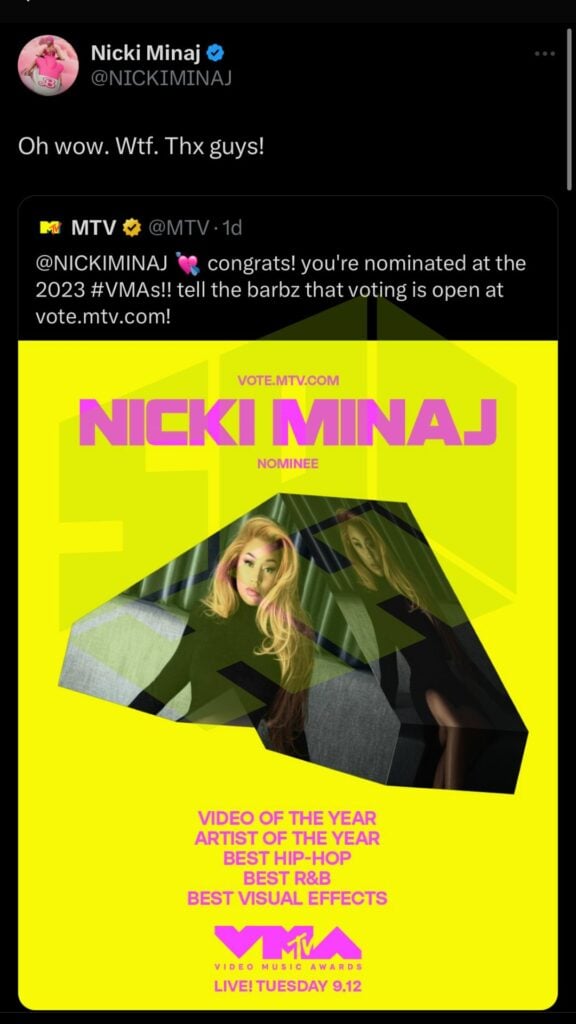 Fans of the rapper took to the comment section to confirm the Barbz will "vote [they're] little fingers off." 
Outpouring Support For The Queen of Rap
One fan commented that Nicki is "the most nominated RAPPER this year male & female," considering many nominations were from pop and other categories. 
Beau Casper Smart, Nicki Minaj's choreographer for her 2014 and 2022 VMA performances, reposted her VMA nomination success via Instagram story, hyping fans up and hinting at a possible performance at the 2023 VMAs.
The 2012 Grammy Controversy
Despite being hailed as the Queen of Rap and one of the most influential female rappers in the game, Nicki has been nominated for over 10 Grammys throughout her career, but she is yet to win one. As a result, many lost faith in the organization's system and had little trust in the awards. 
Unfortunately, there is a vital moment in music history that could explain why one of the most lyrical female rappers of all time hasn't – and probably never will win a Grammy. During her infamous 2012 Grammy performance at the 54th Annual Grammy ceremony, Minaj performed one of her then-top songs, "Roman's Revenge," which rubbed fans and viewers the wrong way since it portrayed an exorcism just days after the passing of Whitney Houston. 
Grammy producers, particularly Ken Erhlich, wanted The Pinkprint artist to cancel the performance due to Whitney's untimely passing and the controversy it would cause, but she continued with the performance. The Washington Post questioned if Nicki had ruined her career, and Grammy producers used the word "disappointment" to describe it.
Nicki Calls Out Grammy Producer
Since then, the "Barbie World" mogul has repeatedly spoken out about being blackballed from the Grammys. Seven years after keeping quiet about her beef with the Grammys, she shed light on the issue following pop star and friend Ariana Grande calling out Erhlich. Nicki tweeted:
"I pissed off the same man Ariana just called out for lying. Grammy producer KEN. I was bullied into staying quiet for 7 years out of fear. But I'll tell my fans the REAL on the next episode of #QueenRadio they deserve the truth." 
The "Starships" rapper went on to say that she was bullied by the Grammys and by Ken in particular, adding on to the fact that she didn't want to disappoint excited fans by canceling her performance. 
"Big Energy" vs. "Super Freaky Girl"
In 2022, she called out the awards ceremony for moving her No.1 Billboard track "Super Freaky Girl" to a pop category instead of rap, citing Latto's song "Big Energy" being considered for rap categories as proof they were "rigged." She tweeted, "If SFG has 2B moved out RAP then so does Big Energy! ANY1 who says diff is simply a Nicki hater or a troll."
More To Come
Although Nicki Minaj hasn't had the honor of taking a Grammy home, her music speaks for itself, earning her many consecutive nominations and accolades at various award ceremonies. The 2023 MTV VMAs will occur on Tuesday, September 12, and fans eagerly anticipate Minaj's potential wins and performance.
Meanwhile, millions of "Barbz" worldwide highly anticipate the drop of her album The Pinkprint 2, set to release in November 2023, followed by a tour. The "Do We Have A Problem" rapper promises that the wait will be worthwhile; the next album is just another addition to Minaj's legendary hitlist and potential awards waiting to be seized. 
The 2022 BET Awards Faces Backlash
Apart from Nicki Minaj's Grammy dispute, the 2022 BET Awards received criticism from Black Twitter for contentious winners like Yung Miami's Caresha, Please, and perceived issues with categories. The gripe included Diddy's son Christian "King" Combs' unoriginal sound, underwhelming ciphers, and notable omissions of nominations for major artists.