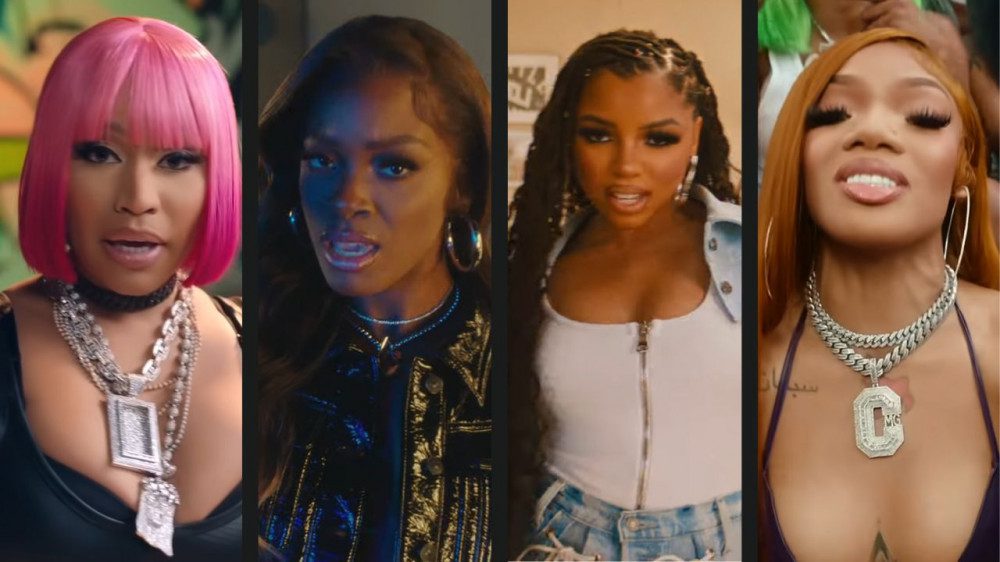 The ladies are still coming in hot this fall with new music, brand deals, gracing the cover of magazines, and more. Check out what these female hustlers have been up to.

193 Views
Comments Off on Nicki Minaj Introduces "The Fine Nine," Chloe Bailey Gets "Footloose" With Pepsi, GloRilla Says "Life Is Great," + More!
Nicki Minaj & The Fine Nine
Nicki Minaj has teamed up with more female artists with a track that'll make you want to take a trip to the Islands.
The "Super Freaky Girl" has dropped a remix to her "Likkle Miss" song with eight other Caribbean artists.
Nicki released the original track last week, where YouTube placed restricted age limitations on her music video.
The remix is spicy and fun, with the perfect combination of personalities.
"The Fine Nine Remix" features Spice, Pamputtae, Lisa Mercedez, Dovey Magnum, London Hill, Lady Leshurr, Destra Garcia, and Patrice Roberts.
Chloe Bailey For The Face Of Pepsi
Chloe Bailey is always in the limelight, releasing music, advocating or clapping back at haters. Either way, she's always making moves.
Chloe struts her stuff in her new campaign for Pepsi, which borrows from the 1984 American classic, Footloose, created by screenwriter Dean Pitchford.
During the ad, the "Surprise" singer is indeed full of surprises as she sings the original song, but with a modern-day twist.
Bailey turns heads as she sings and dances in a denim and lace ensemble with platform sneakers inside a 1950s vintage diner in flash mob style.
Erykah Badu, Janet Jackson, + Doja Cat Slay Paris Fashion Week; Stacey Abrams Graces Essence
Doja Cat, Janet Jackson & Erykah Badu Dominate Paris Fashion Week
The girls have been serving fashion week looks all up and through the streets and red carpets of Paris.
Find out how Doja Cat, Erykah Badu, and Janet Jackson served some of SOHH's favorite looks throughout Paris Fashion Week.
Ayra Starr feat. Kelly Rowland – Bloody Samaritan Remix
Lebra Jolie Drop Swaggering Self-Titled Debut EP
Rising Houston star Lebra Jolie unveils the urgent, tantalizingly confident EP, Lebra Jolie.
Listen HERE via Interscope Records.
GloRilla Announces Debut EP "Anyways, Life's Great"
GloRilla may just be getting started, but she has not missed since she stepped foot into the music industry.
The Memphis native just announced her debut EP, and wants everyone to know Life's Great.
Stacey Abrams Graces The October 2022 Essence Magazine Digital Cover
Politician and activist Stacey Abrams was featured on the digital cover of this month's Essence magazine.
Girll Codee Releases "1 Time" Official Music Video
Willow Shares New Album "Coping Mechanism"
Check out the visuals of one of Willow's tracks from the album, "Ur A Stranger."
Ari Lennox "POF" video
Have a great weekend!