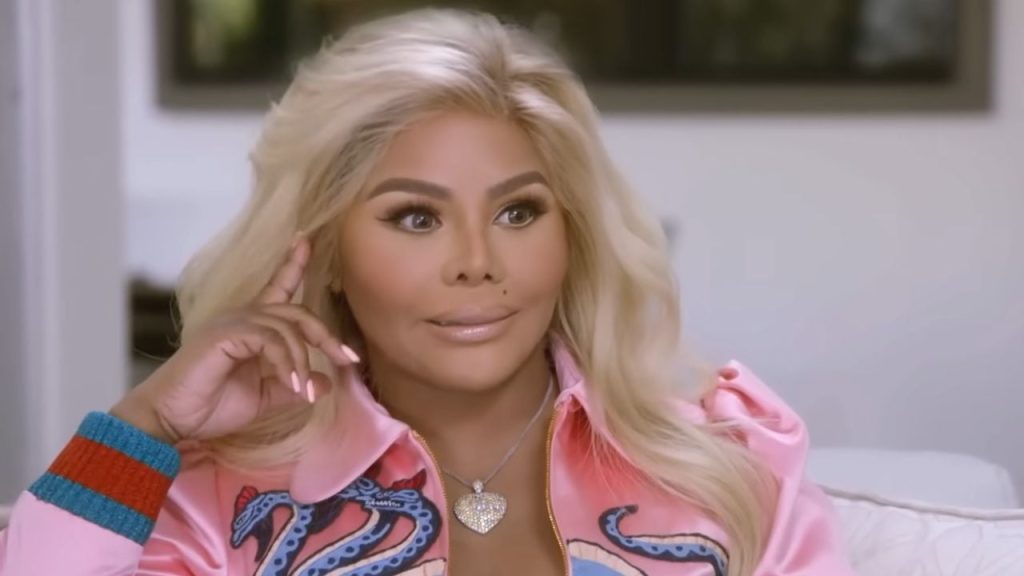 Lil Kim recently graced the cover of EBONY Magazine for a special celebration of hip-hop's 50th year. However, controversy arose when the photoshoot was released on social media, and one user questioned the photographer behind the shoot.
The Controversial Photoshoot
On September 8, Lil Kim graced the cover of EBONY Magazine in honor of hip-hop's 50th. On the cover, the "Crush On You" icon is seen donned in a pink silk ensemble. Nonetheless, controversy emerged when the photoshoot was unveiled on social media, prompting one user to inquire about the photographer responsible for the session. 
The user wrote, "Who photographed this?"  In response, the photographer, Keith Major, stated "Man, she wanted to be in control of the retouching so this is what we got."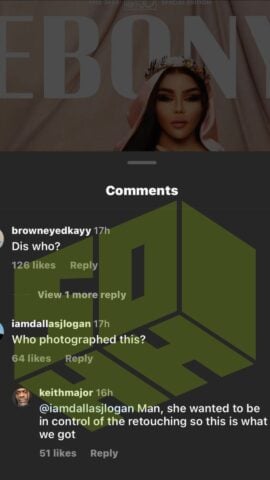 Unhappy with Major's statement, Lil Kim took to her Instagram story to express her thoughts. The Queen Bee posted the magazine cover, writing:
"Who is this?! Cuz that's not the photo I approved or any other content they've put on. I always told Ebony it looked like a painting but they didn't wanna listen. They said they loved it. It's the sabotage for me." The funny sh*t about this, is that is THEIR retoucher."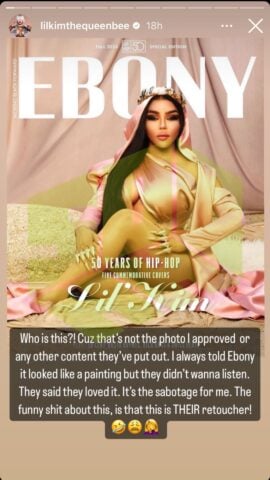 Fans Come To Lil Kim's Defense
Fans rallied behind Lil Kim, expressing their support and frustration with the lack of respect she receives. 
One fan commented, "I hate this for her. She's a legend and doesn't get the respect and appreciation she deserves." Another supporter commented, which Lil Kim also reposted:
"So here we are years later, & ya'll not tired yet of saying the same ol "look how she looks" comments by now? Ya'll know she dgaf bout how ya feel right? Hence why she still do we she wants! Ya actually spend time waking up to make someone that ya don't even know matter in ya minds that bad huh? All this just goes to show how much she still matters & the impact she still has & yet 25yrs later she's still the blueprint & your favs favs so let's shine a light on that more than anything!"
Even media personality Rolling Ray chimed in, writing:
"@keithmajor you messy for this comment! & now I see why she has yet to promote it. When working for top iconic people you never speak how you just did. The photo is actually amazing!!! At her level I don't blame her for wanting to be in control of how she's portrayed. & don't know who she knows! Ebony Mag ain't been this hot in years! She just woke y'all up from the dead & this the thanks that she gets! Wow."
Put Some Respect On The Queen Bee
Considering the lack of respect the rap icon has been facing over the years, it appears many may be unaware of her influence.
It is time to honor and acknowledge the iconic Lil' Kim, a trailblazer whose influence extends across multiple industries, encompassing music, fashion, and photography. Her contributions have not only left an indelible mark on her generation but also serve as enduring sources of inspiration for future generations.
Drake & 21 Savage's Vogue Cover Lawsuit
Magazine cover drama has been a recurring theme in the entertainment industry. In February 2023, rappers Drake and 21 Savage found themselves in a lawsuit with Vogue over the use of a fake Vogue cover for their album rollout.