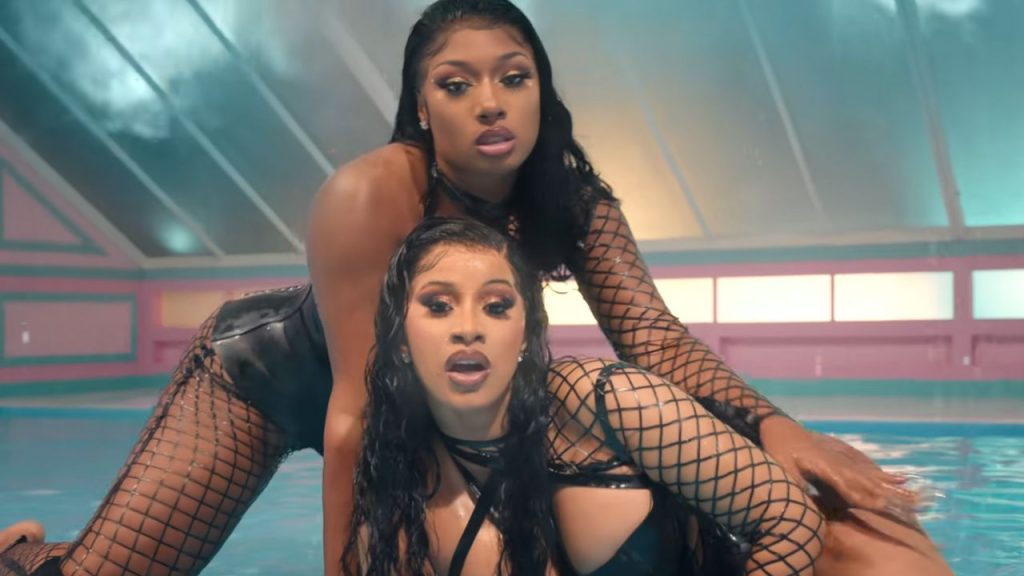 After almost two weeks since its release, Megan Thee Stallion and Cardi B's new single "Bongos" has quickly risen to the top of the music charts. ​​On top of their achievements, the Houston Hottie has recently unveiled that the two musicians are collaborating on an EP, adding to the excitement for fans.
'Bongos' To Top The YouTube Charts 
After only two weeks since its release, Megan Thee Stallion and Cardi B's hit single "Bongos" has climbed to the top. The popular song has gained massive views on YouTube, scoring the No. 1 spot with over 7.2 million and reaching the 14th spot on the Billboard Hot 100. 
Fans have been ecstatic about this achievement, with one user on social media calling the music video "truly iconic" and another proclaiming the "WAP" duo as "female rap saviors."
Possible EP & Tour
But the success of "Bongos" is not the only exciting news for the dynamic duo. In a recent interview, the "Simon Says" rapper was asked:   
"You and Cardi B seem to have such a fun and genuine relationship. After having released "WAP" and now 'Bongos' together, have you all discussed releasing a three-pack or a joint project?" 
Megan responded: 
" I literally think that's the route that we're going… So I've done two songs for her. And now I feel like I'm in a space where I know exactly what songs I want her to do for me. So we're really building a little EP already. We're gonna have enough music that we need to go on tour together. Me and [Cardi B] going out together will be so amazing. We are already so cool. And I feel like we got similar fans. So if she wanted to do a little EP, I would definitely be so down to do that, but we are making enough music to already have that."
Fan Reactions
This revelation has sparked excitement among fans, who are eagerly anticipating the potential tour and joint project. 
One fan even exclaimed, "Don't play with me sisters, I have the set list ready!" 
The collaboration between Megan Thee Stallion and Cardi B could potentially catapult their musical careers to new heights, as they already share a cool and genuine friendship, not to mention a similar fan base.
Megan Thee Stallion & Cardi B Tease New Music Collaboration "BONGOS"
Megan Thee Stallion and Cardi B recently surprised fans with an exciting announcement. In a candy-licking Instagram post, both artists tagged each other, hinting at a new music collaboration titled "BONGOS."
Updated By: Kynedei Iman Hobbs (9/20/23 at 5:52 pm)
'BONGOS'
On Monday, September 4, Megan Thee Stallion and Cardi B announced they will be collaborating again on a new song titled, "BONGOS." With their previous success on "WAP," the two female rappers have proven to be a powerhouse duo, and fans are excited to see what musical magic they will create this time.  
With the success of their previous hit single "WAP," it seems that Meg and Cardi have yet another chart-topping collaboration up their sleeves. The single is set to release in Friday, September 8th.
Anticipation Reaches New Heights
Fans instantly went into a frenzy, expressing their anticipation on Twitter.
One fan exclaimed, "WHO TOLD YALL TO GAG ME LIKE THIS???" while another boldly stated, "Haven't dropped yet and it's already better than every Taylor Swift song." 
The Success Of 'WAP'
Meg and Cardi's hit single "WAP" made history as the fourth fastest song to be eligible for 3x Platinum certification, gaining immense popularity and accolades. The music video also amassed an impressive 188 million views on YouTube within a month, showcasing the immense appeal of their collaboration. 
With their track record, it's no wonder that the announcement of a new collaboration between Meg and Cardi generates such excitement.
The duo's music video for "WAP" became an absolute must-see, featuring high-profile cameos from celebrities such as Kylie Jenner, Normani, and Rosalía. The visual spectacle and provocative nature of the video contributed to its viral success, further solidifying Meg and Cardi's status as trendsetters in the music industry.
A 'B.A.P.S.' Remake?
In an April 2023 interview, Director Robert Townsend revealed that Megan Thee Stallion and Cardi B expressed interest in starring in a possible remake of the 1997 film B.A.P.S. The "WAP" music video paid homage to the popular 90s film, where the two rap ladies donned similar hairstyles, nails, and were more like the original characters played by Halle Berry and Natalie Deselle.
Chloe x Halle Back In Action
Chloe x Halle are also back in action. The talented sisterly duo announced their plans to work on their third studio album. Having released their last collective project, Ungodly Hour, in 2020, fans are eagerly anticipating new music.
Originally Written By: Kynedei Iman Hobbs (9/5/23 at 4:00 pm)