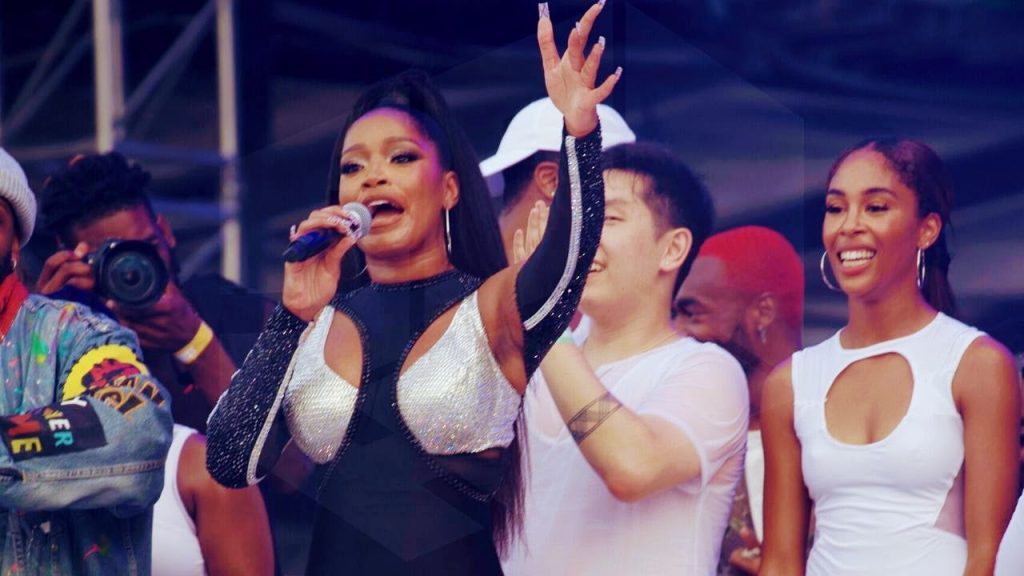 Actress and singer Keke Palmer wowed the audience at the Broccoli City Festival in Washington, D.C. on July 15 with an unexpected and captivating performance.  Palmer's mesmerizing showcase came in the midst of the ongoing labor strike in Hollywood, where her current and future TV and film projects hang in the balance.
Keke Palmer Shows Her Singing & Dancing Chops
Keke Palmer, renowned for her talent in both acting and singing, took the stage at the Broccoli City Festival, delighting the audience with an electrifying performance. The surprise showcase featured melodies from her latest musical masterpiece, "Big Boss," including the enchanting track "Love Language," which was released on May 12, 2023.
Keke sang and danced in front of the Broccoli City crowd, backed by several dancers in all white.  The new mom looked fit and sexy in a black sheer bodysuit, reminiscent of the outfit criticized by her boyfriend Darius Jackson just days earlier.
Keke Palmer Returns to Her Music Roots
Big Boss is Keke's 2nd studio album since So Uncool was released in 2007.  Her  return to music is opportune amidst the writer's and actors strike that has all but shut down the film and TV industry, stopping any future projects.  
Aside from returning to music, the gifted performer produces a podcast with Amazon, Baby, This is Keke Palmer.  The podcast serves as a platform for Keke to share her unique perspectives, engaging in thought-provoking discussions on captivating topics including her new life as a mom and her relationship with her boyfriend, Darius Jackson.
Keke Palmer Supports Fellow Striking Actors & Writers
Voicing her support for fellow actors and writers, Palmer took to Twitter and shared her prayers, saying, "Sending love to all my fellow actors and writers. Praying that this is resolved swiftly and we all come out feeling empowered! Families have to be fed but people have to and deserved be respected for their work as well."
The SAG-AFTRA actor's strike began on July 14, 2023, and was initiated due to concerns about fair compensation for actors' contributions to the entertainment industry. SAG-AFTRA, a prominent labor union representing around 160,000 media professionals and entertainers, is engaged in collective bargaining discussions with the Alliance of Motion Picture and Television Producers (AMPTP), a trade association representing film and television studios.
Snoop Dogg & Dr. Dre Show Solidarity With Writers
In a show of solidarity with fellow striking creatives, legendary rap artists Snoop Dogg and Dr. Dre recently rescheduled their highly anticipated performance commemorating the 30th anniversary of the iconic album "Doggystyle". The labor dispute is prompting prominent figures from various sectors of the entertainment world to voice their support for fair compensation and recognition of creative contributions.