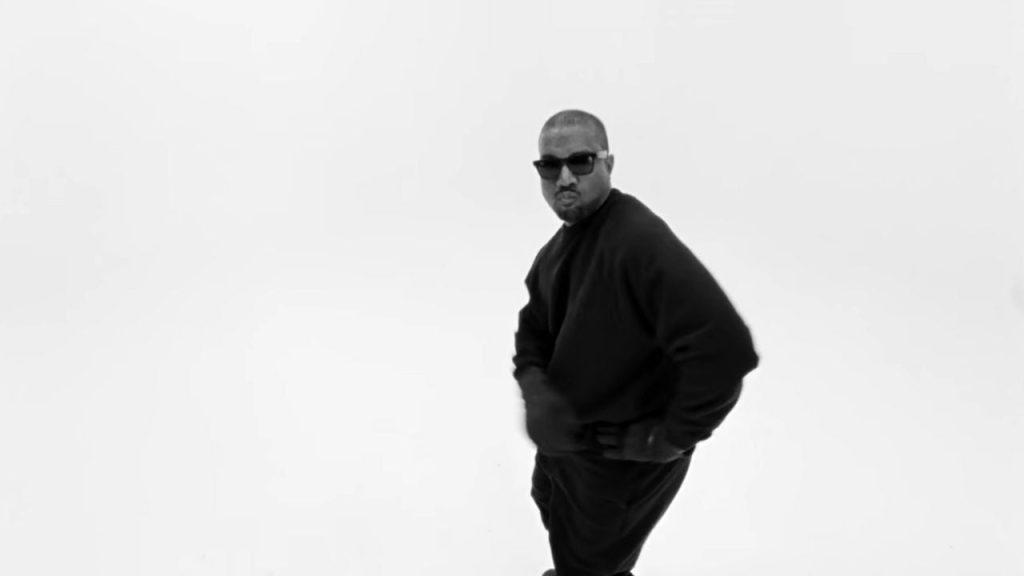 In a surprising move, Elon Musk has reactivated Kanye West's Twitter account on the social media platform now known as X. The decision comes after West's account was suspended in December for violating X's rules on inciting violence. 
X Account for Kanye Will Not Allow Monetization
Kanye's new account under X will not be eligible for monetization and no ads will appear next to his posts, says Musk, who calls himself a "free speech absolutist."  The enigmatic CEO, who has been slowly morphing Twitter into X,  has been vocal about his reluctance to delete content or impose permanent bans. 
Musk's stance on free speech has sparked debates about the responsibilities of social media platforms and the limits of expression.  X's safety team launched a content enforcement strategy called "Freedom of Speech, Not Reach," which aims to restrict the reach of tweets that violate policies without outright deleting them. This approach allows for exceptions to be made for figures of speech, satire, and artistic expression when they do not incite actionable violence or harm.
Kanye's Lost Fortune Over "AntiSemitic" Posts
The reactivation of West's account follows after the embattled rap icon lost multiple business deals, including partnerships with Adidas and luxury fashion house Balenciaga, over posts and comments labeled "antisemitic." As of now, Ye has not posted on the platform since its reinstatement.
Updated by Kelci Brown on July 31st, 2023.
---
Kanye West Questions Elon Musk's Race In New Instagram Post: "Have You Ever Seen His Pics As A Child?"
The friendship between billionaire Elon Musk and Kanye West ends after their latest social media exchange. In a new Instagram post, Ye attempts to troll Elon and questions his race.
Rapper Kanye West and billionaire Elon Musk's bromance fallout continues after their latest exchange on social media. In a new Instagram post, Kanye is questioning the race of the new Twitter CEO.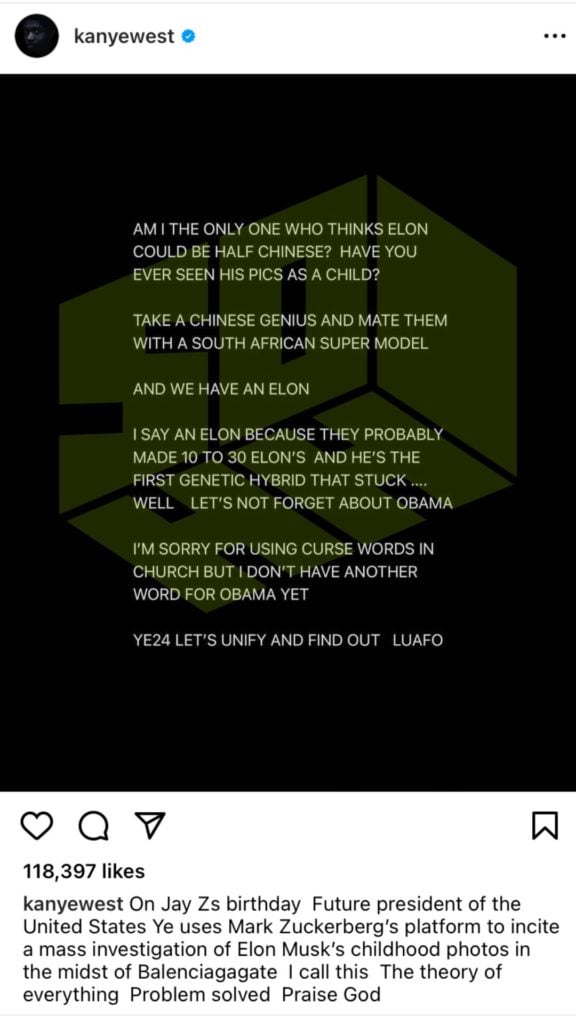 Kanye questioned Elon's race, implying that he could be mixed with Chinese,
"Am I the only one who thinks that Elon could be half Chinese? Have you ever seen his pics as a child?" Kanye asked.
In the caption, Kanye refers to himself as the future President of the United States. Then, he called for a "mass investigation" of Elon's childhood photos. Furthermore, he referred to their fallout as "Balenciagagate," stemming from the French designer brand cutting ties with him.
Kanye West + Elon Musk Bromance Comes To An End After Ye's Twitter Account Suspension
Undoubtedly, Kanye West and Elon Musk's bromance has ended. Recently, Ye took to his Twitter and posted an image poking fun at Musk, resulting in the account suspension.
Ye's tweet that settled it all included a picture of the new Twitter CEO Elon Musk being sprayed with water. 
"Let's always remember this as my final tweet #ye24," Ye posted.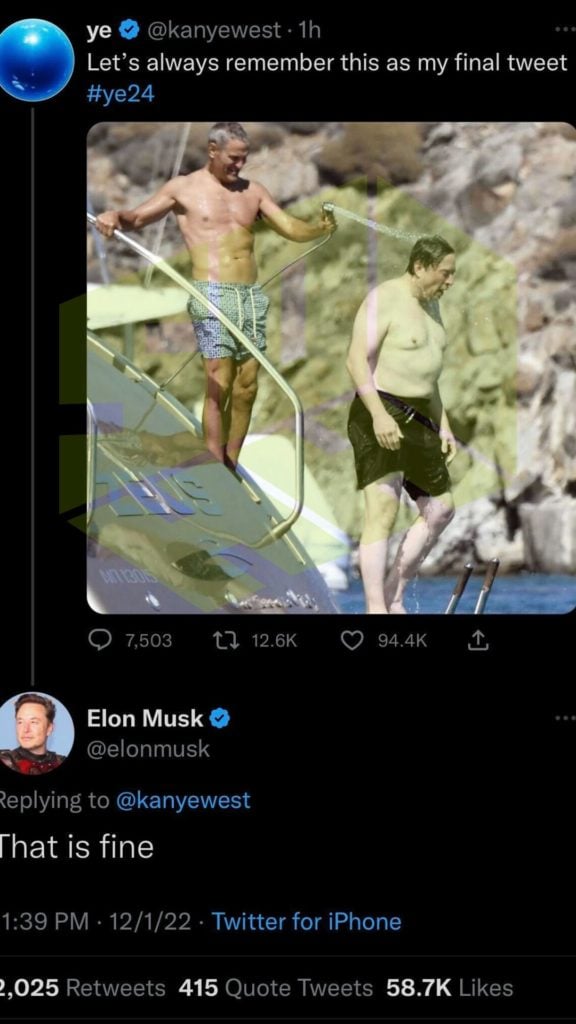 However, Musk didn't take Ye's post too lightly and responded simply, "That is Fine." Shortly after, Ye's Twitter account was removed.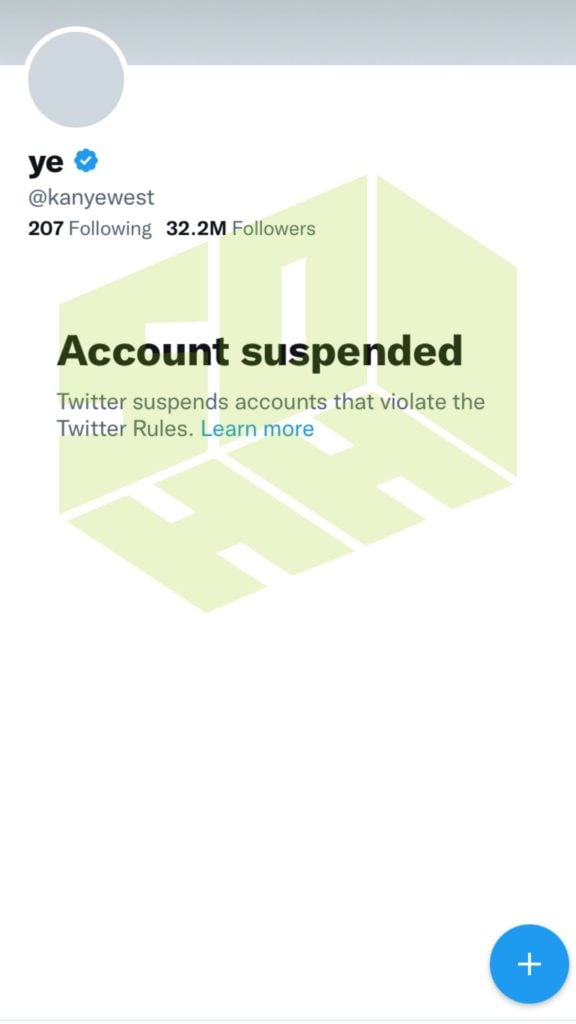 Meanwhile, as the failed bromance between the two billionaires settles, Musk adds that Ye's account was suspended because it violated the platform's rules on inciting violence.
"I tried my best, " Musk tweeted. "Despite that, he again violated our rule against incitement to violence. Account will be suspended."
Game Can't Get Over Kanye West's Elon Musk Bromance
In 2021, West Coast rap veteran Game stated how impressed he was by Kanye West's networking skills. With hip-hop's billionaire fashionista flexing his friendship goals with tech entrepreneur Elon Musk, the Los Angeles rapper wondered aloud what life must be like for Yeezy.
Game Has A Crazy Idea For Kanye + Elon Musk
At the time, Kanye West counted Elon Musk as one of his good friends, and Game randomly wondered recently if Kanye could use his bond with Musk to explore space travel.
"When you go to your boys house and you're both wearing orange"
"I'm high af but I was just thinkin, this n*gga Kanye could text Elon Musk & borrow a rocket.. #DREAMBIG"
Kanye's Nike Air Yeezy Kicks Sell For Almost $2 Million
This is why Kanye stays rich. The Grammy-winning rapper's Nike Air Yeezy 1 prototype shoes set a new world sales sneaker record when they sold for $1.8 million at an auction.
Beyond being a shoe designed and worn by Kanye West, this specific Air Yeezy 1 prototype served as a kind of unofficial launch of West's serious sneaker ambitions. Although he'd dabbled in fashion before, even designing a shoe for Louis Vuitton, Kanye's Air Yeezy collaboration with Nike was an unparalleled success. (Rolling Stone)
Kanye West Nike Yeezy Protocol Estimated To Sell For $1M+
Earlier this month, Nike announced Ye's Nike Air Yeezy 1 prototype from 2008 is expected to sell for over $1 million. This was Ye's first sneaker with Nike, which he notably abandoned for bigger and better things at Adidas in 2013 and yes – he actually wore this specific pair.
"This pair is critical to the development of the Yeezy franchise, which has become one of the most important sneaker and lifestyle brands in history," said Brahm Wachter, Sotheby's Head of Streetwear and Modern Collectables. "Debuted on-stage at the Grammys in 2008, the sneakers set off waves in the sneaker community as people tried to identify the mysterious pair. Afterwards, we saw a series of collaborations between Kanye and Nike, and then later the birth of his line with adidas." (Highsnobiety)
Kanye West Spotted Wearing Nike Sneakers + Not Yeezy Kicks
In December 2019, the G.O.O.D. Music boss raised eyebrows wearing a pair of non-Adidas kicks. Despite having massive success with his Yeezy foot apparel brand, a pic emerged showing Mr. West returning to his sneaker roots and donning Nikes.
Additional reporting by Amaar Burton and Chris Samuel.