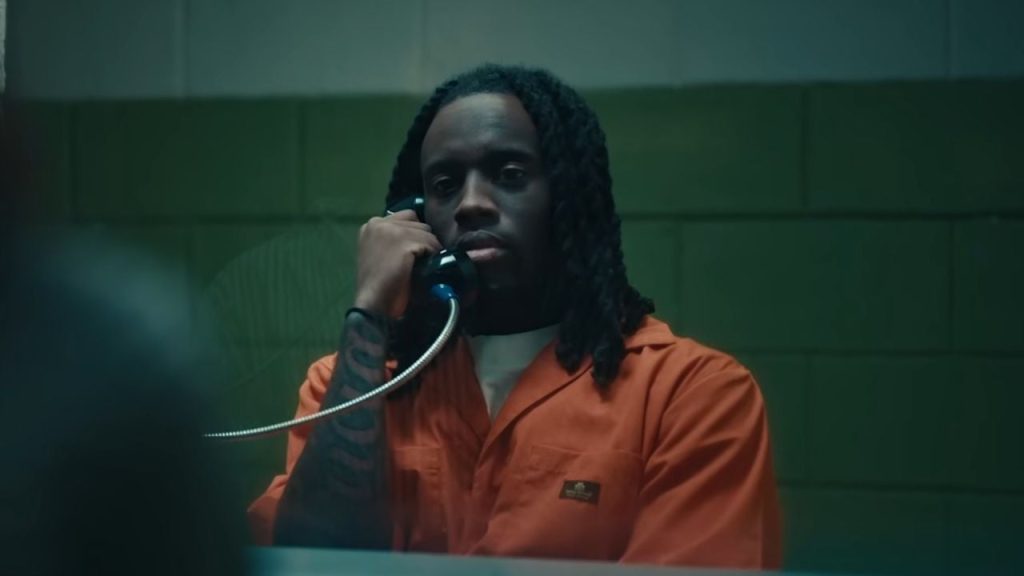 Kai Cenat unveiled his latest project, 7 Days In, which kicked off on Oct. 27. The livestream featured a cast of prominent public figures, Chrisean Rock, Druski, and others. The livestream sensation's unique concept involved a 7-day stint in virtual jail, with no outside communication, continuous surveillance, and a lineup of surprise special guests, making it an event to watch out for.
'7 Days In'
Kai Cenat, the famous live streamer, recently released a trailer titled 7 Days In featuring notable public figures, such as where the live stream started on Friday, Oct. 27, and concluded on Thursday, Nov. 2. 
The star-studded lineup originally included rapper Offset, Chrisean Rock, Druski, Ski Mask The Slump God, NLE Choppa, social media group RDC World, streamer YourRage, and more. The concept behind this livestream involved Kai being locked in jail for seven days, with no phone or communication with the outside world, constant surveillance, and various special guests. 
What Happened?
Kai Cenat's 7 Days In live stream proved to be a captivating experience for viewers. One standout moment was when rapper DDG managed to sneak out of the prison, adding an unexpected twist to the event. Additionally, comedian Druski made music with other "inmates," creating entertaining and memorable scenes during the livestream.
However, drama quickly ensued between rapper GloRilla and DJ Akademiks during the live stream. This conflict originated from Kai's reaction to Glorilla's new song, which he openly expressed his dislike for. GloRilla then proceeded to block Kai on social media, causing tensions to rise. DJ Akademics, known for his controversial opinions, addressed the "F.N.F." rapper on Twitter, stating:
"Glorilla really feeling herself… this Hoe tweaking FR. B***h u fell off once Sexyy Red took your whole lane. U tryna do the sex appeal shit but nobody tryna f*ck u. play ur damn role. Kai kept it real then u got mad at him… he kept the same energy then u folded n got mad @ me" Glorilla then wrote on social media, "I'm drunk af rn, I might f*ck around & unblock Kai."
Where's Offset?
Offset's absence during the livestream was notable, and Kai Cenat explained that the rapper had pulled out at the last minute. 
Speculation arose among fans, suggesting that Offset's decision might have been influenced by Kai's negative review of his latest album, SET IT OFF, or if it was related to Takeoff's recent death anniversary, which landed on Nov. 1. Fans defended Offset, writing, "Cenat didn't just tell Offset the album was mid. He lived streamed it on his platform and told his millions of followers that is was mid. Kai used influence to negatively affect the Set It Off album rollout. I would've said f*ck kai too."
Despite these controversies, the Twitch livestream featured appearances from several public figures, including Tee Grizzley, RDC World, Funny Mike, Ski Mask The SlumpGod, Chrisean Rock, NLE Choppa, and more. 
All About Kai
In August 2023,  Kai Cenat was arrested for being accused of inciting a riot at his PS5 giveaway in New York City. The riots broke out with fans damaging vehicles, and buildings, and causing altercations in the midst of the gaming console giveaway.
Following being released after his arrest, the streamer was present with rapper Offset. Cenat made a cameo in Offset's "FAN" music video, where they created a skit based on his riot incident that happened in early August 2023. 
Rappers Vs. Streamers
Kai Cenat's recent livestream venture aligns with the ongoing discussion surrounding the earning potential of streamers and content creators compared to mainstream artists. Lil Yachty sparked this conversation by highlighting how streamers and YouTubers often outearn chart-topping rappers.