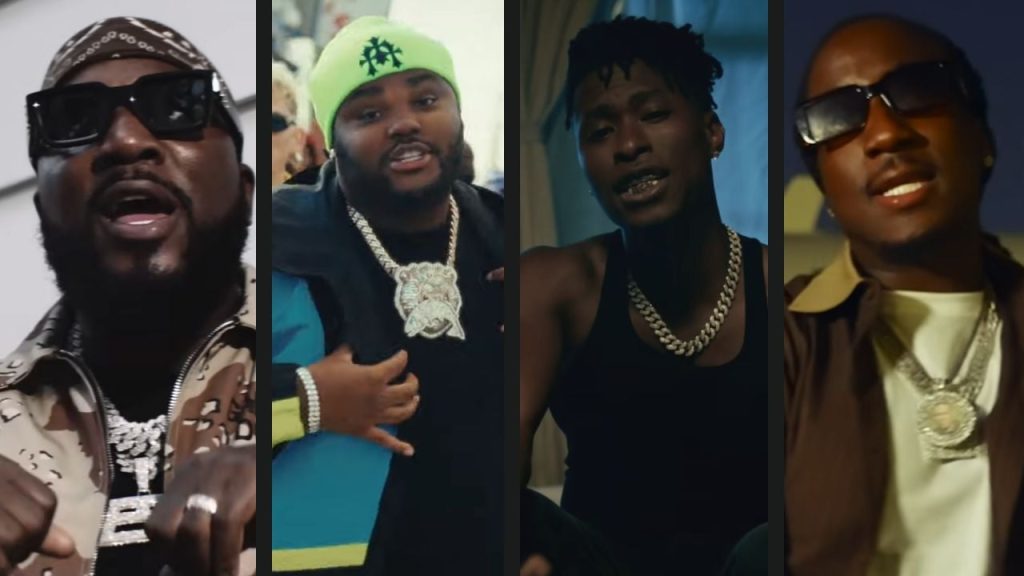 New Music Fridays brings excitement as Jeezy, Tee Grizzley, and Benny The Butcher make their impactful returns. This week, Jeezy drops his 11th studio album, we get double drops from Houston icon Paul Wall, Benny The Butcher trades bars with rap legend Lil Wayne, and more. 
Jeezy Drops 'I Might Forgive, But I Don't Forget'
Jeezy, the trap legend, makes a powerful statement with his latest album, "I Might Forgive, But I Don't Forget." 
This 29-track project marks the "Put On" rapper's first album since filing for divorce from his ex-wife Jeannie Mai. With a range of new songs, Jeezy continues to establish himself as a force to be reckoned with in the rap game. 
Tee Grizzley Drops 'Tee's Coney Island' 
Tee Grizzley delivers his fourth studio album titled Tee's Coney Island. 
Teasing fans with a preview of the song, "Soprano," featuring Machine Gun Kelly, the Detroit native's album showcases a star-studded lineup including collaborations with 21 Savage, Chris Brown, City Girls, and more. 
Sonny Digital Drops 'Dolores Son'
Sonny Digital, the Atlanta rapper/producer, takes the spotlight with his debut album Dolores Son. 
After working with notable artists such as Drake, Future, and 21 Savage, Sonny marks this release as a milestone in his career. His collaboration with Juicy J on the track "Wakenbake" displays his unique talent and sonic prowess.
Paul Wall & Termanology Drop Deluxe Version Of 'Start, Finish, Repeat'
Paul Wall, the Houston rap legend, invites listeners to dive into the deluxe version of his album Start Finish Repeat alongside producer Termanology. Featured artists include Bun B, KXNG Crooked, AZ, Big K.R.I.T., and others. 
At the same damn time, the "Still Tippin'" icon collaborates with fellow Texas heavyweights Bun B and Chalie Boy on "Bounce, Rock, Skate." The track promises to be an instant classic, embodying the soul and grit of Houston's unique culture. Listen to "Bounce, Rock, Skate" here. 
Ciara Adds Lil Wayne To 'How We Roll' Remix
Ciara adds another layer of star power to her hit song "How We Roll" by enlisting the talents of Lil Wayne for the remix. In Aug. 2023, the "Oh" singer previously announced the original song with Chris Brown. 
Benny The Butcher Releases 'Big Dog' With Lil Wayne
Benny The Butcher, the Buffalo rapper, teams up with rap legend Lil Wayne on the new single "Big Dog." Trading bars back and forth, the duo showcases their lyrical prowess, leaving listeners craving more. 
Lucky Daye Releases 'That's You' With Bruno Mars
Lucky Daye surprises fans with a collaboration with the multi-talented Bruno Mars on the single "That's You." The unlikely pairing results in a harmonious blend of their distinct styles, proving that musical boundaries are meant to be pushed.
Fetty Wap releases '1738' With Coi Leray 
Fetty Wap, currently incarcerated, doesn't let anything hold him back as he releases the song "1738" with Coi Leray. This track is a glimpse into his upcoming album, King Zoo, which has no confirmed release date. 
Earthgang Releases 'Blacklight' With Spillage Village
Earthgang makes a triumphant return with the single "Blacklight" in collaboration with rap collective Spillage Village. The dynamic Atlanta rap duo previously worked with Spillage Village on the album Spilligion in 2020.
K Camp Releases 'Young & Free'
K Camp treats fans with his new single "Young & Free." Expressing his excitement on social media, the Atlanta rapper/singer asked fans in a preview to see if they were also excited. 
Toosii Releases 'Suffice'
Toosii released his new song "Suffice" from his upcoming album Jaded.  With his unique blend of rap and melodic elements, the North Carolina rapper/singer's album is set to drop on November 17.
Kid Cudi Teams Up With Travis Scott & Pharell Williams 
Kid Cudi, the Cleveland rapper, enlists the talents of Travis Scott and Pharrell Williams for the captivating track "At The Party." The track is expected to be a sneak peek into Cudi's upcoming album INSANO, scheduled to be released in January 2024.
SOHH fam, check out these new bops, and have a great weekend!