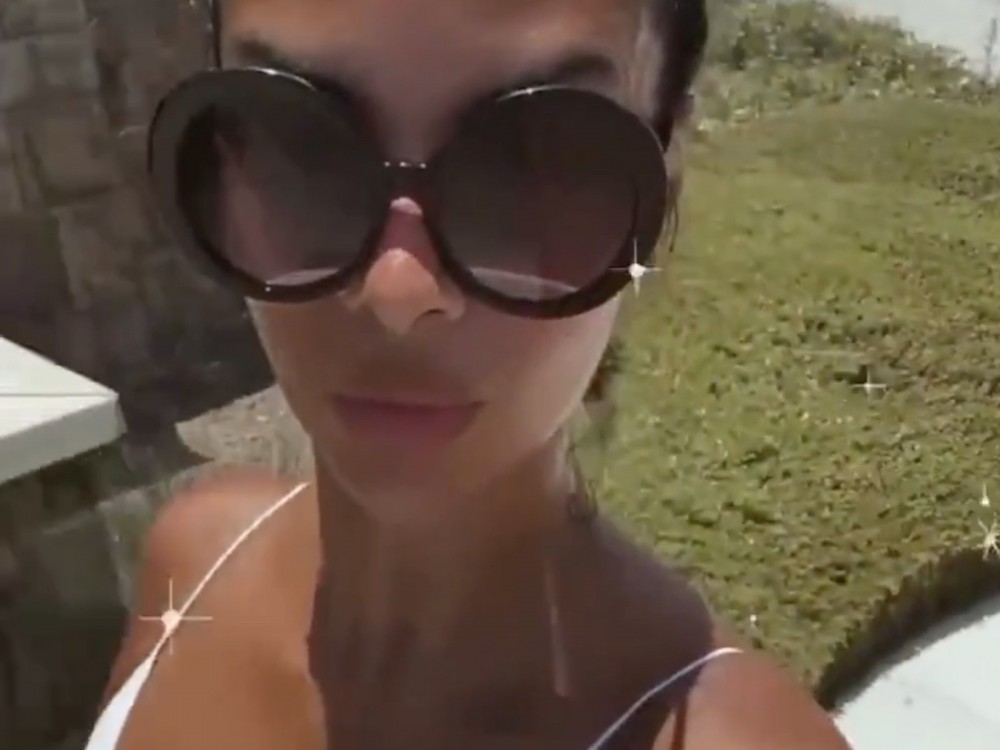 Vixen Johanna Leia is leaving little to the imagination when it comes to her love life. After getting spotted on a private date with rap superstar Drake, the popular model has only added more fuel to the fire by hyping up her 6 God connection.

99 Views
Comments Off on Johanna Leia Proves Drake's The Soundtrack To Her Life
Johanna Leia Confirms Drake's Her Vibe These Days
Leia hit up her Instagram Story and did the most. She shared a steamy clip of herself walking around with Drake's "Laugh Now Cry Later" anthem playing.
Last week, Drake and Johanna made headlines after the 6 God rented out Dodger Stadium for a super romantic dinner. The duo were at a table for two along the championship team's baseball field with a bartender keeping drinks coming.
An ABC7 news helicopter reporter went viral for sharing the insane proof to the masses.
"[email protected] ON A DATE? Randomly just flew over this cozy couple enjoying a private dinner along the third base line at an empty Dodger Stadium from #Air7HD @ABC7 #Drizzy"
Drake + Johanna's Relationship Isn't Overnight
The duo didn't just recently link up. The two have reportedly had a close-knit bond for the past few months as Drake's mentored her high school basketball star son.
Sources close to the pair tell us they first met months ago through high school basketball — Johanna's son, Amari Bailey, is a top prospect — and the relationship grew from there. We're told Drake and Amari hit it off, and Drake's offered the kid advice on finances, fame and life, in general. (TMZ)
Johanna's A Reality TV Star, Too
Over the past few years, Leia has made a name for herself both from modeling and the Hollywood spotlight. The Chicago and Los Angeles-based mom's TV fame dates back nearly five years.
In 2017, she starred on Lifetime's Bringing Up Ballers reality TV series. Per the show's IMDB synopsis, the series followed Leia and four other Chicago-area entrepreneurs "who will stop at nothing to ensure that their businesses are successful and their boys are on track to make it to the NBA. These ladies are anything but benchwarmers as they balance their households and businesses, while managing their sons' daily practices and games. Together they are the ultimate Hoop Moms and are not afraid to call foul on each other as they fight to ensure their kids make it to the top." (ELLE)
Gearing Up For 'Certified Lover Boy' Album
Drake's also staying busy these days focusing on dropping his upcoming Certified Lover Boy album. Earlier this month, he went to his Instagram page with a very subtle but eye-opening update fans have patiently waited on. The Toronto native changed his IG bio to 'Certified' – an obvious and crucial nod to one of the most anticipated albums of the year. Drake hasn't released a full-fledged studio album since 2018's Scorpion and his most recent Scary Hours 2 EP bodied its competition with all three tracks landing on the Billboard Hot 100 Top 3.