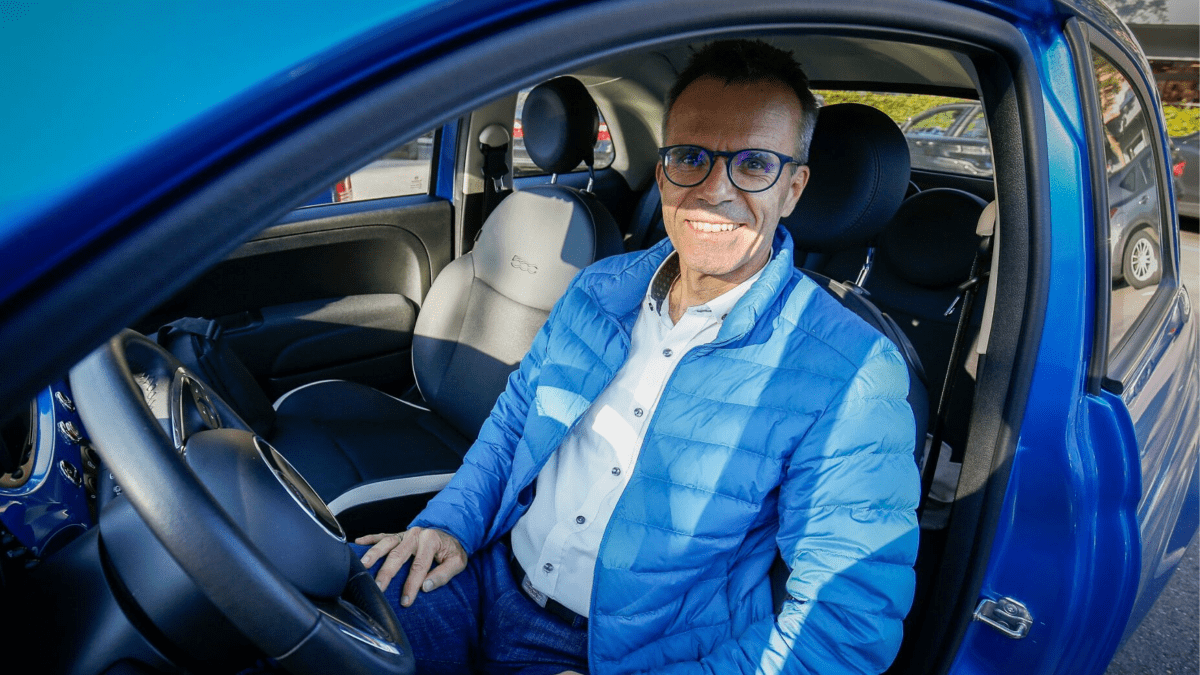 Uwe Baltner began uploading daily videos of himself singing along in his Fiat 500 on the way to work nearly two years ago – fast forward to June of 2020 and the 56-year-old German internet sensation has amassed 1.8 million Instagram followers.
Uwe has been co-signed from the likes of Drake, Rihanna and Stormzy within the last couple years, gaining notoriety in pop-culture as 'the old guy who sings in his car'.
However, with 1.8 million Instagram followers, a near 600,000 TikTok followers and a social media feed as recognisible as any – comes attention from record labels and recording artists hoping to land their song among Uwe's catalogue of videos.
So – how did Uwe Baltner become the left-field gatekeeper to what's hot in music? How did he even get started singing in his vibrant blue Fiat? Who are his favourite artists he's discovered through fan requests?
Off The Clef asked the man behind the wheel all that and more below.
So Uwe, what gave you the inspiration to start making videos singing in your car?
"I've always loved singing. And I've always been interested in Social Media. I've been on Instagram from 2011. At first, I posted the usual pictures: holidays, nature, my dogs. You can still see these pictures if you scroll down long enough. From 2010 to 2016, I was living in Bavaria but working in Ludwigsburg, about 230 kilometers away. I drove home once a week and spend three or four days per week at my brother's house. Separated from my wife and kids, I took on some bad habits. I also used to eat in the car a lot. One day, I decided to get back to a healthier lifestyle. So instead of eating in the car and at home, I started singing. Also, my voice had become quite harsh due to lack of practice and too much talking. I got me an online course and practiced scales in the car.
Finally, two things happened: I started singing my favorite songs as a reward for doing the scales. And I discovered that I could record one-minute videos on Instagram. So to motivate me, I posted the videos online. I posted the first one on September 3, 2018 and I never stopped since."
Did you always have such a broad taste in music, or did that largely develop through taking requests?
"I've always had interest in all kinds of music, genres changing with time. It started with glam rock when I was very young, than came Punk, Ska and Reggae, later it was Blues and Rock. In the 90s I discovered HipHop, but it was only through fan requests that I really started getting into today's rap sub genres. As a journalist and writer, I've always been fascinated with vocals and rap is a very vocal genre. Lots of storytelling, I love that.
When I started singing in the car, I also got some requests for kind of off the map music from artists like Ariel Pink. Followers wanted to find out if there were songs I couldn't or wouldn't do. That was a lot of fun and when artists started sharing my songs, I also gained more reach."
What was the first song to gain traction online and did you expect it to catch on?
"The first was Bloody (Bagonia's) by Ariel Pink. He shared it and that made me jump from 400 to 4,000 followers. The numbers went higher from there until the day when Chris Brown shared my version of "No Guidance."
He shared it, Drake commented and I gained over 100,000 followers in three days."
You're always on point with your lyrics; never missing a word. Do you have something in place to help you recite the lyrics?
"I'm not memorizing all of the lyrics. I sometimes use a lyrics app. My goal is to do at least one song per day, that would be impossible if I had to memorize all the lyrics."
I can imagine record labels trying to push their artists music to you to cover; what's been your process with dealing with record labels and public relations companies?
"This still sounds a little crazy to me, but I have an agent to deal with official requests. He's a very nice and experienced guy from Berlin who has ties to the music industry. And he has no problem explaining to record labels and pr guys that I'm only doing the songs I really like."
Do you have a favorite song ever that you found through fan requests?
"I have lots! I love songs from Frank Ocean, Kendrick Lamar, XXXTentacion, Travis Scott, Stormzy, Burna Boy, Gang Of Four, Midnight Oil and many more."
What artist had the most passionate and receptive fan base after you covered one of their songs?
"I did two songs from Turkish pop singer Ibrahim Tatlises. There's a lot of people with Turkish roots here in Germany and their response has been fantastic.
Also, I got a lot of love from Nigerians for covering songs like "Ye" from Burna Boy."
What has 'going viral' taught you about the internet?
"This might sound stupid but the internet is like the real world. You have to do your thing and don't listen to haters. You have to be nice to people if you want them to treat you the same.
To be successful you need consistency (I've been doing at least one video a day since I started), flexibility (discovering new music is one part of this I like very much) and some luck. It helps if you're doing something no one has done before. I don't think there ever was a 56 year old guy on Instagram (and now also on TikTok) doing rap songs. And one more learning; you should stay in contact with your fans. I spend at least one or two hours per day to read comments and to respond."