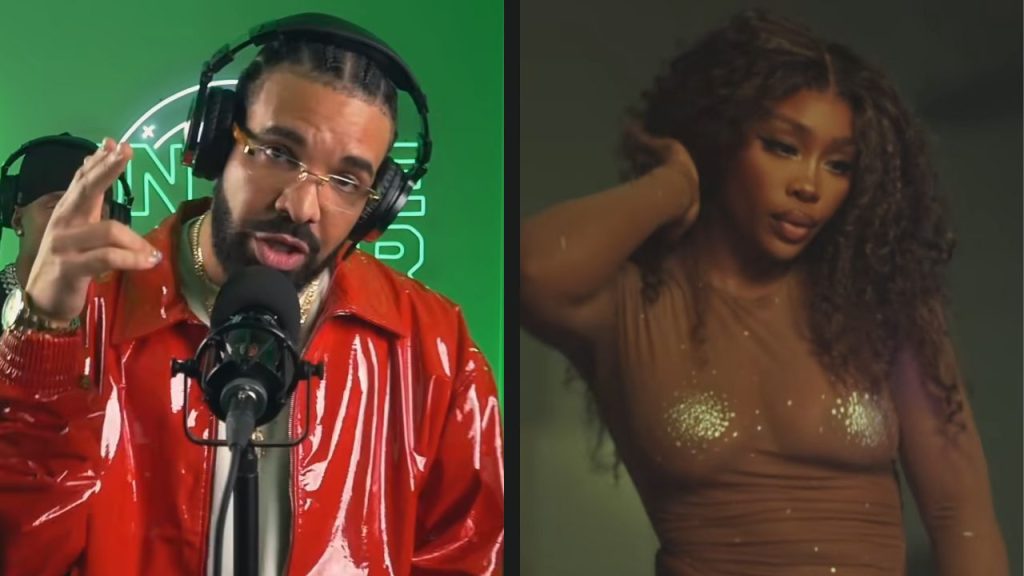 Drake and SZA have set the internet on fire with their recent identical social media posts, hinting at an upcoming musical collaboration between the two artists. With their history as former flames, the anticipation is high for the musical reunion between these two talented artists.
A Match Made In Heaven
On September 13, Drake and SZA shared the same album cover photo on their respective Instagram accounts, sparking speculation among fans about a potential joint project. 
Drizzy took to Instagram to share an intriguing album cover photo featuring actress Halle Berry getting slimed at the 2012 Nickelodeon Kids Choice Awards. The image was accompanied by a shocked emoji and a green heart emoji, where the "Snooze" singer added to the speculation by sharing the same album cover photo on her Instagram account.
SZA's caption included emojis depicting throwing up, blushing, and looking eyes, adding to the mystery surrounding the collaboration. Fans were immediately buzzing with excitement, eagerly awaiting more details.
Drake Drops Details
According to Uproxx, rumors are swirling that the highly-anticipated single will be released on Friday, September 15. During his It's All A Blur tour stop in Austin on Monday, September 11, Drake gave his audience a tantalizing hint, stating:
 "I know y'all are excited to hear the album. I know it's like two weeks out, but I'm gonna drop a song this week – just to let you know what's up." 
The news of the two former lovebirds' collaboration has excited fans because of their shared musical talents and history as former romantic partners. In October 2020, SZA addressed her dating history with the Canadian sensation on Twitter. 
Responding to a claim that they dated in 2008, she clarified: 
"So It was actually 2009 lol… in this case, a year of poetic rap license mattered lol. I think he just innocently rhymed 08 w wait. Anybody who really knows me and was around during this time can confirm… it's all love all peace." 
Mr. Right Now
SZA's 2020 tweet also refers to Drake's lyric in the 21 Savage song "Mr Right Now," which mentions their past relationship:
"Yeah, said she wanna f*ck to some SZA, wait," Drake raps. "'Cause I used to date SZA back in '08."
In addition to the collaboration, Drake has also announced his upcoming 8th studio album, For All The Dogs, which is set to release on September 22. 
BONGOS x Cardi B x Megan Thee Stallion
In the world of musical collaborations, Megan Thee Stallion and Cardi B recently teamed up for their latest joint effort called "Bongos." The dynamic duo wowed audiences with their performance at the 2023 VMAs, leaving fans excited for what the future holds for these two powerhouse artists.