DJ Akademiks finds himself in hot water as he faces backlash after disrespecting the City Girls and other women in the industry. The feud ignited with rapper Saucy Santana's call-out, gaining attention from legendary rapper Queen Latifah. 
DJ Akademiks Gets Called Out
On Nov. 2, Legendary rapper-turned-actress Queen Latifah shared a post on her Instagram from New York rapper/activist Mysonne, that criticized Akademiks for being afraid to comment on Santana but will be disrespectful to Black women. The post also read:
"Brings me back to the Malcolm X quote, ' 'The most disrespected, unprotected and neglected person in America is the Black woman.'"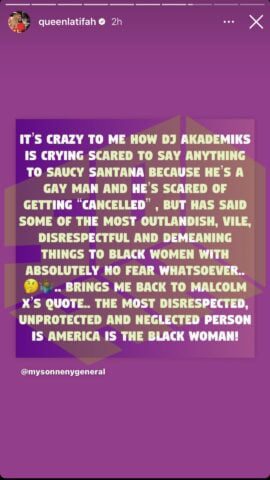 DJ Akademiks has a history of engaging in hip-hop beef, but his recent exchange with the "Walk" rapper has garnered significant attention. The conflict began when the Hip-hop blogger/streamer criticized the City Girls for their low album sales for R.A.W.,  declaring them "completely over." 
This prompted rapper and close friend to the City Girls, Saucy Santana, to take to his Instagram story, accusing Akademiks of solely attacking women while avoiding confrontation with men:
"Akademiks, you keep talking about what the f**k Caresha[Yung Miami] said to you, but how she feel about you, is how she feel about you," Santana said.  "Me being her best friend, it don't have nothing to f**king do with me. In the hood, and in a lot of urban cultures, when you see boys that are acting feminine, that are being messy, that are being extra and doing f*g sh*t, that's what you address them as." 
'We Want To Meet You Outside!'
Santana remained unyielding and challenged Akademiks to meet him outside during a Halloween party hosted by Yung Miami:
"We want to meet you outside. I want to meet you outside. I don't want to pull up to no motherf*ckin' headquarters, corporate a** n**ga… I want to see you outside. Let's get active. And after I beat you im gonna f*ck you in yo ass," Santana said in a separate Instagram story post on October 31.
The situation escalated further as Akademiks claimed that Yung Miami, a member of the City Girls, had used a homophobic slur against him. In a VLADTV interview, Akademiks questioned how Yung Miami could use such language towards him when Santana, a gay man, and her close friend, was part of their circle.
"How could you have disdain or even be using those terms towards those types of people if you love who your best friend happens to be?" Akademiks said in the interview. The slur that Yung Miami called Akademiks was "Batty Boy," which is a derogatory Jamaican Patois insult. 
DJ Akademiks Responds
DJ Akademiks also aimed at female rapper GloRilla, stemming from his response to her blocking Twitch streamer Kai Cenat for critiquing her new single "Cha Cha Cha." In reaction, Cenat hosted a live stream with a parody jail setting, prompting Akademiks to share his response on Twitter (X), expressing his thoughts on the "F.N.F." rapper's misunderstanding of the situation.
"Glorilla is a F*cking Idiot.. She really think Kaicenat is locked up," wrote Akademiks, referencing to the streamer's jail stunt. "Her label must have humbled her stupid ass in realizing… Bih.. u aint bigger than the program.. and Kaicenat is valued way more than u. She tried to cop a plea to him but tried to diss me in the process. LMAO." Akademiks said in an October 29 post on Twitter (X).
On November 1, DJ Akademiks was live streaming on Rumble, addressing Santana's threat and appeared to show emotion, possibly concerned about facing backlash or being "canceled" for his response:
"Im trying not to get canceled, but this sh*it does bother me." During the stream, he started to get emotional and teared up while talking.    Users on X reacted to DJ Akademiks crying on his stream. One user commented "I know his ass aint start crying," and one other user jokingly commented "Is he crying because he can't be openly homophobic?" 
Others commented on the beef with reactions on social media as well. Activist Dr. Umar Johnson said he hopes Santana and DJ Akademiks find peace and said "I don't want to see a man get his cheeks clapped." 
DJ Akademiks Past Beefs
There has been no confirmation of reconciliation or forgiveness among the individuals involved in DJ Akademiks' ongoing conflicts.
In 2020, DJ Akademiks was also confronted by Philadelphia rapper Meek Mill. Both men were involved in a heated discussion on the platform; Clubhouse and Meek Mill accused Akademiks of not bringing anything positive to the culture of hip-hop and said his coverage of hip-hop has gotten rappers killed. 
Kodak Black Threatens Ray J 
Another controversial topic that gathered reactions from others was Ray J being threatened by Kodak Black. Kodak was a recent guest on Drink Champs, and fans were concerned about his well-being. Ray J expressed concern on his Instagram, leading to Kodak calling him a "little ass b*tch."