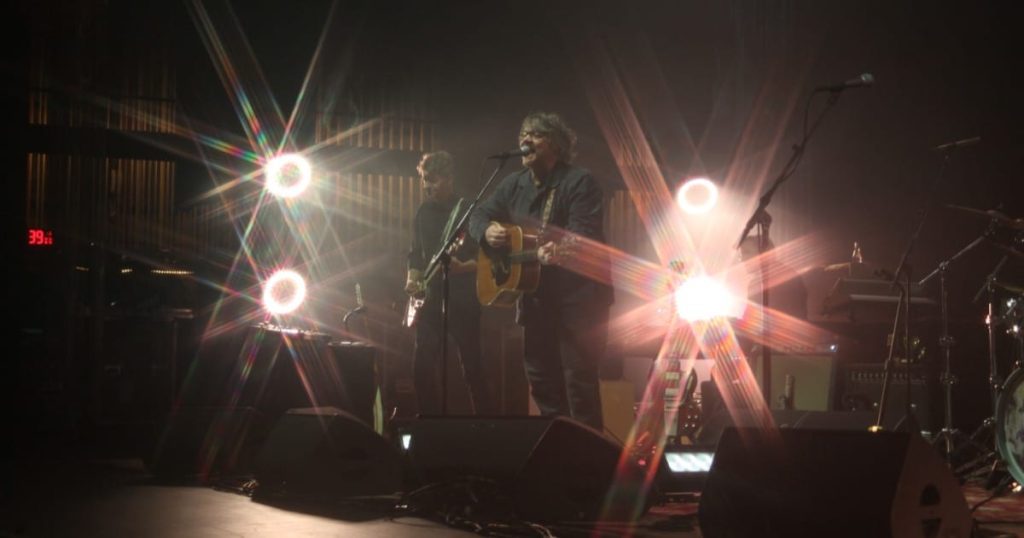 Few cities match the vibe of a band in the way Portland, Ore., and Wilco pair. Perhaps it is the town's indie spirit, synonymous with housing notable acts such as The Shins, Modest Mouse, the late genre dominator Elliott Smith, and countless others, who have embraced the city's rain-soaked seasons, which require a laid-back, at times melancholy, attitude for endless days hiding behind a heavy gray glare.
Prior to my latest Wilco experience, I found myself at Thomas Wolfe Auditorium in Asheville, N.C., on April 28 for their Cruel Country tour stop. It could be reflected in the country-leaning approach to their 12th studio album or the region where the show occurred, but in 171 days, they returned to the alt-rock spirit that dominated earlier works like Summerteeth, Yankee Hotel Foxtrot, and others and ultimately delivered Cousin on Sept. 29, 2023: A fully charged return to their roots.
I like the experimental canon and the tactful additions of unusual sounds to spark a sense of intrigue. And, well, Wilco has meandered a road between alt-rock heroes and good old-fashioned folk troubadours; it's the in-between I desire. The poetics of Mermaid Avenue mixed with the exploratory artistic elements of Foxtrot, and just maybe, that's the trope Cousin resides.
Sans welcome, Wilco commenced their Oct. 16 gig at the Keller Auditorium with "Infinite Surprise," the number's initial positioning during the set reflected its placement on the Cate Le Bon-produced record. While some bands might favor a recognizable entry point for fans, this group did something different: "Infinite Surprise" isn't just a new song; it's a piece that reverberates the essence of past collections. It sounds like classic Wilco, and to the untrained ear, it easily could have emerged some 10 years prior. Needless to say, I ate it all up.
Soft and subtle strums from Jeff Tweedy illuminated the start of "Handshake Drugs," accompanied by a swift influx of keys a la Pat Sansone, before a return to Cousin. "Pittsburgh" brought out the seasons, with a drizzle effect–emulated through backdrop imagery and the reality of the Pacific Northwest location–propelled by Nels Cline's brute instrumentation, swoon. From the alt-depths of the night's starters, Wilco opted for their twangy side with a pair of Cruel Country numbers, "I Am My Mother," and the title track. The juxtaposition in sound displayed the band's ability to meld into the desired feature of the tonal shift that played out over two unencumbered songs.
Next, the experiential stalwarts propelled on "I Am Trying to Break Your Heart," bringing even the most resistant fan to their feet for the staple track. "What was I thinking when we said hello," boasted the official welcome of the evening, with Tweedy embracing his 2001 thoughts and bidding the crowd a proper greeting, complete with a wave. (Hello to you too, Jeff.) "One Wing" sparked a similar indie flame as their follow-up, new tune, "Meant to Be." Conjuring thoughts about new material and the opportunity to simply listen. No need to push for a desired line; just let it play out. And remember, we are spectators here.
"Hummingbird" ensued, and Tweedy's Let's Go (So We Can Get Back) adage burned in my memory: "[My dad] listened to everything by Uncle Tupelo and Wilco, but he enjoyed certain songs more than others…" Continued: "He also loved 'Hummingbird.' He loved that for years he'd ask me, 'Why don't you make more songs like 'Hummingbird?'" Dad's favorite sorrowed into "Sunlight Ends," a pulsating composition propelled by backbeat Glenn Kotche.
"Whole Love" birthed "Bird Without a Tail/ Base of My Skull," both of which arrived before the title track from the band's latest release. While "Cousin" was well-received by the audience, who continued to bop their heads in appreciation of the performance, "Evicted" stole the show. For fans of the band's initial lineup, watching Tweedy and John Stirratt's onstage interactions on a tune that could have originated decades ago was a genuine treat, beckoning to a shared history that goes back to Uncle Tupelo and the pre-aughts era. For me, still frames of the pair on-screen in the Sam Jones-directed I'm Trying to Break Your Heart blurred reality.
Cline's solo on "Impossible Germany" served as another highpoint before a tempo shift on the arrival of "Jesus, Etc." My queue to dance. The upturn continued with "Heavy Metal Drummer" (a personal request via the artist's website) simmering and fizzing with a sense of evocation into the set closer "A Shot In The Arm." After leaving the stage–to mark the end of the frame–Tweedy and company returned momentarily, bringing Rose City resident Scott McCaughey (The Minus Five, The Baseball Project) to assist on keys during Mermaid Avenue cut, "California Stars." Notably, McCaughey and Tweedy worked together in the past, teaming up and producing The Minus 5's 2001 record, Down With Wilco.
Wilco welcomed their opening act, My Brightest Diamond, also known as Shara Nova, to close out the night. The Portland concert marked her final tour stop with the band, making for a ripper of a finale as the collective group landed on "Spiders (Kidsmoke)." The last song frayed from its studio presentation, favoring a big band feel, complete with wailing axe solos that caressed extensive builds into a high-powered bridge that captured a sense of genuine rage. The emotional release gave way to bows, and within moments, the venue lights were switched on, and crew members began disassembling the setup.
Exiting the venue, I opted for pedestrian cut-throughs, avoiding the main path. The 10-minute walk led to the campus parking spot I had claimed, a frequented route during my college years. There, next to sprawling rows of food carts for which our city is known, I pondered my own connection to music and Wilco origins, calculating the time between my father's first Mermaid Avenue play–Was it "Birds and Ships?" Or, "Way Over Yonder In The Minor Key?"–and my rediscovery of the beloved batch. 25 years is the final count.
Here's to the next 25.