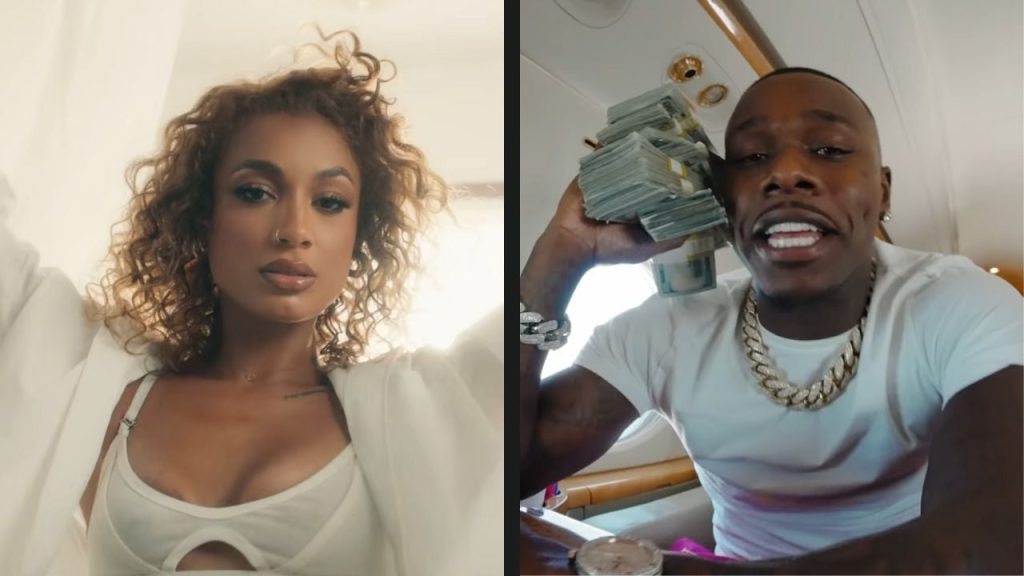 DaniLeigh and DaBaby were spotted together celebrating their daughter Valour's 2nd birthday, signaling a reconciliation between the former lovers. This heartwarming moment comes after a tumultuous past, including a public dispute and a potential legal battle. 
DaniLeigh & DaBaby Celebrate Their Daughter's Birthday 
On August 11, DaniLeigh and DaBaby were seen standing side by side, smiling as they sang to their little girl. This public display of unity suggests that the couple has put their troubled past behind them and focused on co-parenting.
Their reconciliation follows a highly publicized incident in November 2022 when DaBaby reportedly called the police on the singer in an attempt to remove her from his home. The drama unfolded on their respective Instagram Live accounts, with both parties sharing their perspectives. 
Despite their differences, the couple united to shower their daughter with love on her special day.
DaniLeigh's Brother Sues DaBaby
In February 2022, DaniLeigh's brother, Brandon Bills, was allegedly involved in a physical altercation with DaBaby and his crew. The altercation led to a potential legal battle, with DaBaby facing assault, battery, emotional distress, and negligence charges. 
However, these charges were later dropped after Bills chose not to cooperate with the police.
Updated By: Kynedei Iman Hobbs (8/16/23 at 6:25 pm)
DaniLeigh Finally Addresses Messy Breakup
Rising R&B singer DaniLeigh is dishing out her thoughts. The West Coast crooner went online to address her publicized breakup with hip-hop heavyweight DaBaby and give some insight into the split.
DaniLeigh Addresses DaBaby Breakup
DaniLeigh took to Twitter with her thoughts. DL said she can't wait for her name to be separated from the situation and vowed to grow from her relationship with the North Carolina rapper.
"Can't wait to be disconnected to that situation…. 🤍🤞🏽 in due time … 🙏🏽 we all human.. we all make mistakes when we in love and dumb.. but it's all about growing fr .. so I'll take my lessons and keep goin .. even with all the hate I receive it's fine… in due time 🙏🏽"
DaniLeigh's Post-Breakup Bedroom Pics
DaniLeigh didn't let a little heartbreak keep her head down. Instead, the curvy crooner recently came forward to bless fans with some steamy new bedroom pics of herself flexing pure beauty. DL went to her Instagram page and didn't hold back on blowing the Internet away. Leigh shared a batch of fresh shots of herself wearing pajama shorts with a tight-fitting top.
"Jus in case u need a new wallpaper 😴"
DaniLeigh Announces DaBaby Breakup
Earlier in February 2021, Dani went to her Instagram page to break the news to shocked fans. Without providing any context, Leigh informed the entire world she's no longer romantically linked to anyone.
"Officially single."
Coincidentally, the announcement comes after DaBaby went to his Instagram page to share a steamy clip of vixen India Love slaying his overnight "Masterpiece Challenge." Baby made things more cringe by offering to go out on a date by the best reenactment.
"This Tik Tok is a #Masterpiece 🔥 @indialove 🐐 Morning, Best re-enactment of this Tik Tok gets flown out for a date w/ Baby on Valentine's Day.❤️😂 #MASTERPIECECHALLENGE Choosing the winner Friday, February 12th. Starting now.. GO❗️"
DaniLeigh Loved DaBaby
In December 2020, DaniLeigh responded to an Instagram question about who she loved. She let it be known she loved the Charlotte rapper and posted a picture of him making her feelings clear at the time about their relationship together.
"#DaniLeigh luhh that man 😩 #ThatAintDaBabyThatsDANIBaby"
Originally Written By: Chris Goossens