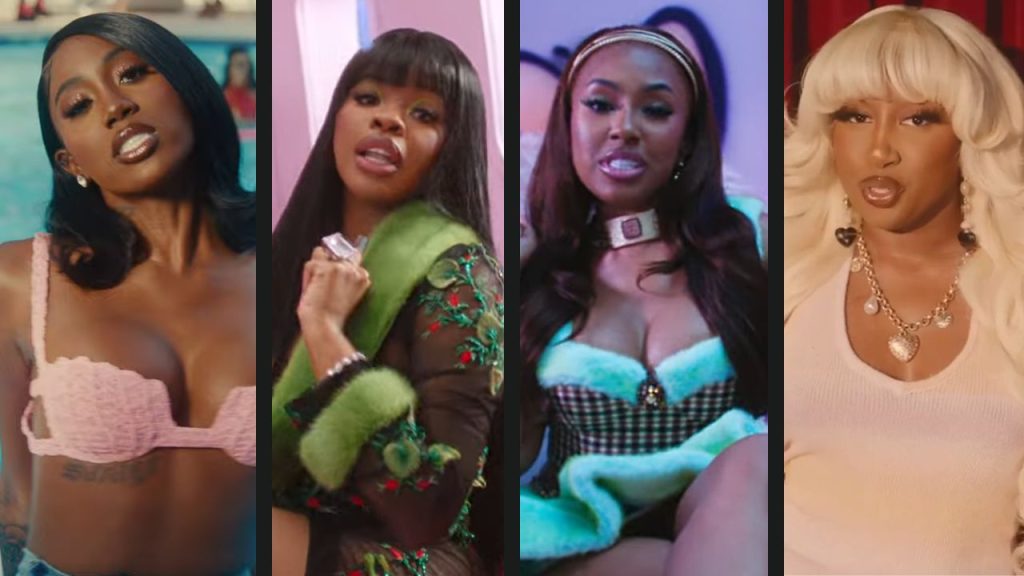 This week, the hip-hop ladies have been coming in hot with new drops and brand deals. Angel Reese becomes Reebok's first major NIL signing, Flo Milli drops "BGC," the City Girls' new RAW album has fans buzzing, and more.
Angel Reese Making Plays & Deals
Reebok recently announced its commitment to supporting and empowering college athletes by signing Angel Reese as its first major NIL athlete. 
Joining the ranks of other notable athletes who have been able to monetize their name and brand in college, Reese's partnership with the popular sportswear brand solidifies her influence both on and off the basketball court.
Flo Milli: 'Bad Girls' Club'
Flo Milli, known for her hit song "Beef FloMix," released a new single titled "BGC." 
The track samples Carl Carlton's "She's A Bad Mama Jama" and features music video appearances by notable female rappers Lady London and Maiya The Don. With this release, fans anticipate possible collaborations and cameos in the official music video.
City Girls Release Their New Album, 'RAW'
Miami rap duo City Girls has finally dropped their highly anticipated album, RAW. 
The 18-song tracklist features collaborations with notable artists such as Lil Durk, Muni Long, Juicy J, Usher, and Kim Petras. Currently, RAW is the No. 1 hip-hop album on Apple Music, garnering widespread acclaim from fans and critics alike.
Baby Tate's "Sexploration"
Rapper Baby Tate recently announced her new project, Sexploration: The Musical.
This album serves as an ode to love, self-discovery, and "sexploration." The project's snippet featured drag queens and theater scenes, promising fans an immersive and exciting experience.
Sexyy Red: Pink or Blue?
St. Louis rapper Sexyy Red took to social media to share the news of her pregnancy. 
Posed in a black one-piece showcasing her baby bump, she included singer-songwriter SZA in the photo, hinting at possible collaborations to come. As her career continues to thrive, fans are eager to see how the upcoming chapter in her life will impact her music.
Cardi B With The New New
Cardi B teased her fans with a preview of new music on the social platform Stationhead. 
The "Bongos" rapper played an instrumental while rapping, leaving fans excited for what she has in store. In addition, Cardi B recently starred in a Skims campaign, showcasing her long burgundy tresses and modeling various styles and colors for the brand's clothing line.
Roxanne Shante To Be Honored
Hip-hop icon Roxanne Shante, along with other influential figures such as Ice-T, Run-DMC, Kurtis Blow, The Fat Boys, and The B-Boys, is set to be honored at the National Hip-Hop Museum Hall. 
This recognition celebrates their contributions to the genre and their lasting impact on the music industry.
Issa Rae Has Exciting News
Despite the slight delay due to the writer's strike, Issa Rae fans can rejoice as the new premiere date for the highly anticipated Season 2 of Rap Sh!t has been announced. The series, now set to premiere on Nov. 9, follows the journey of two Miami-based rappers striving for success in the music industry.
Additionally, Issa Rae has partnered with E.&J. Gallo to launch her Prosecco brand Viarae, which adds another layer of excitement to her already impressive portfolio.
'Christmas With Brandy'
Actress and musician Brandy has delighted her fans with the news of a new holiday album titled Christmas With Brandy. Set to release on Nov. 10, the album promises to bring the joy and festive spirit of the season through Brandy's soulful voice.
Mariah the Scientist's 'To Be Eaten Alive'
Singer Mariah the Scientist has released a new single titled "From A Woman," paying homage to her love for rapper Young Thug. Additionally, she has revealed the cover art for her upcoming album, To Be Eaten Alive, slated for release on October 27th, coinciding with her birthday.
Tyla Rises To The Top
Emerging South African artist Tyla has achieved a significant milestone early in her career, reaching the number one spot on Billboard's US Afrobeats Songs chart. Her track overtook the record-breaking 58-week reign of Rema and Selena Gomez's "Calm Down," solidifying Tyla's place in the music industry.
Missy Elliott Gives Back 
In honor of "Missy Elliott Day," rapper Missy Elliott donated $50,000 to her hometown's Portsmouth Redevelopment and Housing Authority. This act of generosity reflects Elliott's love and appreciation for her community, showcasing her commitment to giving back.
Victoria Monét Is On The Road
Singer Victoria Monét announced an upcoming HBCU college tour, perfectly timed to coincide with homecoming season for many universities.
The tour includes performances at Morehouse College, Spelman College, and Howard University. Monét also showcased her musical talent by performing her hit single "On My Mama" on The Tonight Show Starring Jimmy Fallon.
Summer Walker Remixes The Remix
Summer Walker has delighted her fans with the release of the second remix of her hit single "Girls Need Love." The remix features notable artists Tyla, Victoria Monet, and Tink, creating a collaboration that appeals to fans of R&B and soul music.
Megan Thee Stallion Gets Spooky
Megan Thee Stallion ups the Halloween ante with her highly anticipated, "Hottieween" party in Atlanta, Georgia. The exclusive event, taking place on Oct. 28, promises a spooky and memorable experience for the lucky few who received invites.
Lola Brooke's New Project
Aside from her newly released single "You" featuring Bryson Tiller, the New York rapper may have something else in store for her fans. 
Brooke has released her new "Pit Stop" song featuring French Montana. However, the fun doesn't stop here; on Friday, November 10, the rapper will also be releasing her highly anticipated Dennis Daughter, which would be her first album. 
SOHH family, show these amazing ladies some love, and have a great weekend!