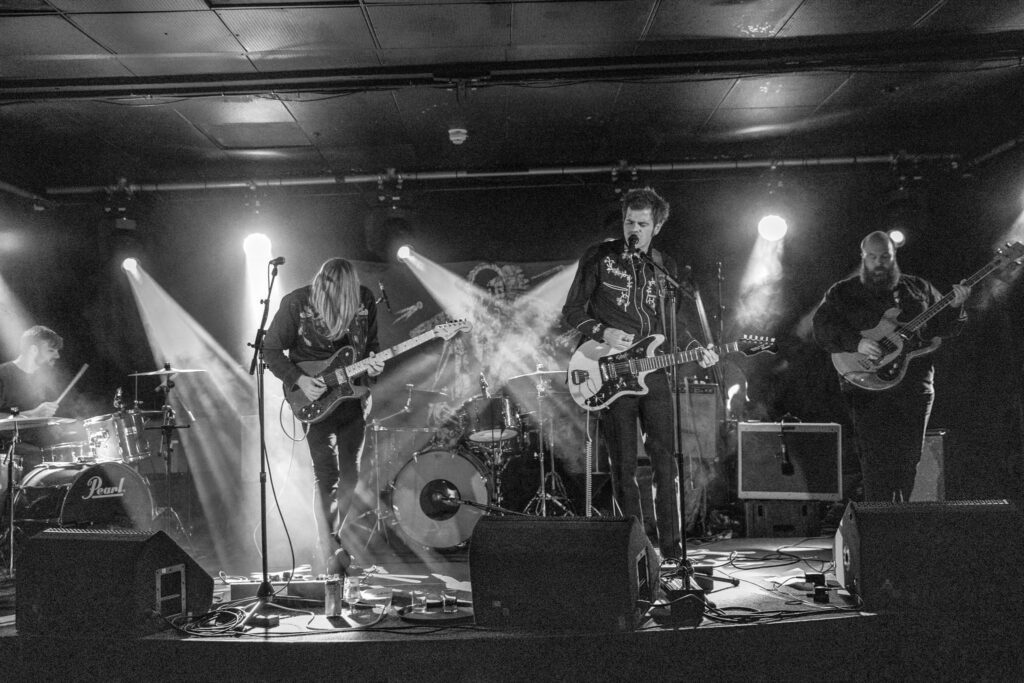 Notwithstanding its accuracy – as I am soon about to find out – The Sadies' self-description as being "one of this continent's greatest extant rock'n'roll bands" surely sees their tongue stuck firmly in their collective Toronto cheek. Immodesty, you strongly suspect, is not their natural bedfellow. They have now been on this musical planet for nearly three decades so how come I had never previously heard their albums, let alone seen them play? Yeah, yeah, I know, this dreadful omission on my part is just about as incomprehensible, not to mention downright inexcusable, as how The Grateful Dead somehow managed to completely pass me by in the 1970s.
So I am certainly coming very late to The Sadies' party but it will have to wait just a little bit longer as first up tonight there is the no little matter of Cowgirl. And what an experience it turns out to be. Just as The Sadies will shortly prove, these four guys also know their way around rock'n'roll.  They have the confidence to bookend their set with first Hendrix and then Dylan blasting out over the Crescent PA and this self-belief is rewarded with a blistering set. Right from the get-go and the energised swagger of 'Against The Night' one thing is abundantly clear – Cowgirl are on. Their sound is a template for garage rock that crackles with a purpose. They tear through a nine song set culminating in 'I Thought You Should Know', a relentless runaway train of a song that flies down the track with the brakeman suddenly posted missing.  It is a dangerously thrilling ride.
When Travis Good, Sean Dean, and Mike Belitsky take to the stage half an hour later anyone new to The Sadies – someone like me, for example – could easily believe that there are actually four people in the band. The image of another man, playing guitar, adorns a large canvas pinned to the wall behind Belitsky's drum kit. It is a picture of Dallas Good, Travis's brother and joint founding member of The Sadies who had passed away suddenly in February of last year at the age of 48 . He is omnipresent. His brother dedicates 'Better Yet'  to him – a track from their 11th studio album, Colder Streams – before quickly correcting himself and saying that every song that The Sadies now play is dedicated to Dallas.
Dallas Good's absence, or perhaps moreover his supernal presence would appear to hold The Sadies together and compel them to continue. And continue they do. They rattle off 27 songs in total traversing a bewildering range of musical styles from garage to rockabilly, country to psych, the sound of surf to a fistful of Morricone-inspired Spaghetti Western instrumental bursts, and some proto-punk to the occasional Bo Diddley beat. And then just for good measure the three men and their spiritual guide end with a stunning cover of Neil Young and Crazy Horse's 'Everyone Knows This Is Nowhere'.
And the moral of this story is to always have faith in the musical judgement of Joe Coates. The man who is local live music promoter Please Please You has been putting on shows by The Sadies in the local area for 20 years now and I really ought to have taken note of this fact long before now. 
Photos: Simon Godley
More photos of Cowgirl at The Crescent