Detroit rapper 42 Dugg took to his Instagram story to provide his followers with an update on his previous arrest. He shared details about his ongoing legal situation, expressing frustration with the handling of his case by the US Marshals and his conditions while incarcerated in Georgia. 
Update on Arrest & Illegal Detention
In his Instagram story, 42 Dugg informed his fans about the circumstances surrounding his arrest. He revealed that the US Marshals in Atlanta allegedly prevent him from returning home, claiming that they illegally held him without proper reasoning. 
He emphasized that his federal judge in Detroit had granted him bond, and he was supposed to have been released on October 14th of the previous year.
Request For Civil Lawyer & Unfavorable Treatment
While being held in jail, 42 Dugg tells his followers that he is in need of the best civil lawyer in Georgia:
"I need the best civil lawyer in Georgia man, im in jail for going to the gun range, dropping dirty and failure to appear, I didn't steal from nobody, hurt nobody, they handling me crazy."
He stated that he is facing charges related to going to a gun range, failing drug tests, and failing to appear in court. 
The Detroit rapper maintained his innocence, asserting that he had not harmed anyone or stolen from anyone, and expressed dissatisfaction with the treatment he had received.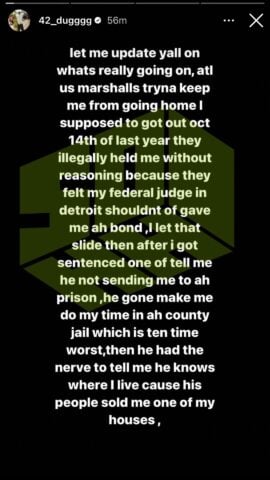 Conditions In Jail
During his Instagram story, 42 Dugg shared details about the conditions he is experiencing while incarcerated. He mentioned heating his food with water from the shower, the absence of hot and clean water, and the inability to have visits from his family.
Updated by Chris Samuel (5/16/2023)
42 Dugg Sentenced To 1 Year For Failing To Report To Jail Multiple Times
A court sentenced 42 Dugg to one year in prison because he failed to report to jail. 42 Dugg got a gun sentence in 2019 and repeatedly defied court orders by not surrendering to jail.
The Detroit News reported that 42 Dugg, a rapper from Detroit, received a one-year sentence after admitting to evading prison.
The judge rejected the six-month sentence recommendation and fined 42 Dugg $20,000. He pleaded guilty in February. A three-year supervised release bars Dugg from consuming illegal drugs. He is famous for "Maybach."
42 Dugg was apprehended by federal agents in April 2022 for missing his prison appointment. Nevertheless, the rapper supported law enforcement by pledging to pay a suspended police officer's six-month salary in 2021.
The Detroit rapper was originally arrested for a gun charge after firing a gun at an Atlanta shooting  range in November 2019. 42 Dugg was a convicted felon of carjacking and firearms possession charges and was not allowed to fire a weapon. He was ultimately arrested and charged with felony firearms possession in March 2020.
42 Dugg faced 10 years for the gun charges but avoided jail time with a plea deal.
Asian Doll was incarcerated for failing to appear in court after receiving speeding tickets in November 2022. Maxo Kream, a Houston rapper, turned himself in for his 2016 RICO case and may face imprisonment.
Updated By: Chris Samuel (4/27/23 at 2:00 pm)
42 Dugg Facing 5 Years In Prison For Possessing Illegal Firearm
42 Dugg pleaded guilty to possessing an illegal firearm and could face up to five years in prison. The possible sentence comes from failing to surrender to custody for an illegal firearm charge.
Detroit rapper 42 Dugg could face up to five years in prison after pleading guilty to illegally possessing a firearm, according to a Detroit News report.
The "We Paid" rapper pleaded guilty to failing to surrender to custody to serve a six-month sentence for illegal possession of a firearm. Dugg also faces a  $250,000 fine. 
He will be sentenced on May 10th.
Prosecutors made a deal with Dugg that he serve a six-month prison sentence, requiring him to enter a 30-day inpatient program and a 30-day outpatient program. Dugg agreed to the recommended sentence. 
Dugg is currently in custody in the U.S. Penitentiary Atlanta. 
Dugg was previously arrested for felony firearm possession in March 2020 and was sentenced to three years probation and ordered to pay a $90,000 fine in November 2021.
Updated By: Chris Samuel (3/23/23 at 2:19 pm)
42 Dugg Touched Down In Private Jet To Find Police Waiting. Here's How He Snitched On Himself
42 Dugg was arrested at a Michigan airport yesterday after failing to turn himself in to serve an outstanding six-month prison sentence. The irony is that the rapper snitched on himself while bragging on social media.
42 Dugg Touchs Down
42 Dugg was brought in by Michigan police yesterday after he failed to turn himself in to serve an outstanding six-month prison sentence and the subsequent revocation of his probation.  The rapper had been avoiding capture but gave away his location hours prior in a bragging social media post.  
In March 2020, a federal grand jury in Georgia charged the rapper, born Dion Hayes, with firearm possession. The charges originated when the Bureau of Alcohol, Tobacco, Firearms, and Explosives received an anonymous tip that Hayes was firing weapons at an Atlanta gun range in November 2019.  There was also footage implicating the rapper who was barred from possessing firearms following his release from prison. 
Dugg was previously convicted of carjacking and firearms possessions in Michigan in 2011. He pleaded guilty to those charges in November 2020 with a three-year probation. 
The probation was revoked in February 2022 after Hayes was arrested for obstruction and battery in Las Vegas. He also had "multiple positive test results for use of controlled substances," which is another violation of his probation.  He was then sentenced to six months in a West Virginia prison.
The Detroit rapper was ordered to report in April 2022 to begin his sentence. When he didn't appear, a warrant for his arrest was issued. 
The "We Paid" artist was hiding in plain sight, attending Tuesday night's NBA playoff game between the Golden State Warriors and Memphis Grizzlies. As the private jet landed back in Detroit early Wednesday morning, he was apprehended.
42 Dugg Hiding In Plain Sight
Just hours before his arrest, Dugg boasted on Instagram and disclosed his precise GPS location, enabling the authorities to track him down. In the video, the rapper showcases his private jet, which he refers to as his "PJ," and brags about having guns and codeine on board, which he wasn't inspected for. Dugg wears expensive jewelry and spends about six minutes trash-talking and showcasing his wealth, mentioning that he's taking his buddy "to the game."
Tekashi69 Calls Out 42 Dugg For A Fight
The never-ending social media trolling continues. This time, Tekashi69's new target is rapper 42Dugg, who was caught in the crosshairs after trying to defend 6ix9ine's recent victim, Perkio.
6ix9ine called out rapper 42 Dugg for coming to Perkio's defense after calling him lame. Tekashi made it clear he would smack the fire out 42 – with his consent. 
You guessed it, the "We Paid" rapper didn't pull up to fight the "TROLLZl" artist. Instead, he did what any rapper would do – pulled up to the studio to make a diss track instead.
Originally Written By: Aevum Caelum (5/5/22 at 7:17 pm)