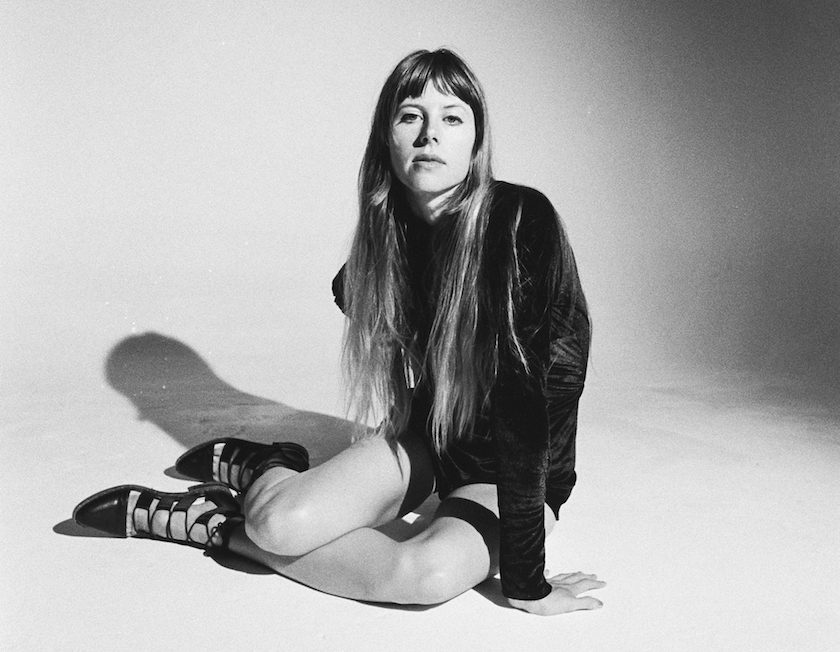 Lael Neale returns with her new full-length album Star Eaters Delight, out on April 21st worldwide from Sub Pop. To tease the release she's shared, album opener 'I Am The River' whose minimal beat and tremulous guitar notes that splatter patterns across a canvas are like Suicide if they were given a wider palette. Framing Neale's wonderful vocal, her melodic stream of consciousness reminds one of Patti Smith. It is at once personal and universal with a gifted warmth enhanced by a nagging ominichord and hoisted to new heights on the back of a repeated "ba ba da da da do na um" refrain that flows right through you. This is bloody fantastic. Watch the official self-directed video for "I Am The River." below.
The album was written by Neale, with arrangements and production by Guy Blakeslee. The recordings were made on cassette in Virginia and mastered by Chris Coady in Los Angeles.
Star Eaters Delight reveals an expansion of Neale's sonic collaboration with producer and accompanist Blakeslee and arrives on the heels of her Sub Pop debut, Acquainted With Night, which won international acclaim for its crystalline vocals, clever songwriting, and excellent use of Omnichord to build a world of beautiful reveries.
In April of 2020, Lael Neale moved from Los Angeles back to her family's farm in rural Virginia. Looking at the world from a distance and getting in tune with her own rhythms, she wrote and recorded steadily for two dreamlike years, driven by a need to make order out of chaos. Forged in isolation, Star Eaters Delight is a vehicle for returning, not just to civilization, but to celebration. She explains: "The unbroken silences on the farm compelled me to break them with sound. This album is louder and more external, calling out to the world."
Lael Neale is also sharing her international tour schedule for 2023 in support of Star Eaters Delight which begins April 22nd in Los Angeles, with the UK and European dates below. Tickets for these shows are on sale now.
UK/EU 2023
Mon. May 15 – Manchester, UK – The Castle Hotel
Tue. May 16 – London, UK – The Lexington
Wed. May 17- Paris, FR – La Boule Noire
Thu. May 18 – Tourcoing, FR – Le Grand Mix
Fri. May 19 – Brussels, BE – Botanique (Witloof Bar)
Sat. May 20 – Amsterdam, NL – Paradiso (London Calling Fest)
Mon. May 22 – Berlin, DE – Kantine am Berghain
Tue. May 23 – Hamburg, DE – Aalhaus
Wed. May 24 – Copenhagen, DK – Huset
Thu. May 25 – Oslo, NO – Krosset
Fri. May 26 – Stockhom, SE – Nomad
Sat. May 27 – Gothenburg, SE – Oceanen
Star Eaters Delight is now available to preorder from Sub Pop. LP preorders from megamart.subpop.com, select independent retailers in North America, the UK and Europe, will receive the Loser edition on gold vinyl.
Lael Neale – Star Eaters Delight
Artwork / Tracklisting:
1. I Am The River
2. If I Had No Wings
3. Faster Than The Medicine
4. In Verona
5. Must Be Tears
6. No Holds Barred
7. Return To Me Now
8. Lead Me Blind