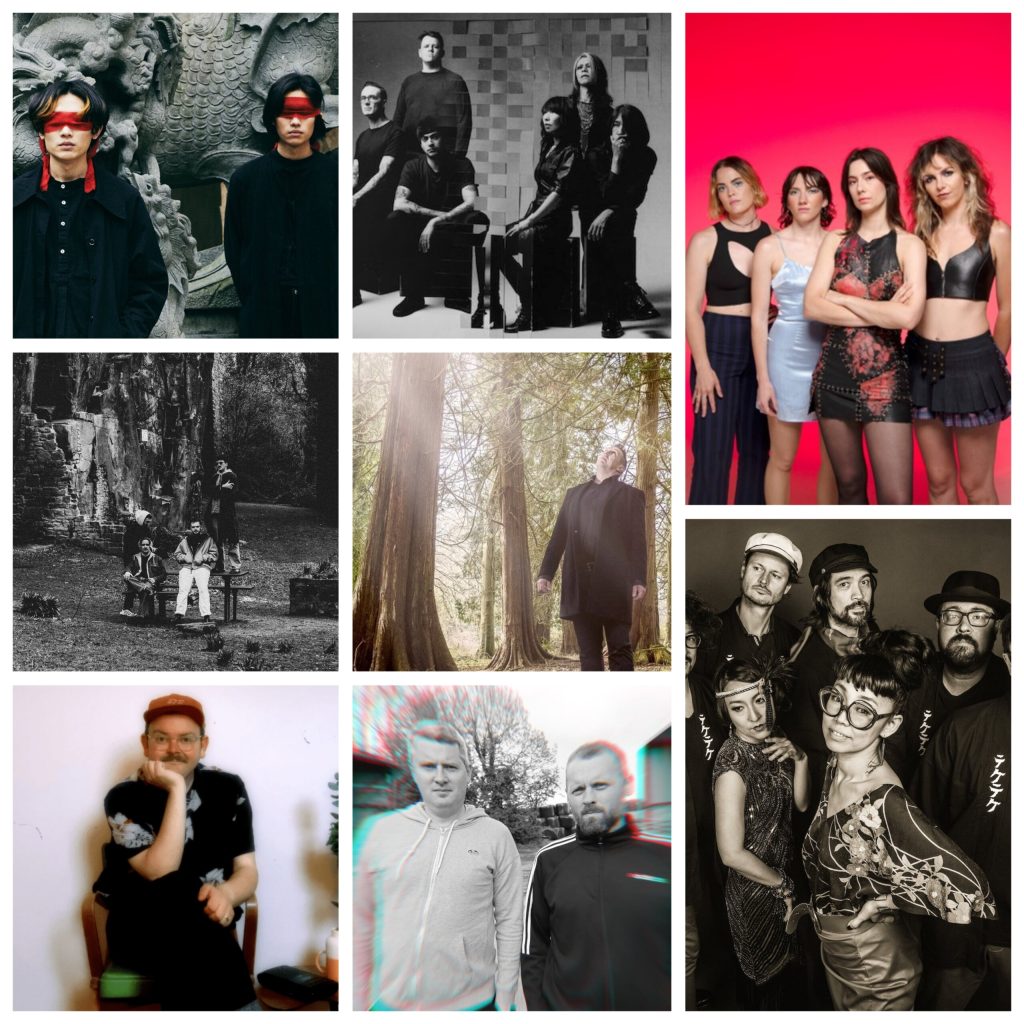 How lucky are you?!?! We said there was only going to be a Focus Wales Special this week, but our writers are so dedicated to finding you the best new music we've got eight tracks of solid gold for you. The Focus Wales Special will come tomorrow once we've recovered from three days of drunken debauchery, ear splitting music and so much walking our legs are about to drop off. Get on these. See you on the morrow.
TEKE: :TEKE – Doppelganger
Why we love it: TEKE::TEKE are a seven-piece Japanese psych-rock band who are based in Montreal, Canada and they have just released 'Doppelganger', the latest single to be taken from their forthcoming second album, Hagata, which is due out on 9th June via Kill Rock Stars.
"Being of mixed Japanese and French-Canadian culture, I always feel like in some way I'm living two parallel lives…a big part of me is here in Canada, obviously, but another part of me is on the other side of the planet … this could be said about most of us in this band" says guitarist and primary composer Sei Nakauchi Pelletier.
If the word doppelgänger brings to mind some kind of ghostly apparition, then the song 'Doppelganger' quickly dispels any such thought. With a beautiful sprightly spring in its step, the song fleshes out a contagious melody with layer upon layer of percussion, guitars, and suitably understated brass over which singer Maya Kuroki's voice serenely floats. The end result is that of being immersed in a gently hypnotic sonic balm. (Simon Godley)
Body Type – Weekend
Why We love it: Australian rock 4 piece Body Type, have released their new single 'Weekend' taken from their forthcoming album Expired Candy, set for release on 2 June via Poison City Records. The track considers promiscuity and affection. What a great lyric: "You make me feel like the weekend".
'Weekend' is a light hearted track, which, to be honest, is good to experience. With so much doom and gloom inevitably seeping into music, it's such a joy to have a track to lighten the mood.
Of 'Weekend', vocalist Sophie McComish shares
"This song is pretty candid really. It's about romance. Lotta people stressin' about love and dating. Too much overthinking. Loving is fun. Just go all in, even if for only one night."
Complete with music video by Throat Pasta, of the collaboration they share: "When I had the opportunity to see Body Type open for Pixies playing during the sunset at the Sydney Opera house steps I was tripping on mushrooms and was absolutely blown away. I reached out straight after their set and when I received a message back saying my production company name was a member's CentreLink password, we got to talking about creating a video, shortly after we linked up and made something I am so proud of, a beautiful analogue mess. I love Body Type."
Body Type have had a highly successful run of support slots including Fontaines D.C, Wolf Alice and Pixies and return to Europe and UK this June, including a spot on the Rock Werchter 2023 lineup alongside The 1975, RAYE, Arctic Monkeys, Lil Nas X and more. (Julia Mason)
Mong Tong – Forest Show
Why we love it: Hom Yu (bass, synth, programming)and Jiun Chi (keyboard, synth, guitar) are brothers. They hail from Taiwan. And they are the psych band Mong Tong 夢東, who will release their new album Tao Fire 道火 on June 30th via Guruguru Brain. The first single from the record is 'Forest Show' and it is a bit special.
The new album is described as "not only continuing the idea behind their previous work, Indies 印, but also incorporating more local elements such as gamelan music, phin guitar, tabla drums, and Taiwan sisomi. While sampling more sounds from the street of Southeast Asia, including weddings, funerals, and traditional celebrations, Mong Tong again explores different folk sounds around Austronesia."
As the title of their 2020 debut album, Mystery rightly indicates, the music that Mong Tong produces is enigmatic and in that respect 'Forest Show' is no different. With its strange shuffling beat and loping lysergic guitar the transglobal cross-pollination of the song invites the listener to enter into another magical world that exists far, far away. It is a journey well worth taking. (Simon Godley)
Japanese Jesus – Depression Breakfast
Why we love it: Japanese Jesus have released their new single 'Depression Breakfast' from their forthcoming EP which is set for release this spring on Blowtorch Records. The duo from County Limerick are Bertie Kelly (vocals, guitars and bass) and Denny Dunworth (drums) who previously played under the guise of Supermodel Twins in the noughties, recording their debut album with Noel Hogan of The Cranberries on production duties.
'Depression Breakfast' sees the band produce a more introspective track. With a darker and heavier sound it's a thought-provoking listen with lyrics full of emotion and aching with meaning. It's a contrast to the manic energy of earlier singles such as 'Bus Weirdo' and shows the versatility in the creativity of the two-piece.
Fall through the cracks yea that's quite alright
Another brick in the wall
Another waste of time
Fall through the cracks yea that's quite alright
Another cog in the wheel
Another grind of the gear
'Depression Breakfast' is the second single from the upcoming 5 track EP, following 'Tension' in March. (Julia Mason)
Boris and Uniform – You Are The Beginning
Why we love it: Any collaboration between Boris & Uniform was never going to be for the faint of heart. The Japanese titans and New York noiseniks joined their considerable forces back in 2019 for an American tour and here they are at it again. This time round they herald their forthcoming album Bright New Disease (out on June 16th on Sacred Bones Records) with the blockbuster lead single, 'You Are The Beginning'.
It was the first piece that Boris & Uniform composed during the initial day of their studio session in July 2020. As the title suggests, the song was written with the idea that it would open the album and, hopefully, open a show one day too. "At that time, we didn't know when we would be able to resume concerts," says Boris' Atsuo, "and our wish became the song directly."  
'You Are The Beginning' is a monumental slab of melodic metal fired along by relentless heavyweight riffs and an urgent pile-driving rhythm. If this is how it all starts, you do fear for how it may all end. (Simon Godley)
Maruja – Zeitgeist
Why we love it: Manchester's Maruja have released their new single 'Zeitgeist', or rather they have launched it into the world with a force that cannot be ignored. 'Zeitgeist' opens with the pulsing saxophone of Joe Carroll that immediately increases in speed until it's simply a blast. Vocalist and guitarist Harry Wilkinson, drummer Jacob Hayes and bassist Matt Buonaccorsi then join in the frey, creating a cacophony of sound. The vocals are fast and frantic, full of a manic energy combining perfectly with the instrumentation which is basically going haywire. No room for moments of quiet as in previous singles, 'Zeitgeist' is a full frontal attack on the senses for duration of the track.
The band expand on the background to 'Zeitgeist': "The energy is reminiscent of acts like Rage Against The Machine and Prodigy. This is the track we open our live sets with and it's all of us going full pelt for 3 minutes. It's our most unapologetic, in your face track to date which shocks every listener into paying full attention."
It's in the live performance that Maruja really deliver the full power and force of their music. Indeed music seems too quiet a word to describe the experience. The wall of sound is all encompassing and creates a thrilling experience. Having already performed at the likes of Left of the Dial and Manchester Psych Fest, Maruja have also supported Psychedelic Porn Crumpets, Opus Kink, Talk Show, Honeyglaze, The Lounge Society, L.A. Witch and Enola Gay. They continue 2023 with more live dates including a headline show at The Windmill in Brixton later this month which is already sold out. Go see Maruja live. You can thank me later. (Julia Mason)
Spielmann – The Seventh Time
Why we love it: Spielmann continues to strike out on his own. Following stints in local bands including Ruthie, Menace Beach and Bruising, some inaugural live shows just before Christmas, and then the release of 'The Right Track' back in February, Spielmann returns with another pop banger. This time round Leeds' songwriter Ben Lewis – the man who is Spielmann – hits us with 'The Seventh Time.'
Speaking about his third single, Ben Lewis says "The Seventh Time is a conversation between two friends, one putting all their time and effort into 'discovering' who they are, and the other trying to stage some sort of intervention. It finishes up with a message of just kind of, being yourself, and being comfortable with who you are, which is a nice thing…Whether the intervention is a successful one or not remains to be seen…"
Once more Spielmann shows his ability to produce a top tune that is rich in melody and features a strong, rousing chorus. A series of some ten festival slots this summer, including appearances at Bluedot, Deer Shed, and Green Man, confirm that Spielmann is going places. (Simon Godley)
pMad – Fire
Why we love it: Paul Dillon is Irish post punk, gothic rock solo artist pMad. He has released new single 'Fire'. It's a call to action – will those with the power and the money be willing to sacrifice their profits or will they wait until they can make a new fortune in telling us they saved us? The climate crisis seems hopeless at times. Can we save the planet for future generations to enjoy? The deep bassline is entirely appropriate for the theme of the track, where we feel the powers that be are not considering the wider destructive outcome of their decisions. The deep vocal, accompanied by pounding drums, electrifying guitars and pulsating synths captivate the listener. Solemn and yet dramatic with its elements of industrial post-punk and gothic elements, 'Fire' is a song that asks important questions.
The single release coincides with the release of pMads second album I in Power which was released worldwide on CD and as a digital download. Paul recorded debut album Who Why Where What' in the middle of a pandemic and it is created in collaboration with Ireland (Zedakube Recording), Germany (Protonaut Studio) & Mexico (Elith Mastering Labs) without ever being in the same room together. Impressive indeed. (Julia Mason)