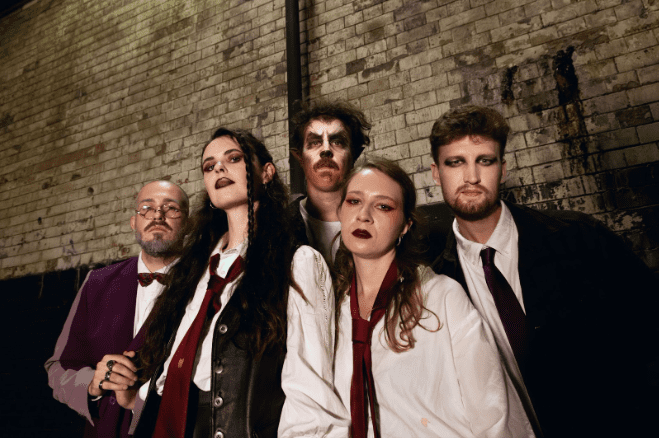 Fresh off the back of a triple set at Glastonbury, Scottish indie rock quintet Frankie Morrow have released their latest widescreen, windswept track 'Cruel', just in time for Halloween. Shereen Cutkelvin, on BBC Introducing in Scotland, said, "Frankie Morrow are on a mission to let the world know women can front guitar bands… and I'm sure they are going to succeed."
In their latest infectious track, 'Cruel,' Frankie Morrow weaves Fleetwood Mac-style pounding bass lines with honeyed multi-layered vocals and an undulating anthemic chorus, blending full moon howls with staccato rhythms, pounding like a heartbeat through the chest. There's a raw stylish urgency and timeless quality to this track laced with irresistible hooks and and radio-ready chorus.
We can't help but be invested in the narrative when Maria McMillan sings, "She looks just like an angel / But her claws are killer, fatal / The holier-than-thou act don't work on me, baby / I used to look up to you / Now I look through you…"
With fierce power, the listener can't help but be swept up in this cinematic vision. No wonder BBC Radio 1's Gemma Bradley said, "Frankie Morrow is blessing our ears tonight."
Watch 'Cruel' here:
The surreal comedy-horror music video, directed by Felix Ursell, follows three gothic teenagers tearing their way through the streets of London from what turns out to be a rather benevolent werewolf. 
See Frankie Morrow alive
NOVEMBER
2nd: Strongroom, London
22nd: Katzspace, London
Description: Left to right: James Smith (bass, bv's), Maria McMillan (lead vocals, electric guitar), Samuel Nicholson (electric guitar), Niamh Downes (keys, bv's), Duncan Carswell (drums)
Image by Felix Ursell
Design and typography by Tabitha Wykeham