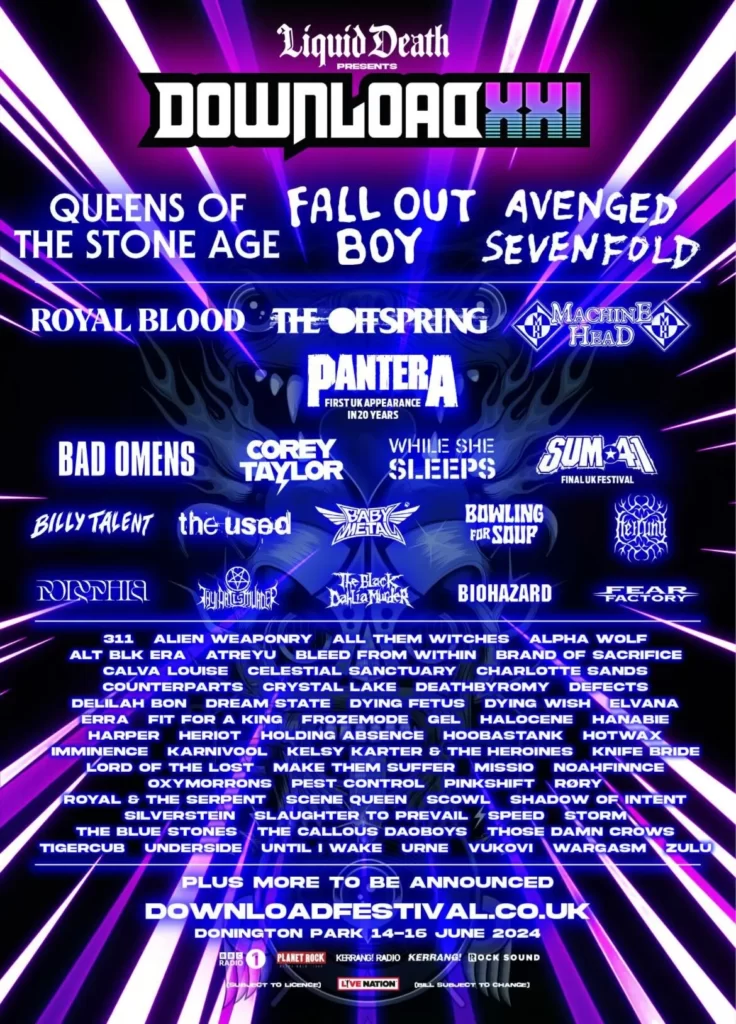 Donnington Park is the spiritual home to rock and metal, not only in the UK, but globally, which is why each year's line-up for the famous Download Festival is one that is monitored closely.
This year's initial announcement picks up where last year's line-up left off, with the festival looking to continue it's promotion of new names in the headlining slots, and more diversity across the festival itself.
The headliners consist of Queens of the Stone Age, and Fall Out Boy, who are both graduating to headliners for the first time, as well as Avenged Sevenfold, who last headlined in 2018.
Across the weekend, the likes of Babymetal, Royal Blood, Machine Head, The Offspring, Bad Omens, Polyphia, Corey Taylor, While She Sleeps, Fear Factory, and Sum 41 are all set to make appearances in prominent slots too. While the packed-out undercard also includes loads of fresh talent, such as Heriot, Vukovi, Noahfinnce, Hotwax, Scowl, and The Callous Daoboys, as well as plenty of other incredible bands.
2024's edition of Download will be taking place from June 14th to June 16th at the legendary Donnington Park, Derby, England, with tickets available now directly from the official Download Festival website: www.downloadfestival.co.uk
For those who are curious about the full list of bands making an appearance across the weekend, you can find the list below.
Queens Of The Stone Age
Fall Out Boy
Avenged Sevenfold
Alien Weaponry
Alpha Wolf
All Them Witches
Alt Blk Era
Atreyu
Babymetal
Bad Omens
Billy Talent
Biohazard
Bleed From Within
Bowling For Soup
Brand Of Sacrifice
Calva Louise
Celestial Sanctuary
Charlotte Sands
Corey Taylor
Counterparts
Crystal Lake
Deathbyromy
Defects
Delilah Bon
Dream State
Dying Fetus
Dying Wish
Elvana
Erra
Fear Factory
Fit For A King
Frozemode
Gel
Halocene
Hanabie
Harper
Heilung
Heriot
Holding Absence
Hoobastank
Hotwax
Imminence
Karnivool
Kelsy Karter & The Heroines
Knife Bride
Lord Of The Lost
Machine Head
Make Them Suffer
Missio
Noahfinnce
Oxymorrons
Pantera
Pest Control
Polyphia
Pinkshift
Røry
Royal Blood
Royal & The Serpent
Scowl
Shadow Of Intent
Silverstein
Slaughter To Prevail
Speed
Storm
Sum 41
The Black Dahlia Murder
The Blue Stones
The Callous Daoboys
The Offspring
The Used
Those Damn Crows
Thy Art Is Murder
Tigercub
Underside
Until I Wake
Urne
Vukovi
Wargasm
While She Sleeps
Zulu
311