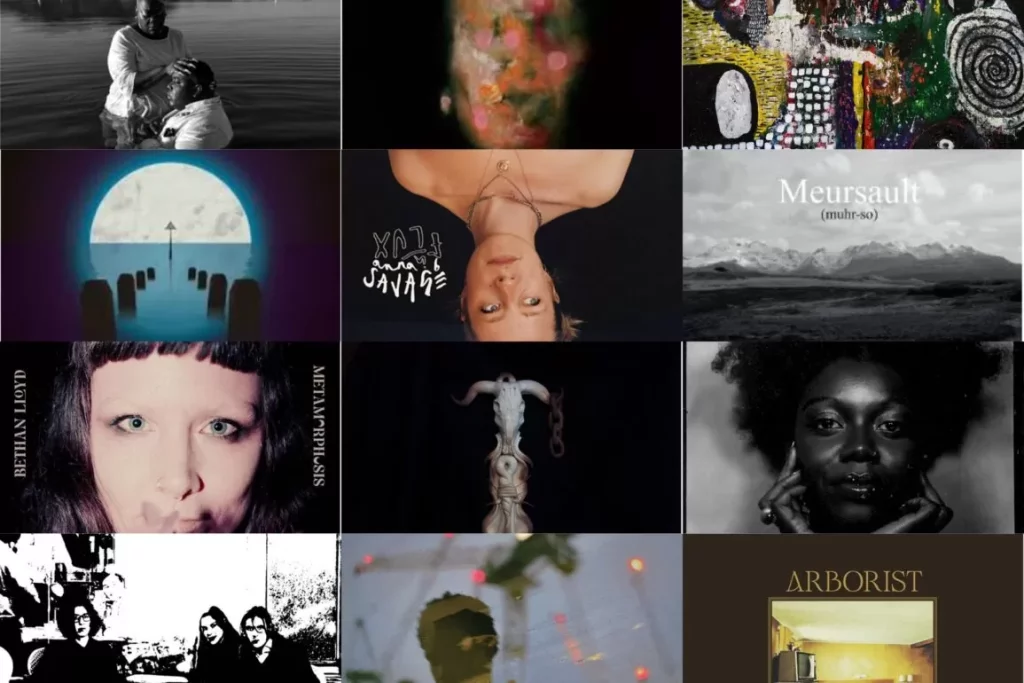 Following the recent release of the twelve records that make up this year's Mercury Music Prize, today we offer our twelve alternative selections for our Neutron Prize as chosen by our writers. It's by no means definitive, but a mighty fine selection of other British records we think demand your attention from the last twelve months, released between July 2022 and July 2023. Below are our twelve shortlisted records.
Who will join the likes of Adwaith, The Anchoress, Islet and Kathryn Joseph as winners of the Neutron Prize?
Anna B Savage – InFlux
Utilising the production techniques that were adeptly displayed for folktronica group Tunng and Lump with Laura Marling, Mike Lindsay is the perfect choice to mould the human and electronic voice. There are parallels to be drawn between Laura and Anna's incredible vocals and how Lindsay has taken the raw elements and turned their sound on its head whilst keeping the essence of what makes them amazing songwriters.
Anna talked previously about her writer's block before she managed to break down the wall and write A Common Turn and whilst it seems like a very short period between her debut LP and this her second album in inFlux, it took nearly a year for the first record to come out on City Slang Records in January 2021. So in fact, this is three years in the making. The world has sped up since we were locked away for months on end, and so it appears has Anna's brain. This album is very busy and very frantic in places. A Common Turn seemed tranquil and serene. The bright reds and oranges that are depicted in all the press and images for this new LP feels like there is a new tenacity and desire behind the songwriting.
Anna hasn't been afraid to experiment with her sound, and she probably couldn't have had a better partner in expanding her sound and expressing herself within the palette of studio techniques and instruments. Above all though, she's rubberstamping the fact that she is a supreme songwriter and should now believe that too. And that voice- Good God. We're lucky to be able to hear that. One we should remember in 50 years like we do the greats. (Jim Auton)
Arborist – An Endless Sequence Of Dead Zeros
Mark McCambridge, aka Arborist, released his third album in April 2023. An Endless Sequence Of Dead Zeros is not an album that blasts out of your speakers. Instead, it's one that feels like it's pulling you into them. Devotees of Home Burial (2016) and A Northern View (2020) will know that Arborist tracks are full of liminal spaces that you are enticed to explore.
Stylistically, the album is mercurial. There's predominantly Americana and folk, but never quite how you expect it to be served up. When McCambridge sings "I dance to a different rhythm" on 'Dreaming In Another Language', he's not joking.
And when an artist reminds you of so many other musicians within the course of one album, you know that the performer isn't trying to sound like anyone, just exploring a rich musical heritage and foraging the choicest ingredients from it. Highlights include the mesmeric, hypnotic, almost psychedelic 'Dreaming In Another Language', the album's most playful track, 'Matisse', the lyrically arresting 'Unkind' and Arborist's Neil Young moment, 'Dewdrop, Cherry Oak'.
The album title sounds like a Downing Street Trustpilot review, or a summary of your moribund dating history. The nine tracks are vibrant, energising and full of the messy magic that makes our lives. (Jon Kean)
bar italia – Tracey Denim
There is something unshakably cool about bar italia. Maybe it's in the name. Is it coined from the Pulp song? Will we ever find out? Maybe it's their aloofness and air of mystery that attracts me so. The moniker does conjure thoughts of European cool, the opening track 'guard' has the atmosphere of a French cafe, café au lait, cigarillo, sunglasses and insolence.
'Nurse! ' is just lo-fi perfection, with its scuzzy, fuzzy guitar, melodic bass, simplistic but utterly ideal drums and dualling vocals. 'punkt' comes on like Justine Frischman has murdered Julian Casablancas and replaced him in The Strokes and then roped in Charlie Steen to add co-lead vocals. 'changer' is a moody masterpiece with echoes of The XX at their best.
Tracey Denim sounds like the best case of insomnia you've ever had. When you've had a few drinks to take the edge off, you've had one too many cigarettes, your voice is a bit hoarse, your head is a touch woozy and you think you should be ready to fall asleep but something is keeping you conscious- for just one more song. (Jim Auton)
bdrmm – I Don't Know
bdrmm's superb second album I Don't Know is a lush, expansive LP, awash with post-shoegaze, reverb, ethereal harmonies, sharp meditative lyrics, motorik grooves and dark hypnotic riffs. Building on the guitar-heavy roots of their celebrated debut album, their second offering expands the scope of the soundscape, blending dream pop with fragile ambient pieces, weaving the delicacy of piano twinkles with dreamy harmonies, strings and pulverising guitar chords, encompassing shadows of electronica and dance beats in tracks like  'Alps,' written when the Hull quartet were travelling around the  French Alps "Listening to Thom York's electronic stuff." Each track is expertly crafted- gleaming with cohesive complexity with each sonic layer raising the track to another level.
Tracks like 'Be Careful of Yourself' are perfect post-pandemic pep talks, rippling with rhythmic depth and glints of hope glittering through the smoky darkness, while 'Pulling Stitches' is a slanted slice of widescreen shoegaze heaven. 'Advertisement One' floats in ambient glory before being lightly grazed with industrial percussion. bdrmm are worthy descendants of My Bloody Valentine, DIIV, Radiohead and Ride. The band stuck to their guns and refused to relinquish creative control to major labels who were trying to sign and change the band after the success of their debut. Instead, they stood firm and kept faith in their own craft, talent and vision and this has certainly paid off. Their latest masterpiece is released via Mogwai's label 'Rock Action.'  Together they have set the bar sky high and created one of the albums of the year. (Carmel Walsh)
Bethan Lloyd – Metamorphosis
Bethan Lloyd released her excellent debut album Metamorphosis earlier this year. She is a Welsh artist whose roots are deep. Her sonic exploration has taken her from training as a classical singer, immersing herself in Berlin's experimental music scene, to learning with magicians, masters and the ancient teachings of the natural world.  Producing alongside Jet Pack Dog bandmate and master of noise, Isaac Ray. It's a soundscape that is rooted in a forgotten past and folklore but also has adventurous electronic sounds. The album explores the cosmos and the dark euphoria within it, the themes of mind control and diluted society and asks a question about where we are heading as a collective. This project delves into the philosophy of animism, guiding humanity back from its abusive relationship with nature. 
On the positively transcendental 'No Umbilical' she offers a mantra entwined with swooping choral lines and cut-up electro-pop tapestries that body pop. It has pleasing elements of early Bjork as she clambers across European terrains to connect with a deeper force. 'Cutting Circuits' is a deeply emotive swirling electro-pop song that fuses Lloyd's folk-influenced, pagan-like refrains that gradually creep from personal and enveloping to swooping awestruck call to the heavens, underpinned by an intricate and pulsing tapestry of shadowy electronic sounds.  (Bill Cummings)
Coby Sey – Conduit
My favourite album of 2022 was Coby Sey's debut album Conduit. It's everything I wanted from Sey but not what I expected. Over the past few years, Sey has been releasing music that flits between urban, pop, classical, film scores, R&B and the avant-garde. In the summer I was lucky enough to have an hour of his time while he was on tour. It was the first time I'd spoken to Sey and while it was online, I felt a real connection to Sey, and it made me appreciate his music more. If this isn't an album you've heard I implore you to check it out. The music is slightly claustrophobic and dank but peppered with hope. (Nick Roseblade)
Gabriels – Angels & Queens – Part 1
Is Angels & Queens Part 1 all about Jacob Lusk's incredible voice? No. Would it be the same without that mesmeric quality? Certainly not. Can something only twenty-seven minutes long hold its own against the longer-long players of the last year? It most definitely can. Quality over quantity. The combination of Lusk and bandmates Ari Belouzian and Ryan Hope, along with producer Sounwave, creates an excitingly unpredictable blend of genres. Tracks like Taboo exemplify this, where there's soul, wrestling with underlying jazz. Alongside that, the orchestration consistently jabs away at you through unsettling blasts of brass. You wouldn't have to do much to turn it into a trip-hop. Gabriels take the hype and excitement that surrounded their debut EP and elevate it from the joy of the new to the anticipation of what comes next. What comes next is Part 2, due in spring 2023. Good move to split the album into two? Probably. Can we wait? Not really. (Jon Kean)
Lanterns on the Lake – Versions of Us
Versions of Us was forged in the furnace heat of turmoil for Lanterns on the Lake, singer Hazel Wilde reflected on motherhood, and drummer Ol Ketteringham parted ways with the band, something Wilde says was "heartbreakingly difficult as we were and still are extremely close". The band scrapped nearly a year's worth of work, regressing to song demos with just Wilde performing with a single instrument as they began again with Radiohead's Philip Selway joining the album sessions on drums and percussion. With a time limit in the studio of just three weeks to record it this sense of urgency is invested into the nine songs on Versions of Us each one crammed with brevity and heart: it's the most, epic and concise Lanterns…record yet, which is saying something for a band whose last album Spook the Herd received a Mercury nomination.
The nine songs of Versions Of Us are existential meditations, examining life's possibilities; facing the hand we've been dealt and the question of whether we can change our individual and collective destinies. Wilde's vocals are a revelation throughout, she invests each swelling piece with a urgency and boldness above complex arrangements, 'The Likes of Us' documents the state of Broken Britain("Oblivion howls for these gutted streets / Boarded shops cower in defeat") but sublimates observations into a mantra of resolve ("I won't let this spark die in me") 'Real Life' is glorious big music rite large a ode to not sitting on the sidelines and grabbing life by the lapels. The swelling brilliance of 'String Theory' considers the fickleness of fate. A triumph of hope through struggle, of seizing the moment and grasping onto a flickering light. Their best work yet (Bill Cummings)
Yazmin Lacey – Voice Notes
"Self-consciousness is the creativity killer," declares East London-born Yasmin Lacey on the opening of her debut LP Voice Notes. As admitted in interviews, the 33-year-old has struggled with confidence and self-belief both musically and in life in general. Her apprehension perhaps being a factor in the delayed transition from EP format to an entire album record. She doesn't come from a family of musicians, isn't musically trained and is the singer who at one point wanted to be an actress and has come into the business later in life than many. Voice Notes addresses these nerves but also breaks through them by aiming to risks, as she says on the talking opener 'Flylo Tweet': "If you going to do things you've got to open up yourself / Making yourself vulnerable is scary / You will fail at some point but the risk when the pay off they are really high". An absorbing album, Voice Notes is mix of jazz atmosphere, neo-soul grooves and occasional nods to the characteristics of dub and reggae – a genre that Yasmin Lacey's parents used to play to her as child.  (Matt Hobbs)
Minas – All My Love Has Failed Me
Greek/Welsh producer & musician James Minas has been a name on the scene for a few years known for his meticulous production work, last year he released his formidable debut album All My Love Has Failed Me. under the moniker Minas , a fearsome testament to his talent and a singular artistic vision created alongside alongside rhythm section the Davies Brothers.
The twelve songs that make up the record include his stonking run of previous singles from the last few years 'Payday',' Fight One',' B&R', and most recently 'Protests'. It vividly showcases Cardiff-based Minas' artistry: raw, brooding and intense these are tales of addiction; growing up on the outside in the Valleys looking in and the utter injustice of life, underpinned by an unstoppable soundtrack blurring the lines between electronica, post-punk and hip hop. Witty and brutal he rattles with the personal trauma, mental health issues and the utter frustration at the world that surrounds him and expels it in raw catharsis at every turn. In the process, his work sums up the confusion and brutal inequality festering at the heart of Brexit Britain and holds up a mirror. He's one of the most original voices to emerge from Wales in quite some time. Reality hits hard; Minas hits harder. (Bill Cummings)
Meursault – Meursalt
Neil Pennycook has been leading Meursault in various iterations since 2006. Coming out of the same Edinburgh scene that has also given us Broken Records, Withered Hand and (seemingly on hiatus, sadly) eagleowl, his wonderful blend of electronica and folk music has continued to cast its magic over those who hear it, whether on record or live.
Mr Pennycook has managed to produce an album that started out as a concept album, dialled some of it back and left us with a little over half an hour as a complete work that stands up with the best he has produced over nearly 20 years. While the character of Meursault (named after the anti-hero from Camus' The Outsider, but not based on him) features throughout the record, it's the themes of the songs that have remained, rather than the concept.
And what songs they are? It's a deeply personal work – a sense in which you feel that questioning too deeply would open too many wounds and confront too many ghosts. Certain phrases leap out at you. In 'WOLF!!' (sic), the idea that unlike the boy from Aesop's fable 'When I cried wolf, there was a wolf every time.' The mantra of 'Meursault' (the track) is 'If you've nothing nice to say, try singing it to me.' Perhaps strongest of all is the album's opener 'Rats In The Corn' which serves as the last voice on the BBC before everything went dark. Yet it may surprise you that it's not a bleak record because its beauty transcends it all. Amazingly, he's done it again. Now let us hope that the majority of the record-buying public catch up. Me? I'll be in a corner somewhere. I'm not crying, you're crying… (Ed Jupp)
Ynys – Ynys
The debut solo album from Dylan Hughes' Ynys  ('Island' in English and pronounced 'Un-iss') is deceptive -in a Clark Kent sort of way. Let me explain. The beauty of the songs is ever present and lulls us into thinking, sitting down with a cuppa tea and the record will be a lovely, delightful diversion for the time it takes to listen. Then we'll get on with the rest of our day. What nobody tells you is dark damp elements of melancholy and loss intermingle in with the pretty, time passing and life lived bringing with it inevitable bumps and bruises and showing themselves.  
We're eased into 'Ynys' with the cool laid back 'Mon Dur', and 'Tro Laf', and the dreamy nostalgia of 'Mae'n Hawdd''. The catchy Exile picks up the pace, and the other worldly and trippy 'Welcome To The Island' comes without a free jazz in a New York subway sax warning. Can you even believe that?
'Nothing The Sea Doesn't Know' is reflective and wistful and we think we know where we are-feet on solid ground but the strings come in and my goodness, there seems to be something in my eye. 'Aros Am Byth' is glitter ball psych disco-pop, 'Caneoun' a gentle stomper and the borderline dystopian 'Newid' a Morricone Spaghetti Western drama, Hughes a gunslinger stridin' into town and ready to slay. The subtly psychedelic and melancholic 'When Do You Know' is a song of endings, and the album closer 'Gadael' feels like a tender farewell.
More of an au revoir than a goodbye, we hope.
On Ynys Dylan went for the 'more is more' approach in recording and arranging but still came out with the most elegant record of the year. One despite the subject matter doesn't fall into the cursed trap of sentimentality. It's instead the gorgeous story of lives lived, and delivered with sophistication and style and deeply touching moments. Read our interview with Ynys here. (Cath Holland)