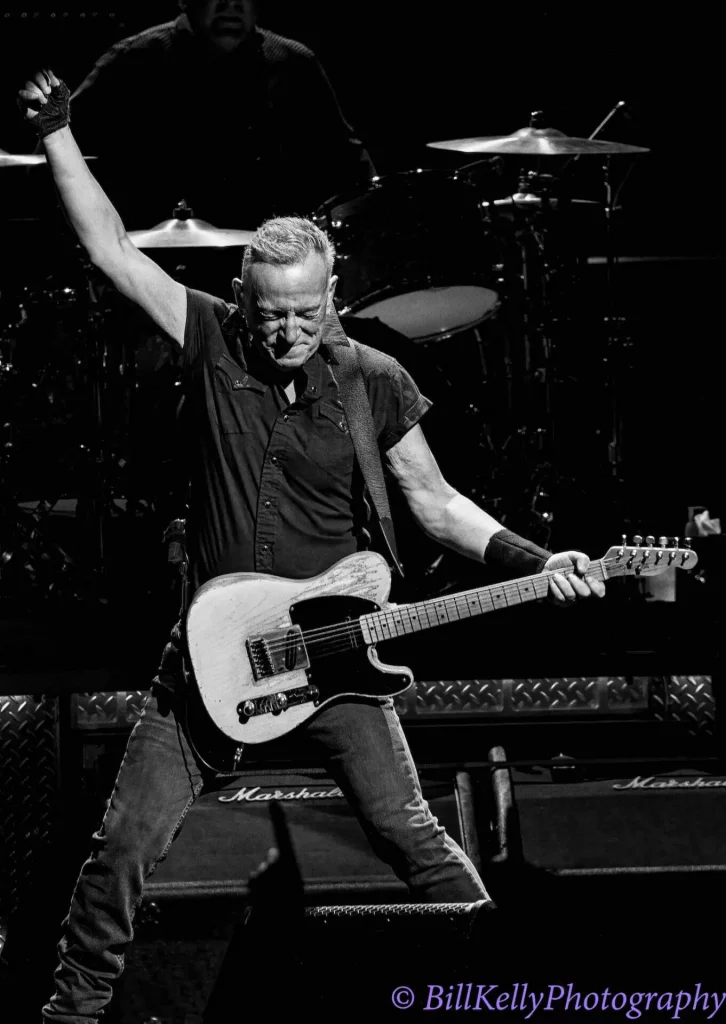 Hana Gustafson on August 10, 2023
Photo Credit: Bill Kelly
Last night, August 9, Bruce Springsteen & The E Street Band began the second leg of their North American tour at Wrigley Field in Chicago. The concert occurred mere hours after news broke that The Band's Robbie Robertson had passed away at age 80. In honor of the departed, Springsteen closed the night by dedicating "I'll See You in My Dreams" to Robertson.
After running through a relatively standard show that included staple material from Springsteen's extensive music catalog, the artist arrived at the heartfelt peak of the evening. Before delivering the sentimental lyrics to "I'll See You in My Dreams," which appeared on the E Street Band's 2020 LP Letter to You, Springsteen directed his song choice, sharing: "To my good friend Robbie Robertson." 
The Boss captured the essence of the loss with lines like "The road is long and seeming without end/ The days go on, I remember you my friend/ And though you're gone and my heart's been emptied it seems/ I'll see you in my dreams. The artist's conjured dream world beckoned to the substantial weight felt by the music world, as well as collaborators and friends of Robertson–many of which paid tribute with heartfelt social posts which served as remembrances. 
Among those that lent words about Robertson was Springsteen's E Street Band guitarist, Steven Van Zandt, who penned: "RIP Robbie Robertson. A good friend and a genius. The Band's music shocked the excess out of the Renaissance and were an essential part of the final back-to-the-roots trend of '60s. He was an underrated brilliant guitar player adding greatly to Bob Dylan's best tour & best album."
Watch a fan-captured video of Springsteen's heartfelt tribute to Robertson below.
Bruce Springsteen closes out a 3-hour, rocking concert at Wrigley Field with a sweet tribute to Robbie Robertson. pic.twitter.com/Gokk4PCYXq

— Natasha Korecki (@natashakorecki) August 10, 2023
RIP Robbie Robertson. A good friend and a genius. The Band's music shocked the excess out of the Renaissance and were an essential part of the final back-to-the-roots trend of '60s. He was an underrated brilliant guitar player adding greatly to Bob Dylan's best tour & best album.

— 🕉🇺🇦🟦Stevie Van Zandt☮️💙 (@StevieVanZandt) August 9, 2023