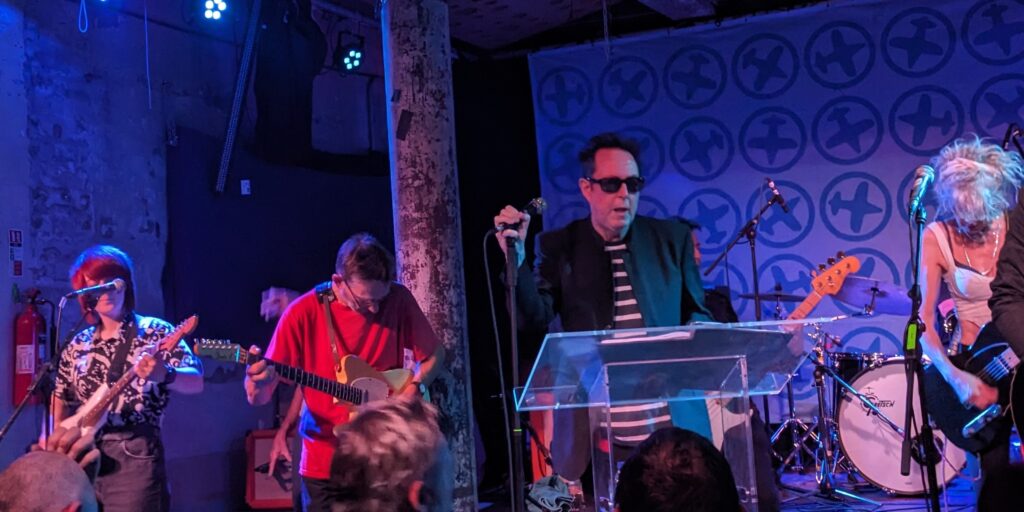 Veteran art-rockers the Blue Aeroplanes are now remarkably into their fifth decade of performing, despite, or maybe because of, an ever-revolving cast of members (46 at the last count).
However, recent years have seen reduced activity from the band as main man Gerard Langley has battled serious health issues more or less since the release of last record 'Welcome, Stranger' in 2017.
The band did manage to complete work on thirteenth album 'Culture Gun', released in April, but launch shows in Glasgow and London had to be postponed at short notice, as Gerard had to undergo an emergency operation.
So there were times when it seemed that this Glasgow show (hosted by label Last Night From Glasgow) would never happen.
Yet five months on, Gerard and band did finally make it north to Glasgow for their first show of the year.
In the circumstances it was inevitable that all eyes would be on the singer as he picked his way slightly tentatively onstage but he must have been heartened by the warm greeting he received. Thereafter, whilst there was no doubt that his performance was more restrained than previously, despite the circumstances, he did appear to enjoy the show.
The heavy riffs of set opener 'Hips Like Cigarettes' is a good example of the harder edge deployed on 'Culture Gun' even if Gerard's coruscating lyrical take on 21st century Britain did get lost amongst an aggressive sound mix.
That problem though was largely rectified from the following 'Dead Tree! Dead Tree!' ,as good a song as the band have written in the 21st century, and one which gave an early demonstration of the band's dynamism in full flight.
Thereafter, the set for a thrilling performance followed a similar pattern to shows in recent years with the latest album getting a good airing with gems from the extensive back catalogue scattered throughout.
Unusually for a band of their vintage, there are only a handful of nailed-on certainties in any 'Planes set, all drawn from the band's commercial high point of the early 90s. So, from the classic 'Swagger' we got a bouncing 'Jacket Hangs' and a climactic '… And Stones' whilst 'Yr Own World' from 'Beatsongs' closed the set in a celebratory fashion.
The best of the set mainstays though was the enthralling 'What It Is' with Gerard guiding the band through the song's two rapturous crescendos. And there's not many better moments in rock than Gerard declaiming, "I know … what it is!".
Even if understandably, this show was slightly shorter than previous sets, there was still room for deep dives. On this occasion, original guitarist Nick Jacobs guested on a feverish 'Warhol's Fifteen' in the main set then returned for the encore of 'Tolerance' and a dramatic 'Bury Your Love Like Treasure'.
For the traditional finale, the band, led by Nick, launched into their epic cover of Tom Verlaine's 'Breakin' In My Heart', given an extra poignancy by the Television frontman's passing earlier in the year. It's a perfect microcosm of the band's live approach – the controlled chaos of multiple guitars amplified by the constant motion of the band behind Gerard, with dancer Wojtek Dmochowski spinning across the stage.
The show provides evidence, if that's necessary, that despite recent events, the Blue Aeroplanes remain a vital live force. And since there must be a question mark over how frequently they'll be able to play live in future, there's no doubt that this show will be treasured by those present.
The Blue Aeroplanes play the Electric Ballroom in Camden, London on Friday 29th September.