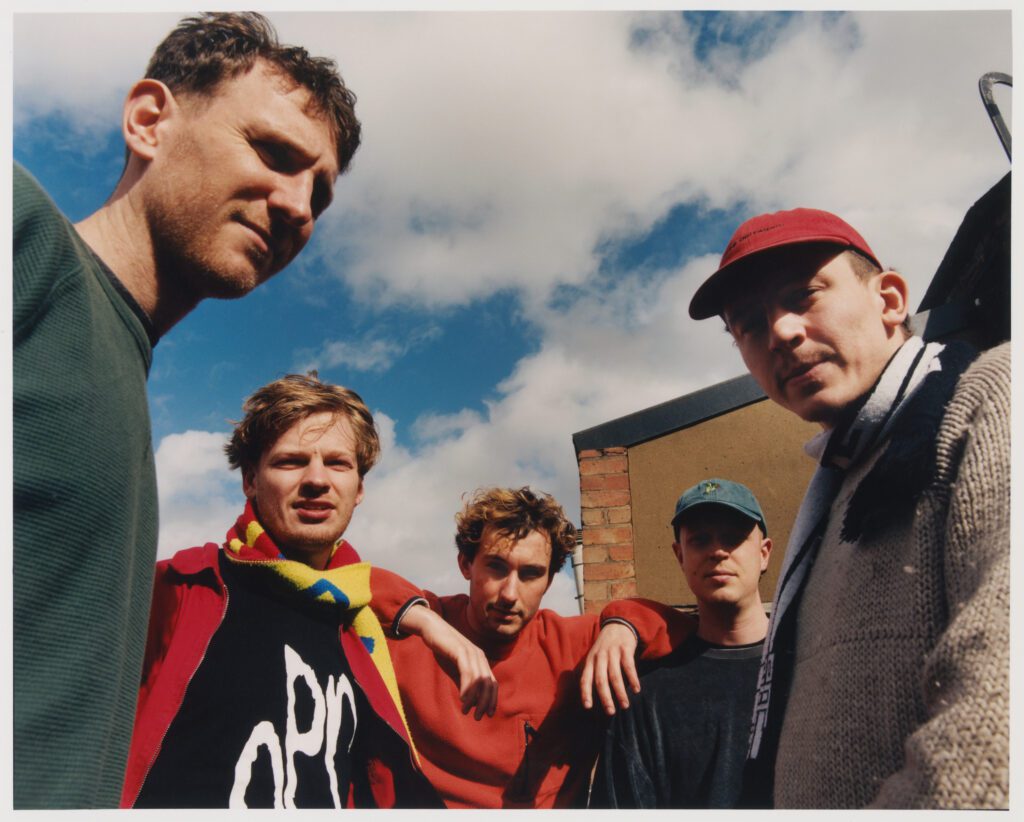 This will be the third time I've seen Squid in concert. Both previous occasions were at the Green Man Festival. The first was two years ago when the five-piece band ,who formed in Brighton in 2016, had an afternoon slot on the festival's Walled Garden stage. This year they were much higher up Friday's bill appearing on what is the larger Far Out stage confirming their continuing rise up through the ranks. 
And this third sighting of Squid marks my first visit to Project House, Leeds' newest live music venue. Opened in July, this former tile warehouse situated just outside the city centre has been transformed into a hugely impressive 1,000 capacity multi-use event space. 
Squid headed out on their current tour of the UK and Ireland last Friday and tonight's show in Leeds is their fourth date. And as we are to quickly find out, they are already well into the groove. The tour, their biggest to date, is to promote their second album O Monolith which was released in June. With its emphasis upon greater experimentation, increased improvisation, and songs laden with soaring finales it is a record that has certainly helped accelerate Squid onto a higher plane. 
And it is to O Monolith that they immediately go tonight, opening this blistering set with the album's first track 'Swing (In A Dream)' . They immediately consolidate such a febrile beginning with an equally powerful 'Undergrowth', bending the performance with the force of their will. With Squid's drummer and main vocalist Ollie Judge positioned centre stage and spitting out the song's themes inspired by what are often obscure literary reference points and which transport the country's ancient history to the present day, the scene is well and truly set. Flanked by his four bandmates Squid collectively create a dense, occasionally fractured sound, swathed in guitars, synths, and brass, and one where oblique time signatures lurch comfortably between progressive rock, post-rock, and the avant garde. 
'G.S.K.' announces the fact that Squid are delving into their 2021 debut Bright Green Field for the first, and most definitely not the last time tonight as the band begin to zigzag between their two albums. You would be hard pushed to place a cigarette paper between the individual tracks from each record as both parallel the same levels of dynamism, explosion, and invention. Squid are suddenly travelling far and doing so at a considerable rate of knots.
'If You Had Seen The Bull's Swimming Attempts You Would Have Stayed Away' is further evidence of Squid's firm embodiment of the abstract, lyrical ideas that reflect the pure essence of the exploratory sounds in which they are shrouded. 'Paddling' is relentless; an incessant driving rhythm from which it seems futile to try and escape. 'Narrator' is an eruption of energy and exhilaration before the concluding 'Blades' points the Squid juggernaut firmly in the general direction of the M62 motorway and the road to tomorrow night's show in Manchester. To then find ourselves piped out of Project House to the strains of Andy Williams' 'Can't Take My Eyes Off You' merely adds to the strange magic of the evening whilst simultaneously acting as a prophesy for Squid's undoubtedly bright future. 
Photo credit: Alex Kurunis