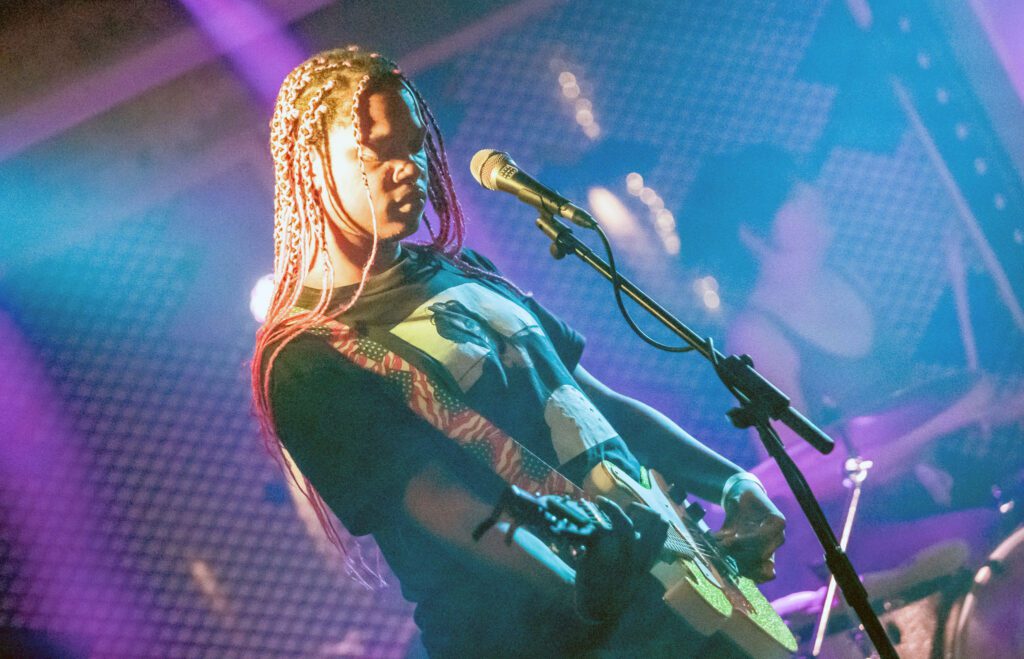 Almost a decade ago when only 19 years of age the Las Vegas-born singer-songwriter Shamir burst onto the scene. Having recently signed to XL Recordings – the highly revered British independent record label and then home to FKA twigs, the xx, and Adele – Shamir's single 'On The Regular', all clattering cowbell, heavy-duty bass, and insurrectionist rap, promptly elevated him to the position of overnight dance-pop sensation. His debut album Ratchet on which 'On The Regular' duly appeared met with similarly steepling success.  
But no sooner was Shamir's star in the ascendency, it just as quickly fell back down to earth. Amidst apparent disagreements about creative direction, he was soon jettisoned by XL. But rather than feeling sorry for himself or left dying wondering about what might have otherwise been, Shamir re-emerged as an incredibly prolific lo-fi leftfield DIY artist. In August he released Homo Anxietatem, his eighth album in as many years and records that reflect his ability to effortlessly shift between musical genres as sonically diverse as hip-hop, country, and a far darker industrial noise.
And it is to Homo Anxietatem that Shamir immediately goes tonight to the album's opening track 'Oversized Sweater' no less. But it is probably not until three songs in and the feral assault of 'Reproductive' from his previous album Heterosexuality that we begin to get a much clearer idea of what Shamir meant when he had said before this UK tour that the British audiences should expect to hear a more guitar-rock sound. It certainly rocks right out and with its muscular metal chords the ensuing 'Other Side' follows suit.
'Without You' – inspired by the untimely death of Sinéad O'Connor and in my view Homo Anxietatem's stand-out track – is reinvented here as a glam rock stomp. Shamir then warns us that we are now about to enter the part of the show where it gets appreciably louder, and 'Tears Fall in Euphoria' duly lacerates our collective ears.  'Cisgender' emerges from a squall of feedback and bears spectacular witness to Shamir screaming the song's refrain of "I'm not gonna pass for you, you gotta get past" in a voice that enters a similar orbit to those encircled by the likes of David McAlmont and Portishead's Beth Gibbons if the latter were singing 'Glory Box' in a much higher register. It is, to put it quite frankly, astonishing and reinforces what we already know, Shamir possesses a voice to die for.
After ending with a coruscating 'Obsession' Rhea Freed comes out from behind the drum kit, Grant Pavol swaps his bass for an electric guitar and Shamir acts out his secret lounge-jazz fantasy in the true spirit of Sin City with a spellbinding reading of 'Nuclear'. The one disappointment of the evening is that there were only 17 people here to experience the occasion, a number swollen by three if you also take account of the sound guy, the dude at the merch table, and the excellent singer-songwriter guitarist Lilith Ai who earlier had discharged her principal support act responsibilities with such considerable aplomb courtesy of a fistful of top tunes and a winning personality.
But such was the energy, passion, and unbridled enthusiasm shown by Shamir, Rhea Freed, and Grant Pavol you could just as easily have believed that the three musicians were in fact playing to a full house at Lincoln Financial Field stadium in their home city of Philadelphia.
Photos: Simon Godley
Some more photos of Lilith Ai live in Leeds