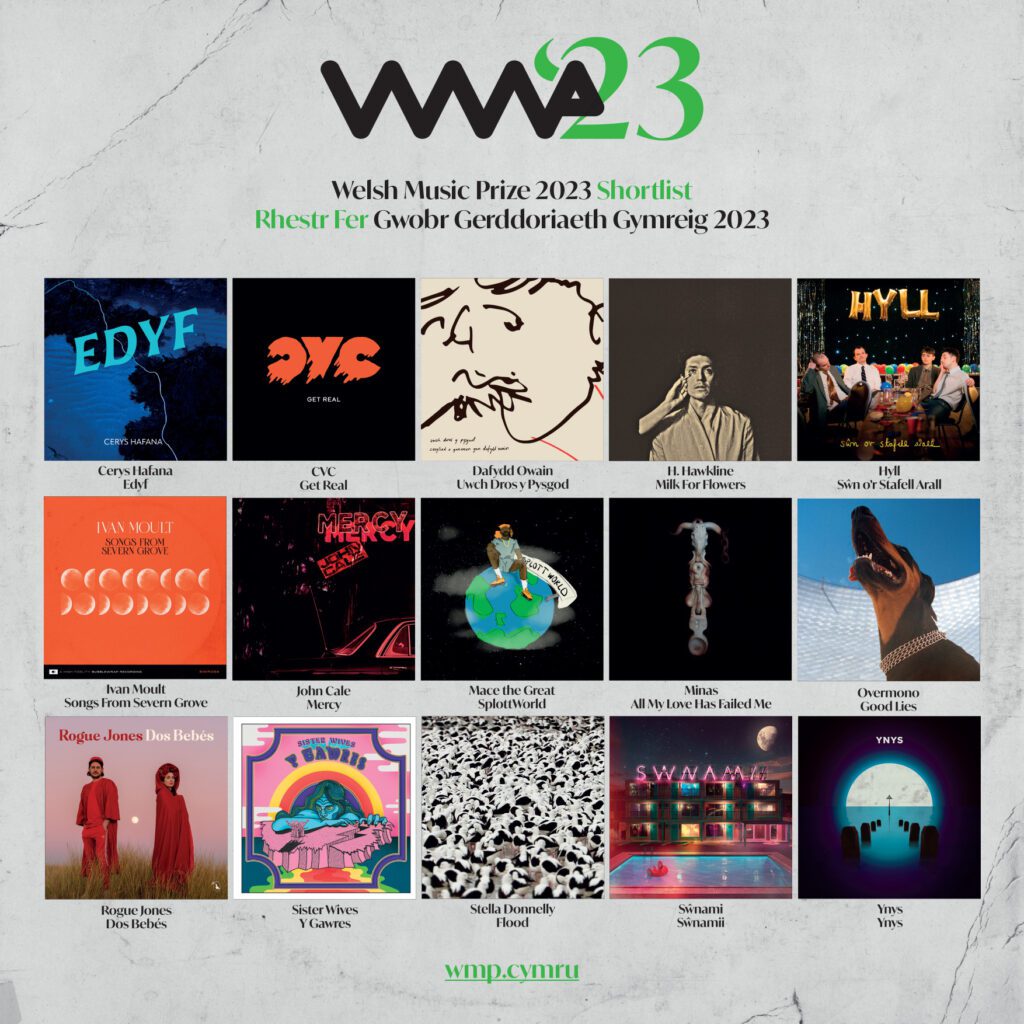 Bi-lingual duo Rogue Jones were announced as the winner of this year's Welsh Music Prize at a ceremony in Cardiff last night.
Taking home the annual music award for second album Dos Bebés earns them a cash prize of £10,000. 
From Cwm Gwendraeth,  Rogue Jones were thrilled were presented  with the coveted gong by BBC Radio 1 presenter Sian Eleri. 
Bethan Mai of the band said: "I'm a bit speechless. Hearing that name was bonkers, I'm feeling absolutely over the moon. It's been a long time coming (this album) and we're really proud of it. It means the world, I can't really put it into words, I'm literally humbled. It's great that people have listened to the album and enjoyed it to the extent that they have. 
"What's next? We have a young family so we will work around that. This money will make that so much easier. Especially when you have a young family to support, this money will mean we can carry on doing what we love – getting the music into people's bones and people's hearts. 
"We won't stay up too late tonight! It's fancy dress day tomorrow in school and our daughter is dead set on going to that. I'm definitely going to dance… for the next hour or so!" 
Dos Bebés is an album about parenthood, motherhood, and young children, as well as UFOs, second homes in rural Wales, computer science, witchcraft, Welsh independence. It's full of songs built and presented with excellent musicianship and production. It's eccentric in its vibe across a record of superbly crafted songs. 
You can read our interview with Rogue Jones here.
Supported by Creative Wales, Welsh Music Prize is an annual award celebrating the best new music created in Wales, by musicians from Wales. Previous editions have seen albums by Gruff Rhys, Gwenno and Boy Azooga win, and last year's award was given to Bato Mato by Adwaith, the first band to win the Welsh Music Prize twice.  Rogue Jones' victory yesterday means Libertino Records have now had three triumphing albums.
The shortlisted albums have been whittled down from a longlist of 130 albums by the Welsh Music Prize jurors.  
The full list of finalists are: 
Cerys Hafana – Edyf (Cerys Hafana / Self Released)  
CVC – Get Real (CVC Recordings) 
Dafydd Owain – Uwch Dros Y Pysgod (Recordiau I KA CHING) 
H Hawkline – Milk For Flowers (Heavenly Recordings)  
Hyll – Sŵn O'r Stafell Arall (Recordiau JigCal Records)  
Ivan Moult – Songs From Severn Grove (Bubblewrap Records)  
John Cale – Mercy (Domino Recording Co Ltd.)  
Mace The Great – SplottWorld (SplottWorld Ent.)  
Minas – All My Love Has Failed Me (Libertino Records)  
Overmono – Good Lies (XL Recordings)  
Rogue Jones – Dos Bebés (Libertino Records) 
Sister Wives – Y Gawres (Libertino Records)  
Stella Donnelly – Flood (Secretly Canadian)  
Sŵnami – Sŵnamii (Recordiau Côsh Records) 
YNYS – Ynys (Libertino Records)  
.
Held at Wales Millennium Centre, the evening saw performances from shortlisted artists including Cerys Hafana, Mace the Great and Minas, as well as Triskel Award recipients, given to emerging artists who have yet to release an album – Half Happy, who played at God Is In The TV's 20th birthday party last weekend, Talulah, Dom & Lloyd, and PPL Momentum Music Fund recipient Hana Lili. 
This year saw Dafydd Iwan receive the Welsh Music Inspiration Award. Previous Welsh Music Inspiration Awards have been given to Meic Stevens, Meredydd Evans & Phylis Kinney, David R. Edwards & Pat Morgan (Datblygu) and Mike Peters (The Alarm). 
Dafydd Iwan said: "It is an honour for me to accept the Inspiration Award this year, and I appreciate the fact that the organisers have looked further afield and presented the award to me on the basis of a lifetime of performing! If I have truly been an inspiration to anybody, then that in itself is a priceless prize." 
Huw Stephens said: "We are so happy Dafydd Iwan is receiving the Welsh Music Inspiration Award this year. His work through Sain Records, Wales' largest and oldest independent record label and his own solo career for over seven decades continues to inspire Wales and its people. This is a chance for us to say Diolch to Dafydd for his vision, work and music." 
Previous Welsh Music Prize winners are: Adwaith (2022), Kelly Lee Owens (2021), Deyah (2020), Adwaith (2019), Boy Azooga (2018), The Gentle Good (2017), Meilyr Jones (2016), Gwenno (2015), Joanna Gruesome (2014), Georgia Ruth (2013), Future of the Left (2012), Gruff Rhys (2011).