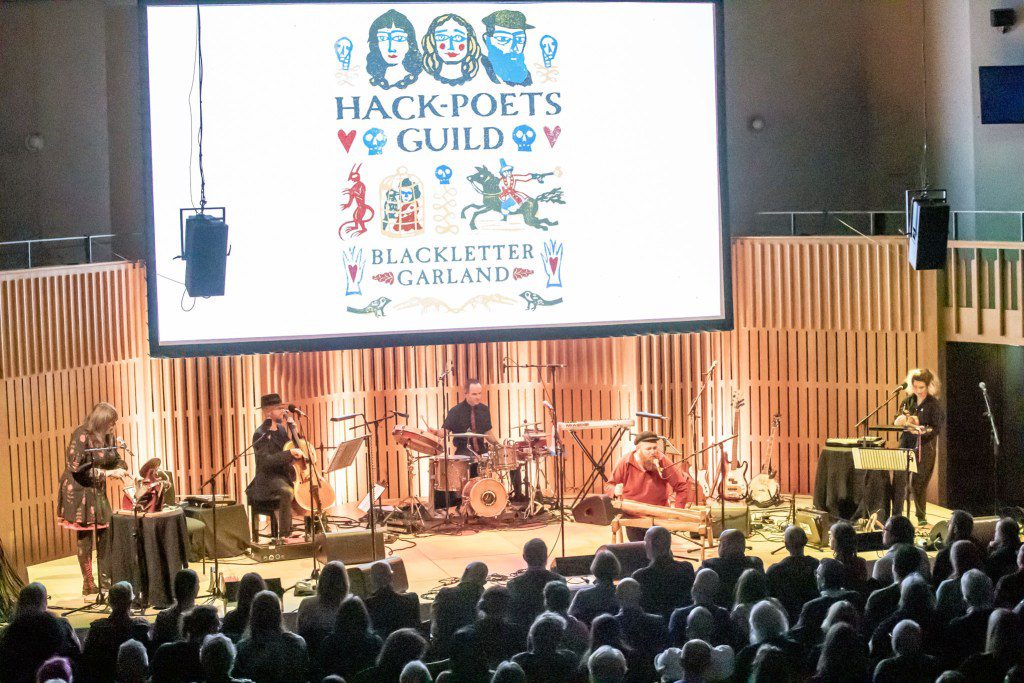 "We are attracted to doom." Lisa Knapp lays Hack-Poets Guild's cards firmly on the table before this recently convened collaboration between her, Marry Waterson, and Nathaniel Mann – three of the most illustrious voices in British folk music today – play the execution ballad, 'Rare Receipts'. It is the penultimate song of what is their first-ever show which, despite the dark, foreboding nature of much of the material that they perform, is an unmitigated life-affirming triumph.
Blackletter Garland is the title of their debut album, released only last week and a record that was inspired by historic broadside ballads. And tonight they play the album in its entirety. Before doing so, though, we are shown a highly informative film wherein Lisa Knapp speaks to an expert on broadsides, Steve Roud, at the University of Oxford's Bodleian Library.
The film places the broadside – a single sheet of inexpensive paper printed on one side, often with a ballad, rhyme, news item, and sometimes with woodcut illustrations – in its wider historical context and introduces this printed material as the original mass market media. The people who sold these precursors to newspapers sang the songs that were printed on their broadsides as a means of attracting customers.
As Hack-Poets Guild, Lisa Knapp, Marry Waterson, and Nathaniel Mann front a five-piece band – they are joined by percussionist Laurence Hunt and Barney Morse-Brown on cello and pedals – and through the power of their music relocate the broadside to the present day.
They open their first set with Lisa Knapp operating an old printing press whilst singing 'Barbara Allen', a traditional folk song that tells the tale of how the eponymous character denies a dying man's love before promptly passing away herself from unconfined grief. This song, which had begun life as a ballad in the 17th century, lays down a clear marker for what will follow. We will hear stories of life, loneliness, ghosts, graves, the devil, robbery, murder most foul, and death by hanging.  
Darkness certainly stalks these tales as a constant companion and levity and lightness are often relative strangers. Yet for all of the loss, ruination, despondency, and expiration that lies at their very heart, there is something strangely uplifting in the manner in which they are communicated to us in song and that is a firm testament to the positivity that Knapp, Waterson, and Mann bring to the stage and transmit through the quality of their musicianship.
On 'Ten Tongues' – the opening song on the album, written by Marry Waterson and inspired by the idiom of "laying the ghost" – Waterson's voice acquires a spectral presence, amplified, quite literally, by her megaphone and invested with an even greater mysticism by Lisa Knapp's keening violin.
Lisa Knapp – who had been in this very venue only a fortnight ago as part of a specially curated 9-piece band performing a live score to the 2018 documentary film, Arcadia – again illustrates the clarity and emotional resonance of her voice, no more so than on the exquisite 'Birds of Harmony' where her words simply soar over the whirring backdrop of Waterson and Mann's swirling Chinese pigeon whistles.
And in the second half of tonight's concert, Nathaniel Mann brings some frivolity to the occasion with his hemp break – not least given he has an allergy to the fibre – as he adds muscular heft to 'Hemp & Flax'.
Hack-Poets Guild stay true to the spirit of the broadside by then distributing printed lyric sheets to the audience for a final, rousing sing-along to the traditional pastoral folk song, 'Pleasant and Delightful', the earliest versions of which date from the 17th century. And with it, they not only bring the broadside to vivid modern life but also a real sense of community and shared experience.
Photos: Simon Godley
More photos from Hack-Poets Guild: Blackletter Garland at the Howard Assembly Room