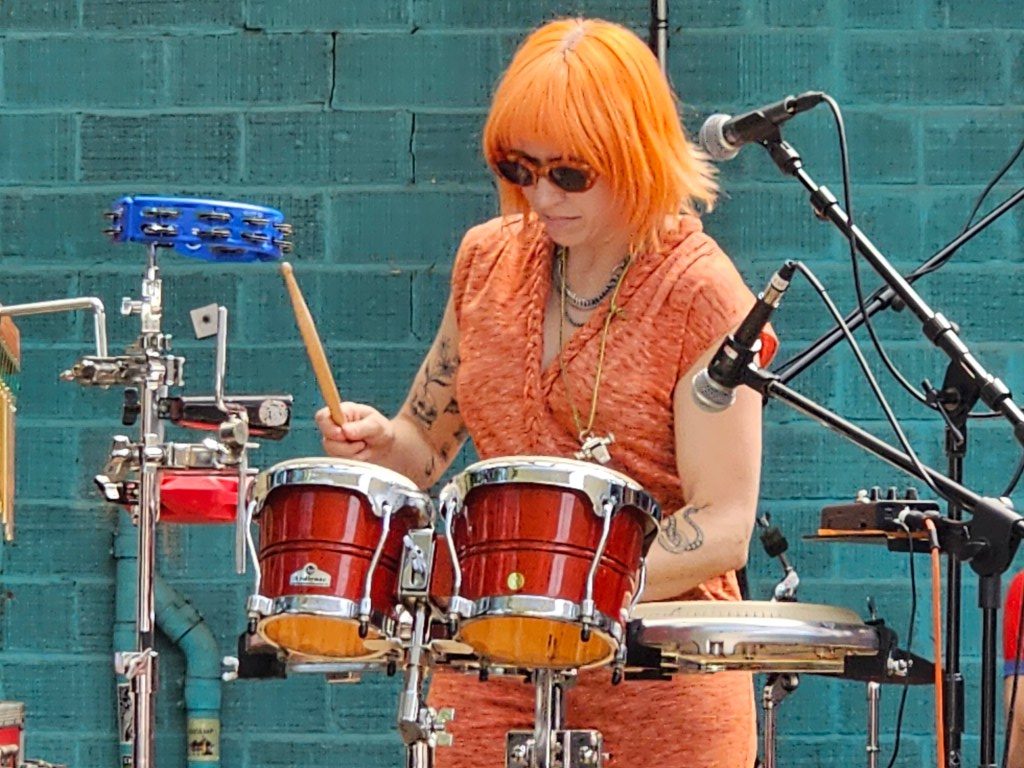 The organisation Music for Listeners has built a reputation for putting on an extra-ordinary array of artists during SXSW (or "South By" as the locals call it!). Currently based at Lazarus Brewery on the East side of Austin it's the most glorious venue for music. With its large open courtyard and slightly raised stage, gig-goers can sit at benches and enjoy the music at this relaxed and informal setting.
Californian band Abracadabra were first onstage and their breezy Tom Tom Club vibes were the perfect openers in the Texan sunshine.
Belfast's Wynona Bleach chose to totally disregard the fact it was 1pm and rocked out. What a voice lead singer Melyssa Shannon has. Like so many of the bands here they were overjoyed to be participating at SXSW and loving every second of the experience.
English Teacher bring thought-provoking, quirky, offbeat music with versatility in their set. They arrive in Austin having gathered well-deserved attention in the UK. Smart lyrics and a tight band create a world in which we all want to live. Lily Fontaine leads English Teacher and her lyrics remind us to be kind to ourselves and acknowledges that we all have challenges in life, but this is all wrapped up in music we can lose ourselves in.
Poster Paints were created by Carla J Easton and Simon Liddell and bring their Glasgow indie pop to Austin and this is the perfect setting to appreciate their shoegaze vibes.
What makes this event so special is that the bands hang out at the venue too. It's an opportunity to chat not only to the crowd but to each other. I realise that SXSW is not just about industry connections for the artists but for friendships to form amongst the bands which of course can lead to touring together and collaborations
Dream Wife shook the very foundations of Lazarus Brewery. What a live band this trio are! Again it may be mid afternoon but seriously who cares?! They have played at SXSW previously and gave a shout out to the locals who look after them while they are here. Wonderful. Their set was thrilling and exhilarating. There was something particularly tongue in cheek hearing "Hot (Don't Date a Musician)" to this crowd!
I recently discovered Vermont based three piece Thus Love and was instantly captivated by their music. They have just played in the UK supporting Dry Cleaning as well as a number of dates for Independent Venue Week. In Echo Marshall they have a charismatic lead singer but to be perfectly honest I have no idea how they create their soundscape. Glorious and soaring.
Hebden Bridge's The Lounge Society closed out proceedings and even though the place had emptied a little they still performed as if they were in a packed room. So many of these young bands are professional in their attitude and behaviour. After all you never know who is in the crowd. A spine-chilling moment to hear the lyrics "What will the US do?" here in Austin as part of their debut single 'Generation Game'.
A highly recommended venue to check out at SXSW with its relaxed welcoming vibe. Congratulations to all involved for creating such a day that will live long in the memory.