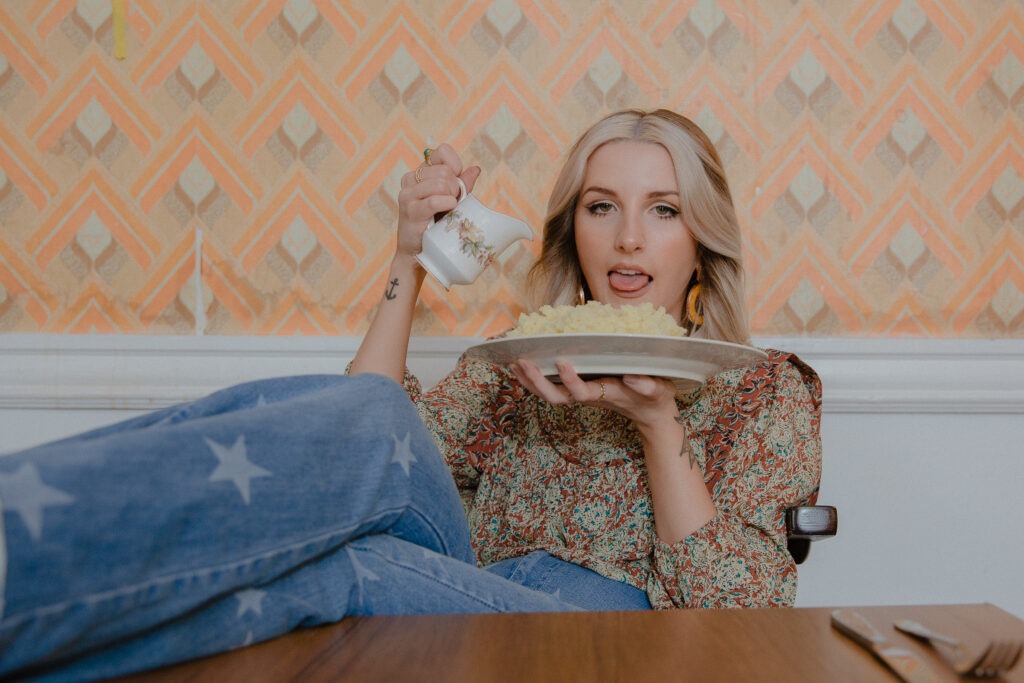 Irish musician LAOISE has recently released her new EP, Healthy. The isolation brought by the lockdown had previously led to LAOISE questioning her musical direction and future as a musician. However, discovering solace and support through therapy, she was able to channel her fears and doubts into her songwriting. Moving from the city to an island off the West Coast of Ireland with her long-time collaborator Seán Behan, the EP was written and recorded with the sound of ocean waves outside their window.
Healthy has such a clear spirit within its five songs – they are open hearted and highly engaging. LAOISE shows much skill and promise as a songwriter, powerfully using words to conjure much feeling – such as highlighting how films can shape our expectations in love ('Movies'). This is a really stirring collection of songs and I highly look forward to her future work.
I interviewed LAOISE and we touched upon the inspiration behind the songs on the new EP, her musical influences, what it was like growing up in Ireland, her favourite pizza toppings, and her plans for this year.
Your song 'Gravy' is so glorious and vibrant – I adore the chorus of "I love you like gravy". Such a great analogy! What inspired this song, and how did it take shape?  
Thank you so much! I initially started writing the song on my own on my bed one day, I wasn't really thinking about it and I made a simple drum loop on my computer and started singing along to it. I found myself thinking about the relationship I was, and still am, in and how it felt really comfortable – even in moments of frustration or overthinking or what have you. I brought the verse and pre-chorus that I wrote that day into the studio with Seán Behan and Richey McCourt and we started to build up the track together. I remember being stuck on a lyric idea halfway through the chorus – I was rhyming with 'crazy' or something so I thought I'd check my rhyming dictionary for the craic. I saw 'Gravy' and laughed out loud screaming 'I love you like Gravy' to the guys – not being serious whatsoever – but they loved it! It was a moment of pure joy and chaos all of us screaming 'I LOVE YOU LIKE GRAVY' in the studio.
I really liked the video for the song as well – so vibrant and really showed off your personality so well. What was it like to film this? 
I made the Gravy music video myself, a little by accident really. I've recently moved out to a small island off the west coast with only 100 people on it, and it's the first time Seán and I have lived on our own with just the two of us, so I got a new camera and decided I wanted to document more of the intimate moments of my life. More so for myself, so I have something to look back on when I'm older – I'm quite nostalgic even before something has happened haha. So when I was releasing Gravy, I remembered I had all of this footage since moving here, and I couldn't help myself putting it together and having it act a snapshot of a time in my life I don't want to forget.
The song 'Movies' I found really compelling and heartfelt. I loved this track and deeply felt the sentiments behind it. Could you tell us a bit behind the song and what inspired it?  
I'm really glad you heard it that way, thank you. I've grown up watching movies and analysing their structures, naively thinking they were a guidebook to life – which I can testify now as 100% untrue! I look to the past a lot, replaying memories and trying to make sense of them now that I'm older, so I knew I wanted to write about movies and how they affected me for quite a while. It wasn't until one night, about a year and a half ago, where I didn't want to go to bed and something was pulling me to my guitar. I hadn't been playing it much so it felt a little alien. The first couple of chords I played made me think 'I guess it's kinda funny', and all of a sudden the past and present were connecting for the first time for me. I was writing to my younger self, present self, and even future self to remember not to get so caught up in what I see other people doing because it's not always what it seems. Like in movies, when something finally makes it to the big screen, that's all you see – you don't see the first spark of inspiration, the doubt, the fear of writing it and so on – it's perfected and handed to you on a silver plate – it's NOT real life y'know? Life gives you uncertainty and unrequited love all the time and it's so easy to get lost in it. By marking where I had lost myself in this song, I was able to find myself again.
I loved the song 'To Do' as well – what prompted you to write this? 
'To Do': came to me quite naturally, I was looking for a way to describe exactly where I was at the moment I wrote it – and that was all over the place. We were about two months into the pandemic, and I was feeling very unmotivated and uninspired which was met with feelings of stress for not 'making the most of my newfound time', which is so unhelpful to think. Like I said a minute ago, I analysed structures in movies and stories a lot, which in turn pushed me to imagine this 'perfect' life for myself and if I didn't do it exactly that way, I was 'being wrong'. I was also fearful of the present and the power it holds over the future; if I do this now is it the right time? What if I regret it? What if I don't like this idea when I'm 30? Just nonstop. And I still spiral that way to this day. I think it's something I'm always going to deal with, but I'm glad To Do: reminds me that making ANY decision – big or small – is better than looking back and regretting not doing anything at all.
Generally, how do you gain inspiration for the songs that you write? Does it tend to be based on your personal experiences and feelings, or is there something else you try to capture?
I like to keep notes of phrases that really catch my attention, be it something from a podcast, a lyric, a quick snapshot of someone walking by having a conversation on the phone, things like that. They inspire me to dig deep and focus in on one idea or feeling and I try to add imagery to them a lot. Like in 'Healthy', I was writing about the thrill of when you're with someone new and they invite you into their world – 'Driving through your city, listening to Queen on repeat, waiting for you to kiss me' – I really wanted to capture that moment because I lived it, and I think it's a feeling we've all experienced before. My songs are images of my life, and I'm the one looking down the lens capturing it.
I know that during the past year it was very difficult for you, with you questioning the direction you were heading in and almost quitting music altogether. Could you tell us a bit about how the EP took form? And what did you learn from making it?
I didn't set out to record a new body of work whatsoever, so it was really cool to see Healthy come together. Making it, I really turned to my craft of songwriting to comfort me, rather than cause me grief like it had been because I wasn't letting myself relish in its cathartic nature. Because of that, I learned that there is so much value in perspective, and allowing yourself to realise when you might be looking at something from a very stagnant perspective is so healthy because you can take a step back for a moment and give yourself the chance to see things a little clearer. I treasure that breakthrough as it's made me excited about being a songwriter and artist again.
You record, produce and release your music independently – how has this experience been for you? 
I'm a big believer that artists should own their work, so when I set out to start releasing, I knew it was going to be a challenge and that's exactly how it's been. But it's been a rewarding challenge because I thrive on having full creative control over my craft and work. Yes there are days when my self-esteem is quite low, and I daydream about how much easier my life would be if I had a massive, super experienced team around me pulling me one way or the other, or even imagining the comfort of working a 9-5 job and the relief of not having to make big decisions all the time. But both of those things would take away the ownership and control over my life and my work, and right now, I don't want that. Releasing my music independently allows me to dig deep and make really intentional decisions, as well as build a community with my fan base that is so personable and fulfilling.
I'm from South Wales, and I'm always curious about the impact that location and land can have on us. Being from Ireland, I know you learnt to play the fiddle at the age of 5, and you would regularly attend traditional Irish sessions at your local Galway pub. How do you think that the place you are from has impacted the music you produce and also your development into becoming a musician?
Galway is a colourful and whimsical place to have grown up in. You can't avoid its creative nature even if you wanted to. So seeing that everywhere in the forms of music, dance, drama and what have you meant it was so second nature to me. I also found it difficult to open up to people in day-to-day life, so music enabled me to make sense of what I was feeling or going through, and I carry that with me wherever I go. Home is always with me.
In addition, I loved that you went to an island off the west coast of Ireland, writing with the crashes of ocean waves just outside the window. Can you tell us a bit more about this experience and how it impacted the music you wrote there? 
Yes, I'm currently living on a small island with only about 100 people. It's very peaceful, which lets my mind wander. I've used that peace to look inward and to work through a lot of the strong emotions I've been feeling my whole life. Even though I'm very much a city girl, being surrounded by nature with very little disruption has reminded me that that's where we've come from and where we belong in many ways. I like watching the tide change every day because it helps me remember that I too will change just as much as well as stay the same with every new day.
I know you love pizza – me too! If we were out having pizza now together, I would order a stonebaked margherita or a veggie supreme – what would you order? 
Oh great choice! I love jalapeños, caramelised onion, and a bit of garlic oil!
Thinking about your musical influences, what songs or albums influenced you when you were growing up? I often find that music that we connect to as teenagers can affect us for many years – were there any songs that did this for you?
I'm so with you – music I listened to as a teen still feels the same way it did all those years ago when I listen to it today. Because of that, I'm lucky in that I listened to a lot of classics like Fleetwood Mac, Kate Bush, David Bowie – so I get to experience that nostalgia even though I didn't live through the time that music was released. I also listened to a lot of Taylor Swift, especially the Fearless album so I'm ecstatic to hear her new version of it next month. My inner 12 year old is freaking out.
And more recently, what music helped get you through the past year – were there any particular albums or songs that stood out for you and helped you through lockdown?
Music really cradled me for the first time in a long time this year. Albums like HONNE's 'no song without you', Taylor's 'folklore' and 'evermore' albums, Lucky Daye's 'Painted' – best Sunday morning making pancakes soundtrack – and lots of Foster the People, particularly my favourite song from them, 'Houdini'.
Finally, can you tell us a bit about the tentative plans you have for the rest of 2021?
Tentative they are! But I just released my new EP 'Healthy' and I'm so grateful for the gorgeous feedback I've been receiving on it. Hopefully I'll play some form of a live show before the year is out, but if that doesn't happen I'll take it as not meaning to be. I'm just grateful to be surviving this, though it's not thriving, that's good enough for me right now.
Healthy is out now.