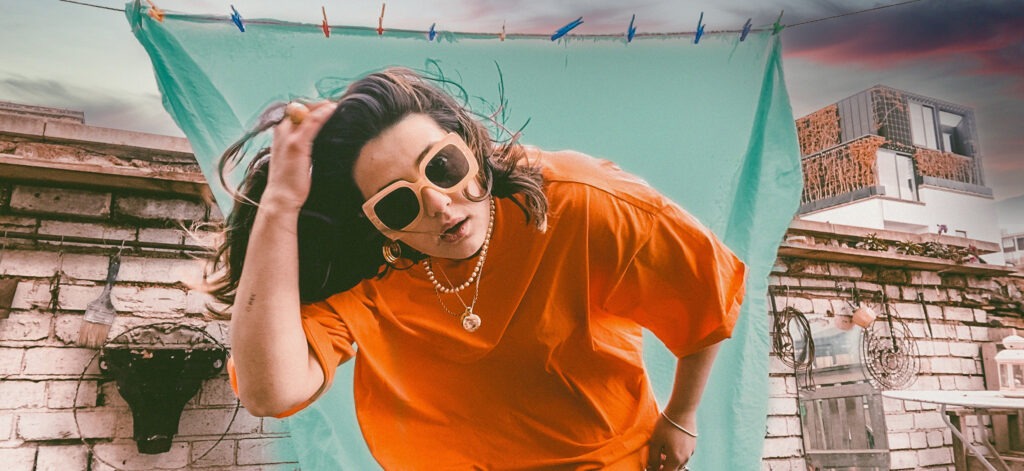 Belot released her cheeky, infectious and pulsing new single 'Bed' last week, its groove and illuminating keyboards and refreshingly honest pop melody caught my ear.
Belot is a 21-year-old songwriter based in London, who creates what she describes as "awkward pop". Bed is the follow up to her debut EP 'Electric Blue' released last year, with sleek modern production and a early 00s r'n'b flecked melodic approach that's cheeky and vulnerable at once and ladled with Belot's personality and attitude and hooks that sink in. Belot is one to keep an ear out for, we sent some questions to get to know her a little better.
How are you today?
I'm absolutely swell! Went for a walk in the park with a friend and drank an excessive amount of coffee.
How is lockdown treating you?
I've been very lucky and lockdown has treated me very well. Half the time I've been writing music and the other half I've been drinking and watching reality TV with my flatmates. Married at first sight being my number one priority throughout.

What was the first song you ever wrote? What was it like?
I honestly have no idea, but it was probably some tragic ballad about the rigorous struggles of primary school life. The first song I put on soundcloud was a song I made with my best friend and co-producer Max, it was called 'Night Time' and it was a Jazzy bedroom Pop number.
What's the music scene like back home? 
The music scene in London is wonderfully chaotic! I'm once again very lucky to be surrounded by a whole bunch of fabulous artists that inspire me every day.
How would you describe your music in five words?
BOLD, FUN, FUNKY, WITTY, HONEST
Is your music inspired by personal experience or observations?
Or a mixture. Definitely a mixture! Sometimes one song includes both! I love writing about all sorts and I have to say it really depends on the day you catch me. It could stem from me burning my toast or from my friend falling over. It's totally random.

Really like your new single, 'Bed', What's it about?
Why thank you! 'Bed' is about when you have a whole bunch of sexual tension with someone and although you're both doing the polite back and forth of small talk, at the heart of it you really do just want to shag.

I get a really sleek and catchy early 00 rnb pop sound from it, who did you work with on it and was that where you were aiming for?
So, I wrote the song and had the pleasure of producing it with my best friend and partner in musical crime Max Margolis. We've been making music together since we were 12. We never really go in with a direct goal but just experiment with various sounds that have inspired us and that we find exciting. Eventually that gets us to a place that we're happy with and a song starts to take  shape.
You've released a run of tracks over the last few years are you developing your sound?
The honest answer to that is, I hope so! I think that like with anything the longer you do it, the more you explore and grow. I would hope that with every release cycle I'm growing as an artist and the sound is evolving.

Do you have any more tracks lined up and eventually an ep or album?
I was going to try to keep it sexy and mysterious…but I'm too excited. I absolutely do! Lots in the works for 2021! Stay tuned!
'Familiar' is really laser focused and 'Blush# is really hooky, are you setting out to do different things when you step into a studio to record a track, or are they written beforehand and layered up with sounds?
It really depends whether we're writing in the studio or we have come in with a fully developed song. If we are writing in the studio we are discovering what the song's going to become as we go along. If I've written the song in advance I usually have some sort of idea of the direction I want the song to develop in and may have pre made a demo.
Which artists do you admire? 
The artists I've been binging lately are Noga Erez, UPSAHL, Dua Lipa and Billie Eilish.
What would be your dream collaboration?
Today it would be Noga Erez, as she's just released her album 'Kids' and it's absolutely blowing my mind.
Are you hoping to play any shows this year or is it just live streams/videos at the moment?
Like most artists right now I'm gagging to play again, I miss it so much. However I guess we'll just have to wait and see how the rest of the year unfolds.