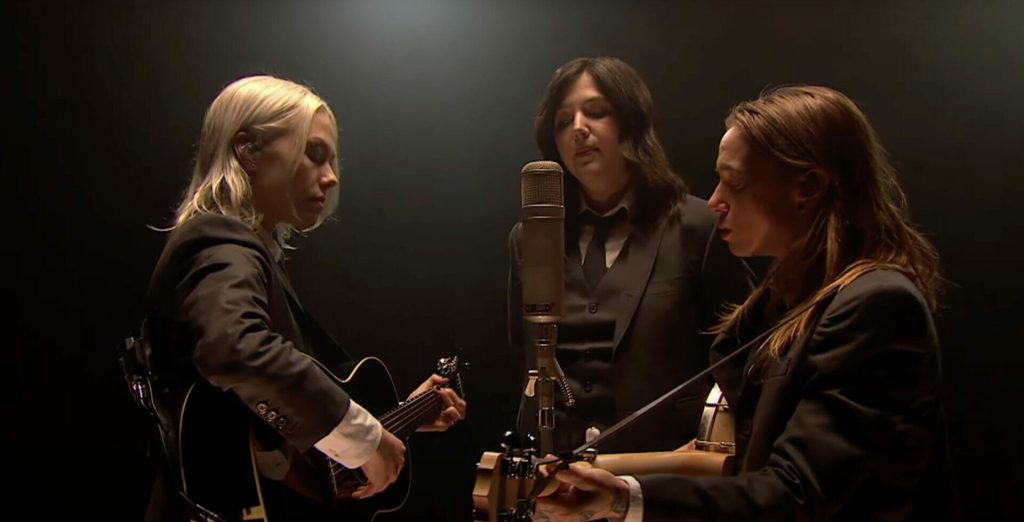 Watch: boygenius Stay "Cool About It" on 'The Late Show'
Alex H. Krinsky on October 4, 2023
Last night, boygenius helped usher in the return of late-night television with a performance of their tender song "Cool About It" on The Late Show. The performance came hot on the heels of a remarkable sold-out appearance at Madison Square Garden the previous day, Oct. 2, with special guest Muna.
After an introduction from host Stephen Colbert, the supergroup–comprised of Julien Baker, Phoebe Bridgers and Lucy Dacus–appeared circled around a single mic in dark suits. With vivid lyrics and a balanced awareness of each other, they unleashed the haunting song, building the atmosphere together before taking on a solo verse one by one.
In September, the group released their first animated music video for the track–which was released on their LP, the record. The video was directed by Lauren Tsai and the otherworldly imagery found in the clip is furthered by the group's performance on Colbert.
Along with sold-out arena shows and TV appearances, boygenius recently announced the follow-up to the record, a four-track EP titled the rest. The project was produced by the members of boygenius, Jake Finch, Tony Berg, Ethan Gruska, Collin Pastore, Calvin Lauber and Marshall Vore and will be released on Oct. 13 via Interscope.
The first track off the rest, "Black Hole," debuted live during their first performance at Boston's MGM Music Hall, while the band debuted the second, "Afraid of Heights," the following night.
Watch boygenius' performance of "Cool About It" below.