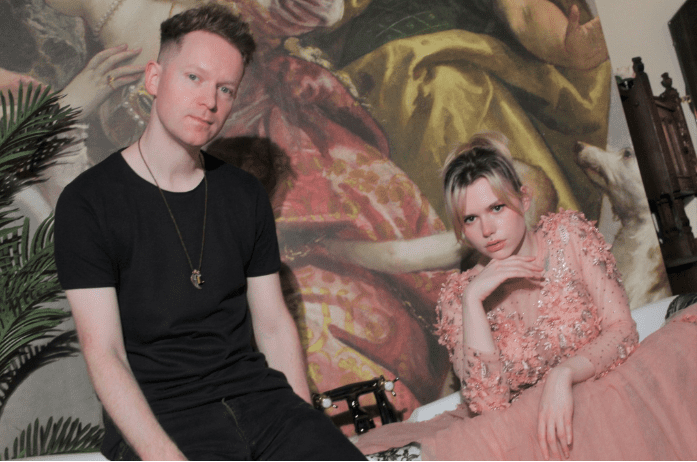 Belfast duo Dark Tropics have been making waves with a dark cinematic brand of pop-noir, rich with vibrancy and cinematic opulence. The songwriting duo, Rio McGuinness and Gerard Sands have recently supported Belle and Sebastian and channel the scope and style of Florence and the Machine and Haim. Going from high-energy dancefloor fillers to introspective ballads, thei tracks have a timeless quality, enhanced by analogue recording to '"let the music breathe naturally." The pair have already gained plaudits from Steve Lemacq on BBC 6 Music who said they produced "Lovely, cinematic, understated pop" while Jo Wiley on BBC Radio 2 described their sound as "beautiful.'
Following the success of their acclaimed debut album Ink in 2021 they heralded a new era with their 2023 Singles 'Midnight 10th Of December' and the lavish 'I Bet You Can'. To celebrate the release of their latest single, Carnival– out today. Gerard Sands from Dark Tropics sat down with GIITTV to talk about craft, influences and inspiration.
To anyone new to Dark Tropics, how would you describe yourself and your sound?   Would you use the term pop noir? It's very slick, lush and well- crafted, that's for sure.  
"Pop-Noir sums it up well. We write pop songs but it always feels like they're dipped in a little bit of melancholy."
I read that "Dark Tropics were drawn together by a bond that stretched from Ireland to Morocco." I love your 'Moroccan Sun' track- the jangling riffs and lush vocals. Can you tell us a little more about that.
"Rio was volunteering in Morocco when we first got in contact so that's where the connection with Morocco comes from. She was only there for a month but we did manage to get that song out of it and it did have a huge impact on her. I think traditional Irish songwriting is present throughout. Lots of ballads and rain and minor chords. We both live in the north of Ireland and of course, the music you hear growing up seeps in and influences the songs." 
Where does the name Dark Tropics come from? 
"It's so tricky to find a great band name that hasn't already been used. It's close to impossible. Those two words shot into my brain one day and I thought I'd use them for a song title at some point. When Rio and I recorded our first demo I knew it was a perfect band name for us and she agreed."
Is it true that you found each other on an app called Join My Band?  
"It is very true. I'd been on the look out for a singer for a while. I saw an ad on 'Join my Band' from a singer based in Belfast looking to perform live in a jazz band. Although I didn't want to start a jazz band or play jazz I thought it was intriguing so I messaged Rio and she emailed me back from Morocco where she was volunteering, seeming interested. She sent me this really jazzy voice note of her singing 'Crazy' by Gnarls Barkley acapella. It sounded beautifully strange so we organised to meet on her return. At our first meeting we discovered a mutual appreciation of Radiohead and The Rolling Stones song 'Sympathy for the Devil' and decided to try recording something.
I really loved your 'I Bet You Can'  track. It's an absolute banger- soaring and multi-dimensional. It's a whip smart dance floor filler! What was the inspiration for that track?  
"Thank you. 'I Bet You Can' might not sound like it, but it's our tribute to the Stones' late 60s/early 70s period when they were really kicking. We made sure it would build and build like a Stones epic although we wanted the production to be very modern."
The track is upbeat, but with a dark undercurrent with lyrics like The Devil's got something I should see'  Can you tell us more about that lyric? (or not)
"It's another nod to the Stones and late 60s music. We wanted everything to stop for that line so it feels like when the chorus kicks back in the character in the song has made the decision to see what the devil has to offer on some particularly lively night out."
 What is your creative process? How do you usually construct the songs?
"I think for myself the melody is always king and nearly always comes first. It's the most important thing in a song but we've also written songs where Rio will write some lyrics first and we'll work from there. On that one the melody and chords came out instantly as a jam on the piano but the words were total gibberish. Then the words were written properly to fit the melody. If we really like the gibberish we've sung to try and remember the melody we'll sometimes keep it in but try to give it some meaning. It works more than you think and often the gibberish words end up triggering something more interesting than if you'd written a proper narrative."
And the video is lush too. I can see the plush vibes of Marie Antionette in the pink frills juxtaposed with the dark grit of Blondie in that video- it's amazing. Can you tell us more about your creative vision for that? 
"That's one of the rare occasions where we had locations booked and a rough concept. One was a really palatial setting and the other was set up to try and slightly showcase our live show which is obviously a lot more sweaty and raw. "
How important is the visual side of your art? The lush cinematic videos and stage persona?    
"The visuals are incredibly important and Rio is an absolute master on a video shoot. She's totally locked in to the camera and knows exactly how to subtly move her face or body. It sometimes looks strange in the room but when I see the video back I'm blown away."
I notice that you move between poetic introspective slower ballads like 'Escape' and more soaring grooves like that of  'I Bet You Can.' Does one of you write the more reflective tunes and the other the upbeat tracks or is it a collaborative process?
"It's never that calculated. We rarely plan to write a song about anything or in a certain style. We just improvise til we find something that sounds good and then if we still like it after a few weeks we'll properly flesh it out and demo it. Only the songs we really love get finished."
Is there an era or genre that you are most inspired by? 
"I think for me the 60s is the most inspiring decade. There's just so many brilliant songs. It feels like everyone was just slightly better than they needed to be… if that makes sense. I recently did the magical mystery tour in Liverpool where they take you around the city and stop at important locations where The Beatles met, played and went to school. It was incredible and there's so many little nuggets you learn about the 60s. It feels bottomless."
Do you do anything to nourish your creativity? 
"Literally! Rio will sometimes introduce me to some crazy kind of food before we start to write and it strangely helps a lot."
There seems to be analogue instruments and retro recording techniques used in earlier tracks. Was this a conscious choice? How did the recording process complement your musical output? 
"Rio's voice and the songs we write usually dictate the musical style. I think it's the kind of voice that needs to be served completely by the production and music. We didn't want to put anything in the music that could place it in the timeframe of a particular production style. For those songs it just felt right that the instrumentation sounded natural to allow the songs to breathe. The software used to record dictates a lot of modern production and it forces you into corners. Using more traditional analogue instruments and microphones immediately gives something a unique identity."
Are there any recurring themes in your work?
"To me the songs are mostly about love and lust, the best and worst of both. They're snapshots of certain stages of a relationship with all the joy, heartache and contradictions that come with it. The cinematic feel comes from the snippets of scenes in the lyrics and the weight of Rio's voice. There's only been a couple of occasions when we've written with a specific topic in mind. Nothing is really set in stone. "
Who are your key musical influences? 
"Melody always wins- Radiohead, Dylan, PJ Harvey, Patsy Cline, Dr Dre, Paul Simon, Aretha, Stones, Beatles, Al Green, R.E.M., Bjork, Nick Drake, Aphex Twin, Rage, Bowie, Frank Ocean, Anohni and the Johnsons. Lot and lots more too…"
Congratulations on supporting Belle and Sebastian on tour. What was that like?  
"It was fabulous. We played with them on their Irish tour and the audiences were so kind. As soon as we hit the stage the crowd engaged with the songs and we really felt like they were the best shows we've done."
I hear you have a new track out on 20th Sept 'Carnival. Can you tell us more about that? 
"Carnival was written and demoed really quickly and felt completely effortless. The groove seemed to have an immediate swagger and the lyrics danced onto the page. It's about an intense but fleeting holiday romance; one that stays ingrained in your mind forever."
Where can we get your album from and what's the best way to support artists like you?  
It's just nice when people listen to the songs. That's obviously the most important thing for us. You can also follow us on socials or even buy a T-Shirt on Bandcamp if you're feeling particularly supportive. 
What are your plans going forward?  Will there be another album, EP or tour? 
We really want to release an album next year. We've so many new songs and we're unbelievably excited to record them.
Dark Tropics' latest video Carnival is out now. Watch here:
In 'Carnival ' Dark Tropics invite you down a twisted path of love and lust, demanding you fall prey to the allure of their summer street. Dark Tropics' newest release is their most ambitious yet.
Follow Dark Tropics here:
Instagram | YouTube | Spotify | Twitter