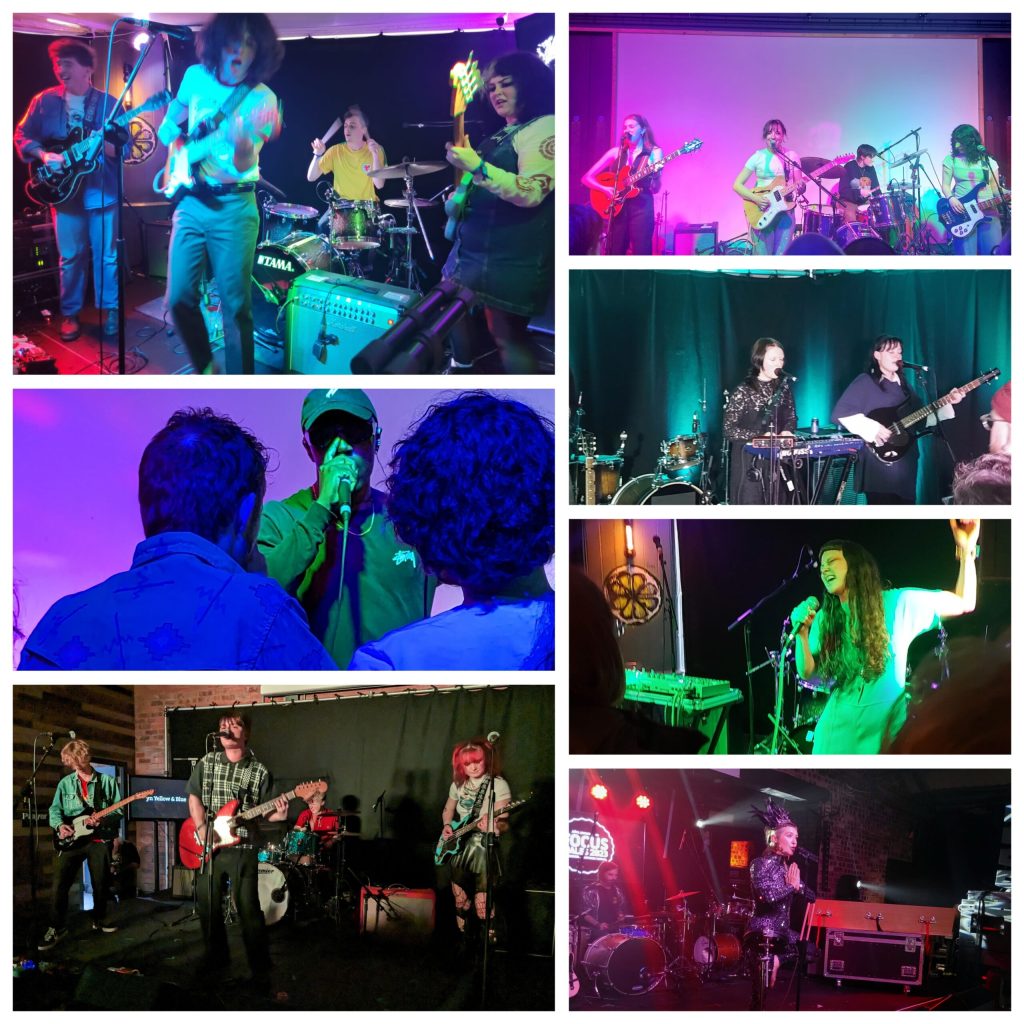 The feeling is back in the toes, the legs have stopped aching, the ears have (almost) stopped ringing but the heart is still pining for Wrexham. We had a blast at Focus Wales 2023 listening and watching our hot tips and discovering new gems in bars and community hubs and tents. It's quite frankly a bloody joy to be there for three nights where you can forget the real world is out there and someone born into privilege is having a priceless hat plonked on his bonce. Here is very much not an exhaustive few tracks that we sang, danced and loved. See you next year Focus.
Noah and the Loners – Protest Anger
Why we love it: because it's one of best punk songs of all time. This isn't hyperbole, it's an urgent, fucked off, vital two and a half minutes of bringing our useless, contemptible, negligent, fraudulent, incompetent government to account. If for some bizarre reason you haven't listened to this song yet, it's the best thing you'll hear all year on a list of some brilliant brilliant songs when we're not even half way through the twelve months.
Possibly more importantly, they are incredible live. See them in a dark, sweaty space so you can feel Noah's rath on your face close up. They played in a church in Wrexham on Thursday and even God was converted and made an appearance to shout "Fuck the Tories".
I may shut up about them every five minutes if you all watch this video and stream the single several million times. (Jim Auton)
Lemfreck – Kings
Why we love it: because he makes some of the best hip-hop out there. Originally from Newport he now preaches the word about Welsh Urban music in London.
He plays with a full R'n'B band that is as much a Soul band as anything else. He doesn't rely on beats to make his songs, his flow and lyrics with the groove created by drums, bass, guitar and keys makes sure the whole place is dancing in Ty Pawb on Friday. It's joyful and life affirming. Audience participation is mandatory and embraced.
The overriding feeling is that he is doing this for the community of Welsh MOBO artists and providing a platform for those up and coming acts. More power to him. (Jim Auton)
The Family Battenberg – Feed Yer (Nganga)
Why we love it: There is no greater pleasure than having a pych rock'n'roll band tornado into one's life whilst stood there with a very good cold pint of Guinness in hand on a Saturday afternoon mid-Focus, and this is what happened with myself and The Family Battenberg.
I'm not sure why the Cardiff four piece are named after a non-dynastic cadet branch of the House of Hesse-Darmstadt, which ruled the Grand Duchy of Hesse until 1918 (thanks Wikipedia), but what I do know is they are a on a full on sugar rush lo-fi-hold-on-for-dear-life trip. I can't say I understand the lyrics too much but I'm guessing that's the point. Maybe we're not meant to. The energy in Feed Yer (Nganga) is full on – it is in all the band's songs, come to that. Blistering is a bit of a cliche, but it fits the band bloody perfect. (Cath Holland)
Tara Bandito – Unicorn
Why we love it: Tara Bandito got carried into The Rockin' Chair venue in a coffin called Ken and then proceeded to blow the lid off (metaphorically – Ken is fine, nothing a polish with lemon Pledge won't fix).
She bubbled over with joy to be performing at the festival, and you'll get no bullshit from me about this – her uncompromising atttude was an inspiring shot in the arm. I've been thinking a lot lately about the way women are dumped on, sneered at, dismissed and othered, especially when past the first flush of youth and Unicorn from Tara's eponymously titled debut alum released last year performed live is a call to arms for all who are pissed off. Like a souped up car engine, with spikes in the wheels. 'If you are a unicorn, you will always be too much for some people. But they are not your people' she sings, and it's just about the best approach to dealing with assholes that I've heard. 'If you rain on my parade I will fuck you with my unicorn horn' with her dancers onstage giving the finger via the medium of unicorn is my methodology and approach going forward. So thank you, Tara. (Cath Holland)
Prima Queen – Eclipse
Why we love it: Prima Queen were a refreshing delight at Ty Pawb at Focus. Bringing their grin inducing energy, bittersweet anthems delivered with a glint in the eye, this hotly tipped outfit were joined by Helledd of Adwaith fame on the Drums.  Along with 'Invisible Hand', 'Eclipse' was a standout moment meditating from the destructive nature of adolescent romance, with a sing-a-long chorus that makes you thinks "what the hell" and jumps feet first into love despite the issues and trauma you are still carrying with you from your previous relationships. They sing above a wave of glimmering guitars and bouncing percussion: "But you don't know that I'm fucked up/And I'm not over my last love/I think I told you about him once/ But maybe I played it off too much/ It's always the same excuse/ And I'll never say I love you/But I'll pretend it's alright"
Prima Queen are anchored by the songwriting and friendship of Trans-Atlantic duo Louise Macphail and Kristin McFadden and on this evidence their anthemic songs bristling with personality are set to enliven more ears and hearts in the years to come. (Bill Cummings)
Bethan Lloyd – Aria
Why we love it: Despite wrestling with a few technical glitches and a smattering of chat, Bethan Lloyd emerged triumphant with a sterling set at the Parish for Under the Radar on Saturday afternoon. The North Walian artist recently released her excellent debut album Metamorphosis at the beginning of this month. She is a Welsh artist whose roots are deep. Her sonic exploration has taken her from training as a classical singer, immersing herself in Berlin's experimental music scene, to learning with magicians, masters and the ancient teachings of the natural world.  
'Aria' was positively intoxicating, the classical influence pulses through this song as Lloyd's vocals swoop with hymnal and tribal calls that reach for the deep roots of home, triggering electronic punches and atmospheric textures. It's redolent of Bjork's Medula with its entwined vocal refrains or the abrasive electronic collisions of Homogenic. Lloyd is a artist of rare power and depth and having had a chat with her she's a really nice person too. (Bill Cummings)
Boy With Apple – Brighter Than The Sun
Why we love it: When Dom Gourley from Under The Radar recommended a Swedish band called Boy With Apple with the billing "they sound like early New Order meets shoegaze and C86" we were intrigued. We weren't disappointed when we caught their set at the Wynnstay Arms, as beats were breathed to life by shimmering guitars and swooning harmonies that could lift the hardest of hearts.
They say they want to create "a mesmerizing world of eternal sunlight touching your face, long embraces from someone you love, and unconditional comfort". Hanging in the air somewhere between the shimmering soundscapes of My Bloody Valentine and the enveloping melodies of Beach House but doing it on their own terms, recent single 'Brighter Than The Sun' released under the DIY indie label Vårø Records was gorgeous and tantalised us to hear more of what sweet treats Boy With Apple have to offer. (Bill Cummings)