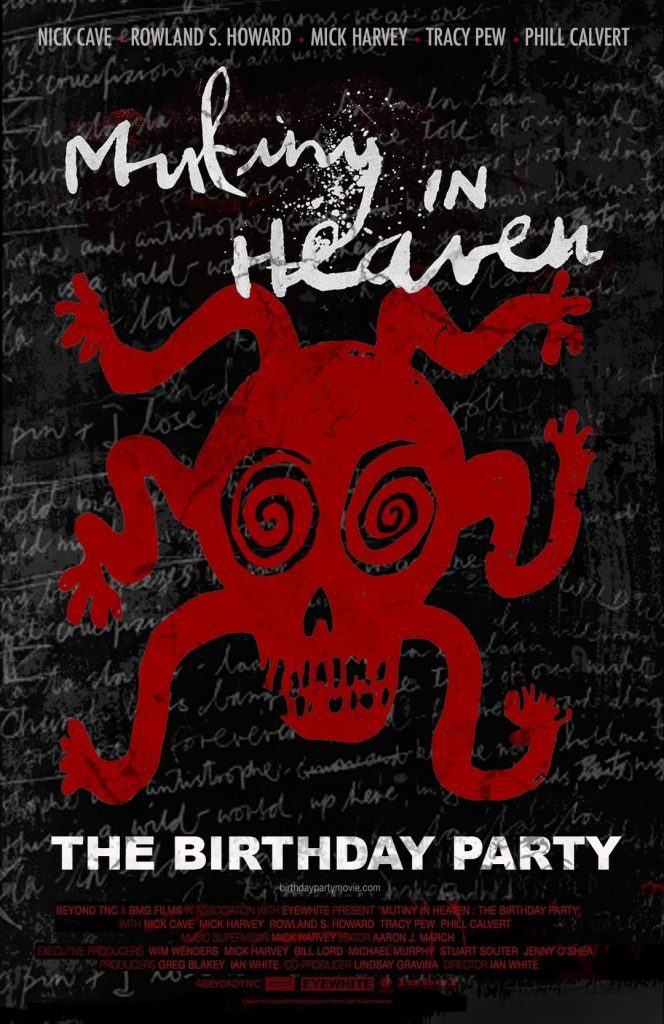 Having boarded an aeroplane at Melbourne Tullamarine Airport on the 29th of February 1980 as The Boys Next Door the five members of the band – Nick Cave (vocals), Mick Harvey (guitar/keyboard), Rowland S. Howard (guitar), Tracy Pew (bass), and Phill Calvert (drums) – after a suitably debauched and deranged flight they had changed their name to The Birthday Party by the time they arrived in London a day later.
Taking its name from a Birthday Party song, Mutiny in Heaven is a documentary film directed by Ian White which follows the seminal Australian post-punk band from their nascence on Melbourne's St Kilda scene through their emergence in London, return to their home city, relocation to Berlin, a period of relentless touring, the release of three studio albums, followed by their inevitable implosion. The Birthday Party's final gig took place in June 1983. It was a chaotic, highly combustible journey characterised by untrammelled creativity, incendiary live performances, industrial levels of drug use, and associated darkness, danger, and destruction.
The film is skilfully stitched together using a sequence of never-before-seen archival live music footage and photos of the band, animations based on the work of the German artist and graphic novelist Reinhard Kleist, and interviews with the three surviving band members, Grinderman-era Nick Cave complete with a most impressive 'tache, Mick Harvey, and Phill Calvert, plus Rowland S. Howard prior to his premature passing from cancer in 2009. Tracy Pew died in 1986 of a brain haemorrhage after sustaining head injuries during an epileptic seizure.
It is a fascinating, thrilling switchback ride; a story of an initial ascent towards greatness and the fallout from it featuring a series of characters for whom dissipation, detritus, and isolation were all collateral damage in the pursuit of what is often a furious, riotous and visionary art.
Mutiny in Heaven was screened at Howard Assembly Room on 12th November 2023 as part of the Leeds International Film Festival