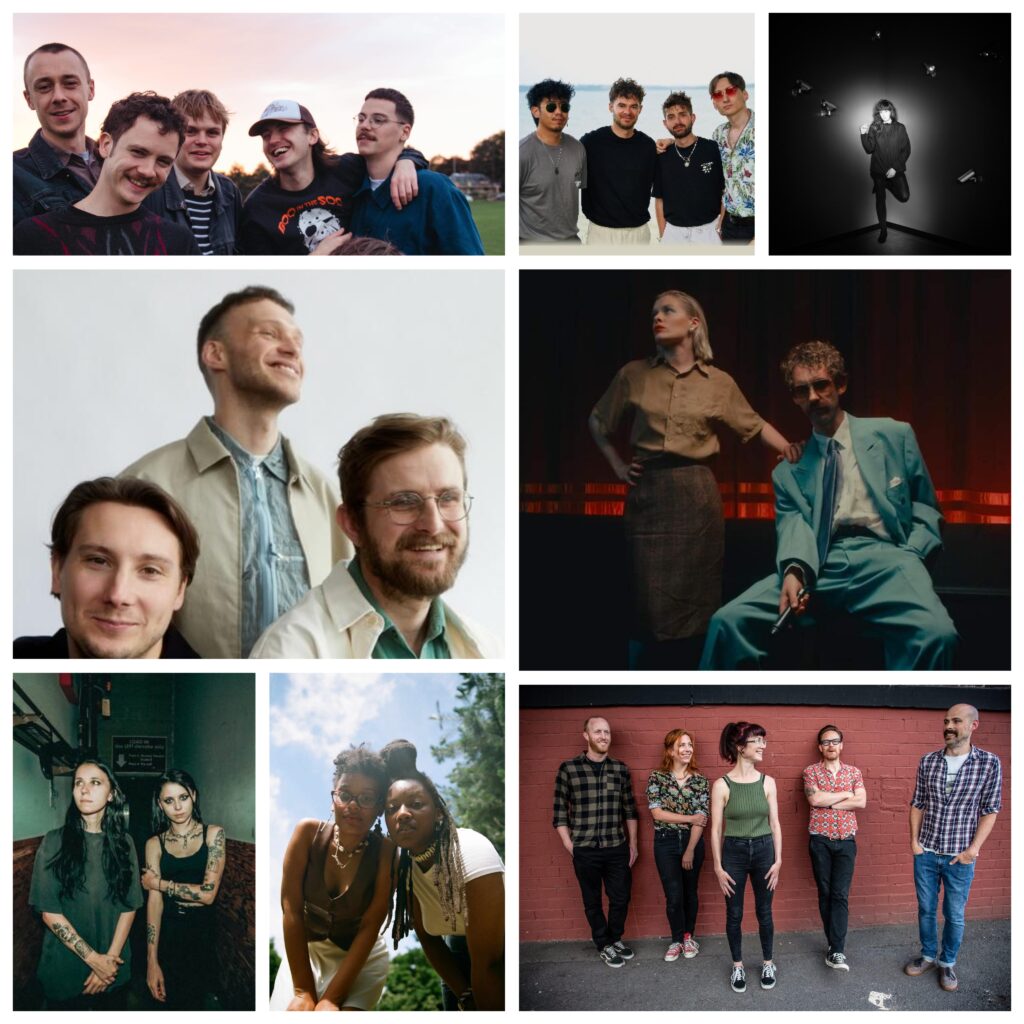 It's beginning to look a lot like Christmas/even though it's still the first half of November. 
Well not at God Is In The TV Towers it isn't. I've hidden the tinsle, punctured the massive inflatable Santa Claus and thrown the Fig Puddings in the food waste bin (oh come on, it's rank). 
Anyway, more pressing matters, it's another Tracks of the Week, without a single mention of Wham or jingling bells anywhere. 
Right, who's just put Smooth Christmas on the Wireless….. 
Tiger Island – Look Around You
Why we love it: Because just when you thought it was safe to go back in the waters around Tiger Island, the band of the same name are back with another shark-infested slice of rock'n'roll. It's now 18 months since the West Yorkshire outfit hit the racks of your local record store with their debut EP, What Have We Done, and as 'Look Around You' readily affirms that's been way too long to be without this sort of hot studio action.
'Look Around You' is the lead track from Tiger Island's forthcoming second EP and the first recorded music from the famous five of Penny Brazier (vocals/guitar), Matt Colmer (guitar/vocals), Kath Hartley (synth/vocals) Matt Perrot (bass), and Kev Sanderson (drums). It wriggles and it writhes with the same unorthodox spirit of The B-52s, a runaway plane of a tune that twists the elements of garage, punk, pop, and B-movie soundtracks into one frantically new and fun-filled shape.
And as if that isn't quite enough, 'Look Around You' is accompanied by a visual wink to the surreal alternative universe of the cult comedy show which just happens to share the self-same title. Yeah, the one which parodied educational programmes from the late '70s and early '80s. So let's uncork the bottle and celebrate like it's 1979 all over again. (Simon Godley)
[embedded content]
Annie-Claude Deschênes – MENACE MINIMALE
Why we love it: Because this is guaranteed to get your toe tapping. The singer, keyboardist, singer-songwriter and visual artist, Annie-Claude Deschênes has been a key feature on the Montreal musical map for the last couple of decades – most notably with local groups Duchess Says and PYPY – but 'MENACE MINIMALE' is her debut solo single and marks her emergence as an artist in her very own right. And it's a pretty good way to start.
A pulsating electronic beat quickly lodges itself in your brain and by the time that Annie-Claude Deschênes' otherworldly voice enters the domain the incessant beat of 'MENACE MINIMALE' has already made its way down to the soles of your feet. Building upon an early 80's synth-pop template drawn up by the likes of Depeche Mode and OMD, Deschênes succeeds here in relocating that sound to the present day. (Simon Godley)
[embedded content]
Projector – No Guilt
Why we love it: because this is a real return to form for Projector who took more of an Industrial road for a while but with the announcement of their debut full long player, are forging all their styles with a hooky, post punk asthetic but with pop sensibilities meaning the songs are bellow along to at the top of your lungs ace. 
Coming as the third track that will feature on Now When We Talk It's Violence after 'And Now The End and 'Chemical', the guitars are angular and spikey and furious with Laura's bass providing rumbling rhythm and counter melody. The chorus, or is it the bridge or second bridge is huge and emotive. 
Rattling along and coming in at just over the two minute mark, it serves up further proof that the album will be a belter. (Jim Auton) 
[embedded content]
Van Houten – Coming of Age
Why we love it: Because it's been a while, but Leeds-based outfit Van Houten are back…and then some. Not only have they announced details of their headline tour across the UK in early 2024 as they prepare to launch their debut album, but they have also returned with a brand new single 'Coming Of Age' via Clue Records / EMI North.
Speaking about the new single, Van Houten's Louis Sadler says "'Coming Of Age' is about overcoming fear and anxiety, and getting to a place where you realise you aren't as lost or alone as you once thought. It's about realising you have your whole life ahead of you, so much left to say and now is the time to say it. It's about embracing change and casting away doubts. This song encapsulates the main theme of the record which is gaining perspective, growing, and moving forwards."
It's our first collaborative release where we've written together as a full band. We're finally in a place where we've found our sound – moving out of the bedroom studio to meet our newer, bolder sound".
' Coming of Age' glides forward buoyed by a true sense of optimism. It is as exquisite as it is ethereal and arrives complemented by a lovely video that in the week that the Fab Four once more sit at the top of the UK Singles Chart gives a topical nod towards The Beatles courtesy of a rooftop performance, Magical Mystery Tour-style high jinks in the country, and, given Van Houten's current record label, scenes from a stairwell akin to the cover photo of Please Please You which was taken at the then HQ of EMI. (Simon Godley)
[embedded content]
Myriad – Red Hoodie
Why we love it: Although this Southampton based band tout several mid-noughties UK indie bands as an influence, the truth is that they end up sounding a whole lot better than any of them. 'Red Hoodie' is one of the most joyously uplifting pop songs you will hear this year, and delightfully, whether intentionally or by accident, there is a massive nod back to the jangle-pop bands of the eighties here, perhaps even Postcard style, to an extent. It is practically impossible not to leap around the room while this song plays. It's a song about lost love. As the band say: "Red Hoodie" is a song for when you split with that one person, and months later you find something of theirs in your possession and it reminds you of the good times you had with them, even though it's all over." And those good times are reflected perfectly here. It sounds like frolicking on the beach. A feelgood tune for the modern generation, and my god, don't we just need that right now? (Loz Etheridge) 
H31R – 'Down Down Bb (feat. Quelle Chris)' 
Why we love it: Experimental electronic hip hop duo H31R (pronounced heir/air) – composed of New Jersey producer/composer JWords and Brooklyn rapper/vocalist maassai – shared an excellent new single 'Down Down Bb' featuring Detroit-based GRAMMY-nominated producer and rapper Quelle Chris.
Glowing instrumentals and JWords' pulsing beats give a platform for maassai excellent wordplay, that shows off unwavering confidence with dexterity. Quelle Chris' offers a playful verse, it's a intoxicating interlude that's reminiscent of No Name, but scored with a genre blurring. inventive, musical edge. On collaborating with Quelle Chris, JWords says, "I'm so happy that Quelle worked on this song with us, maassai and Quelle Chris on one of my beats sound so great." maassai adds, "This song was really fun to make! We wanted to hear a voice we love on it, and Quelle slid as he always does." 'Down Down Bb' is lifted from forthcoming album HeadSpace set to arrive November 17th on Big Dada. 
H31R formed out of JWords and maassai's mutual desire to mutual desire to bridge the gap between hip hop and electronic music. They would come to know each other's respective styles in production and rhyme while developing on their own projects to create an enigmatic but complementary sonic experience that pushes the fickle boundaries of genre. (Bill Cummings) 
[embedded content]
The Cost of Loving – Esports Player
Why we love it: Nottingham based trio The Cost of Loving, return with the new single 'Esports Player'. Made of Jack Kwiecinski (vocals, synth, programming), Josef Bone (synth, programming) and Antony Onorati (bass, synth). Paying homage to 80s synth pop but lending it a modern update, with sleek modern production of rhythmic synths and infectious drum machine samples. Offering a showcase for Kwiecinski's vocals that percolate from wispy falsetto to spinning, with hints of 1975 and Depeche Mode, there's a hooky euphoria of a chorus underscored by the wistfulness and isolation of playing games on your own. 
Talking about the track, the band share that "Since playing live as The Cost of Loving, we've closed our set with this track and it generally goes down as a crowd favourite", pointing to the fact that it made sense to focus on the track as a lead single from their upcoming EP. Continuing to speak about the recording process behind the track, lead vocalist Jack explains: "I came up with the verse melody to Esports Player a few years ago when driving on the motorway in the dark. The original opening line I had was: 'The streetlights run out; the cat's eyes close' (a play on the reflective studs on the motorway). I got home and recorded the verse melody over some chords played through a Rhodes plugin, then left it on the scrapheap of creative ideas. I revisited the track during the pandemic around the time that I was adjusting to working on Microsoft Teams and only interacting with people solely through screens and instant messenger. That's how a theme developed around the social isolation created by the digital age. I'm also sort of bewildered by the idea of people playing video games as a professional sport or filming themselves in the act for their millions of followers… that's where the title came from.." (Bill Cummings)
Softcult – Haunt You Still 
Why we love it: Canadian twins Softcult head to these shores for a UK tour later this month. Their dreamy new single 'Haunt You Still' finds Softcult delicately unpacking the lingering impact we each inevitably have in our past relationships and friendships. A tapestry of celestial dream pop, cyclical drums, and swathes of reverb dunked guitars: shivers with delicate evocative vocals that detail self defense mechanisms born of trauma and heartbreak. A tantalising and gorgeous glimpse of their haunting world. 
"Maybe it's a defence mechanism, but we tend to demonise the people we once held close once they're out of our lives, and it's not always warranted. It's a reactive way of protecting ourselves," they explain. "This song is an acknowledgement that when things don't work out between two people, it's not always one sole person in the wrong. Looking back on our past, we have to reflect on the parts we've played and the damage we may have unintentionally left behind. When those people think of us, do they look back fondly or has the chapter of their lives where we appeared become a painful memory?"
On this next collection of songs, siblings Mercedes (she/her) and Phoenix (they/them) Arn-Horn shine a more brilliant light than ever before on the many complexities of human existence. Though they're still yet to release their debut album, Softcult are already carving out a signature sound with their enthralling, celestial shoegaze bliss interlaced with impassioned lyrical calls, opening conversations about gender equality, violence, climate change, corporate greed and much more.  (Bill Cummings)
[embedded content]