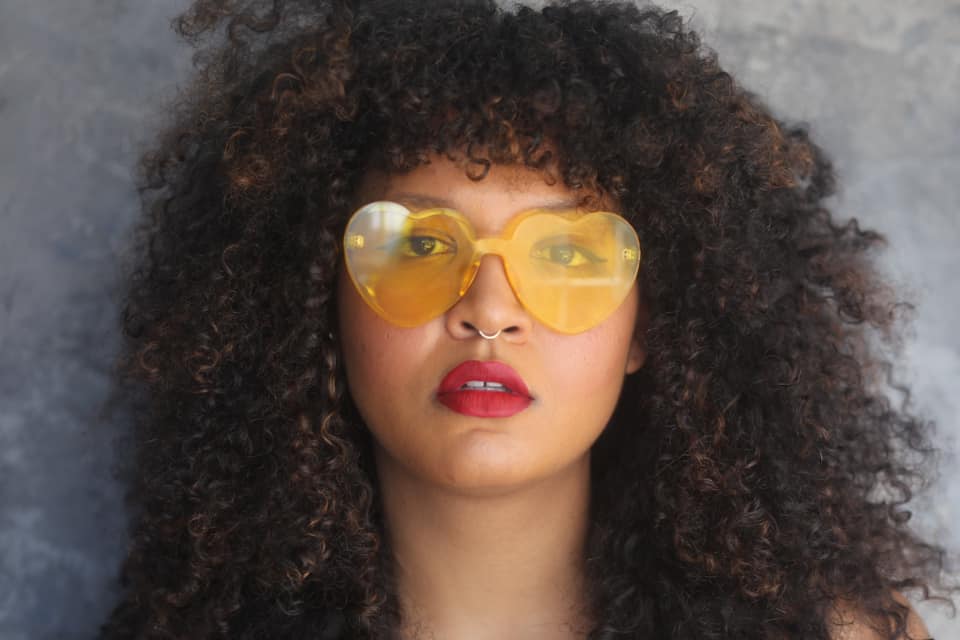 One of the voices of the year is surely that of Tristan Carter-Jones, the singer songwriter of Brooklyn band Dakota Jones .  In a music landscape dominated by post-punk, her voice brings a funk blues alternative that is dripping with soul.
Black Light opens with 'I Did it to Myself', the first single from the album.  Funky is definitely the word, and positivity flows from this track.  Tristan isn't afraid to sing about issues that mean something to her personally, and uses music to express herself.  There is a proud black heritage here and a triumphant queerness, but of course there are also universal topics such as self-acceptance, and coping with the challenges of life.  "Stretch marks from growing pains" is a wonderful lyric, instantly relatable.
The flirtatious title track 'Black Light,' introduces that blues vibe which envelopes you with a wonderful guitar which perfectly complements Tristan's vocals.  The funk driven 'We Playin Bad Games' creates an image of late night revelry with free spirits making the most of the wee small hours, leaving our imagination to decide what those bad games are.
Listening to this album there does seem to be a real flow, a thread running through the tracks.  'Whatcha Gonna Do About it' seems to be the perfect track to follow 'We Playin Bad Games'.  The feeling of the morning after the night before with Tristan taunting and challenging:
"If you don't like it whatcha gonna do about it then?"
"You don't like what you see you better close your eyes fast"
Tristan Carter-Jones is joined in Dakota Jones by Scott Kramp (bass) Steve Ross (drums), and musician Randy Jacobs (guitar) who is a former member of Was(Not Was) and has recorded for Seal, Bonnie Raitt, Tears for Fears, Elton John and many others.  The pedigree is there for all to hear on this album.
'Medicine' is a beautiful track full of heartfelt honesty and a stunning vehicle for Tristan's vocal.  Full of emotion and passion, it is a track with a gut-wrenching pull and an echo of self reflection and regret, stating a desire for change
And so onto 'Lord Please' the second single from Black Light.  It is delivered as a personal prayer with the repeated mantra of "Help me help myself, please someone help me help myself," over the beat of a single drum.  It has a haunting hymn-like quality and gradually builds into a display of united chants that expose the band in a gleaming light.  It recites empowered words of reassurance and it is a standout track on the album.
'Black Magic (That Power)', is full of personal emotion in which Tristan mourns the memories of a previous flame.  This song epitomises the honesty and openness which she incorporates into her song-writing.  Not afraid to be open, it is accompanied by a piercing guitar riff which further emphasises the pain.  This emotion of heartache is carried into 'Like That' which twists the knife into wounded blues guitar riffs.  'Down Slow' is a ballad, a beautiful love song.  After all the pain and heartache, here love has been found and it is joyous, reflected in this song.  Lessons have been learnt but there remains a vulnerability which is expressed beautifully.
'Noise' was written as a reaction to the 2016 US election.  Expressing solidarity in the face of injustice it erupts into a rallying cry for change.  The emotion in Tristan's voice here is evident and has not been smoothed out in the mixing of the track, which only adds to the authenticity.
"I woke up after the election feeling pure panic and fear in my body," remembers Tristan. "I wanted people in a place of privilege to stand up for what I was feeling, stand up for injustice, stand up for all of the things we need to change as a country. I wanted their rage, and I wanted their noise."
Closing track 'California' sees Tristan set out on one final journey of self-discovery.   This is a gritty, guitar-slung ballad and seems to be full of hope.  It looks to the future, and the positivity of a new start but with the added resilience developed due to previous experiences. 
Black Light also features a wealth of accomplished musicians including backing vocalist Kudisan Kai, former backing vocalist for the likes of Chaka Khan, Anita Baker, Beck, Mary J. Blige and Jill Scott.  Also involved are Grammy winning keyboardist Jon Gilutin, who has worked with iconic artists including James Taylor, Lady Gaga, Aretha Franklin, Diana Ross, Jackson Browne and Carole King, and acclaimed guitarist Michael Toles  who has contributed on records by artists including Issac Hayes, Al Green and BB King.
This debut album's message of proud black heritage and triumphant queerness manifests itself in Tristan's ability to challenge norms of adulthood and femininity as she takes a deep dive into some of life's most visceral emotions.  As Tristan further explains:
"Black Light really dives into a place of funk soul and everything that comes with it. There's joy and dancing, sleek guitar licks and funky bass slaps. There's pain and longing, and there's the feeling of relief when you come out of that place and find your joy and purpose again. Black Light is my story." 
Black Light is released on 27 August 2021 through Lord Please Records.