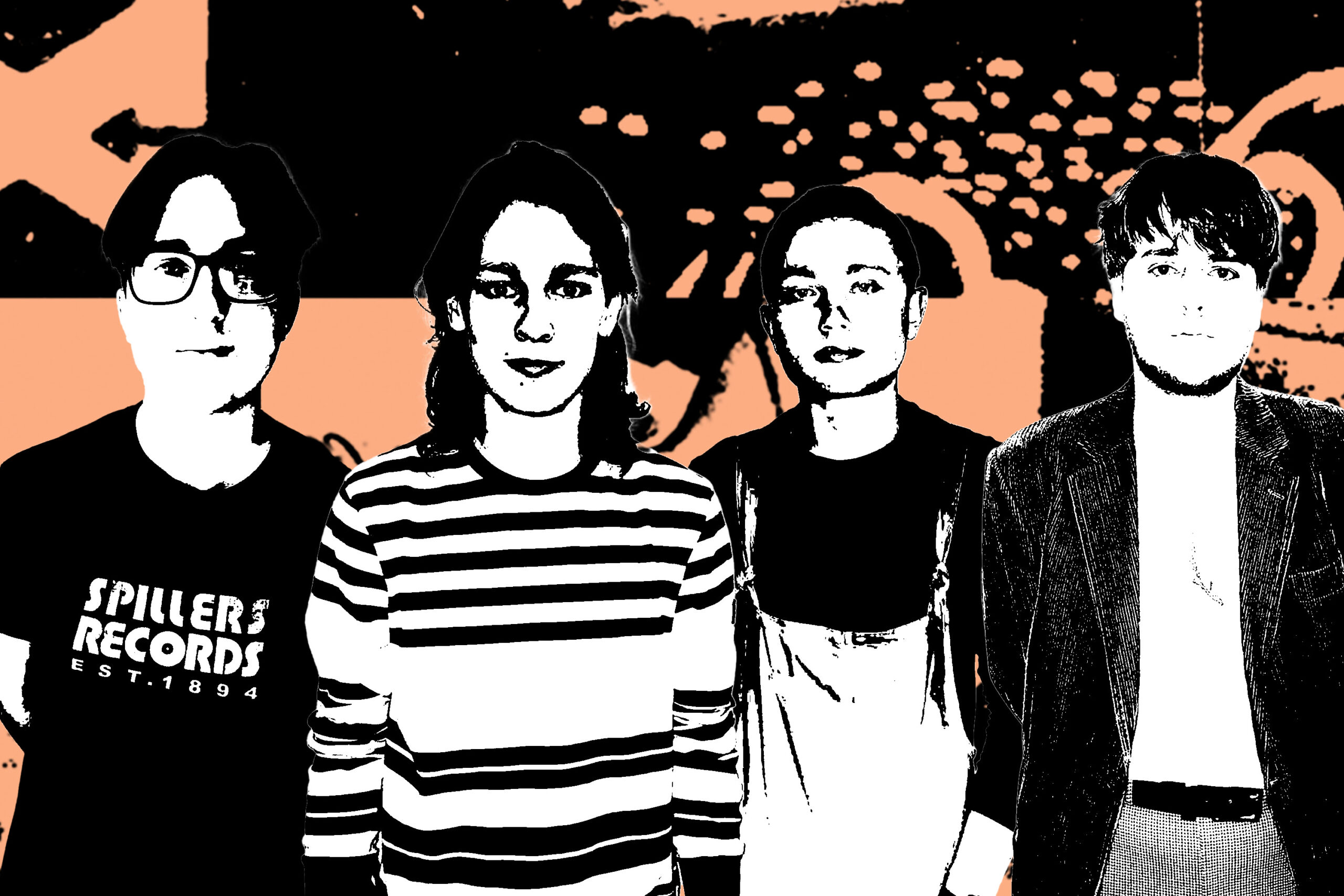 Cymru Cuts is back! Laying out the choicest new cuts and stone cold classics of the future. In this edition, we have news and tunes for thee. The Anchoress and  Adwaith are both supporting the Manics; FOCUS Wales takes over Guesthouse tonight with acts selected for INES 2021- and it's FREE to watch for the comfort of ya sofa, garden, pub – take your pick. We got single reviews of new  songs from Thallo, Y Dail, Eädyth, Alice Low and more!
SYBS are back with new single 'Llygaid' on the ever-reliable Libertino records. A bucolic sea sawing melody, fizzy guitars and swampy beats are as reflective and insidious, a slacker anthem you can sing along to. SYBS have buckets of potential!
Here Osian (singer / guitarist) explains the background to 'Llygaid':
"I wrote this song during my first year of Uni, and was definitely a change of pace for me writing wise. A lot of the songs I was writing at the time where very dancey and energetic so it felt good to do a song that was more inward looking, and the lyrics definitely reflect this and generally encapsulate those last few weeks of my first year in uni.
It's really weird listening back to this one because we recorded the final bits and bobs literally a day before I went home for lockdown, a little over a year ago, which makes it even more nostalgic to me. Hopefully I'll get to make some more memories playing this song live very soon!" (Bill Cummings)
THE ANCHORESS
Manic Street Preachers' 14th studio album 'The Ultra Vivid Lament' comes out in early September, they will be touring the UK that month. Supporting them on tour will be The Anchoress, whose latest record The Art Of Losing earned a top 40 chart position. You can read our interview with The Anchoress here and hear her on the Show Me Magic podcast here. Welsh Music Prize winners Adwaith will open for the Manics' date at Piece Hall in Halifax on 10 Sept; James Dean Bradfield of course remixed Adwaith's 'Gartref' in 2018. (Cath Holland)
Thallo – 'Pressed and Preserved' (Recordiau Côsh Records)
This is a bloody wonderful. A companion piece to April's The Water, an exploration of the joys and downsides of love, in Pressed and Preserved Thallo aka Elin Edwards reflects preciousness now gone. Her rich voice is given added melancholy by the clarinet, which guides us through our own losses.  Thallo's distinctive jazz-infused music is mature to heart but fresh and gorgeous to the ear.

'Clarinet is my main instrument, it's where I write my arrangements, and it's where each song stems from. Growing up it was either that or the flute that I could learn and I didn't want to copy my friends on the flute. Clarinet is something really important to me, it keeps this sense of pride in my music,' she says.
Thallo has been played on Radio 1's Chillest Show and Radio 6 – and is selected to play the Great Escape Showcase. (Cath Holland)
FOCUS Wales presents an INES 2021 Guesthouse Takeover at 7pm on Tuesday 8 June.
You can enjoy live online sessions tonight from: Benji Wild | Campfire Social | HMS Morris | Jack Found | N'famady Kouyate for. All you have to do is register here and support #WelshMusicAbroad.
(Cath Holland)
Y Dail is back with a chirpy toe tapping new single 'O'n i'n Meddwl bodd Ti'n Mynd I Fod Yn Wahanol' with a charming infectiousness, replete with a zippy riff and a hooky melody, this lo fi wonder is a melodic diamond in the rough!
Y Dail is the musical project of Huw Griffiths, 17 years of age, from Pontypridd, South Wales. The band's debut single, Y Tywysog a'r Teigr, was released in October 2020 and received good reviews across a number of music blogs and fanzines, coming second in Rhys Mwyn's Radio Cymru Alternative Chart. Y Dail's influences include Super Furry Animals, early Prefab Sprout, Television, and 60s girl-group pop. (Bill Cummings)
CHAIN OF FLOWERS
Another returning act are Cardiff goth-punks Chain Of Flowers who are back with 'Amphetamine Luck' their first new material in four years. Produced by Jonah Falco (Fucked Up, Jade Hairpins, Chubby & The Gang) it serves as a taste for the bands forthcoming second album, due for release in 2022.
A near 6 minute voyage into the heart of darkness 'Amphetamine Luck' this shot of new wave careers into synth laden territory of the likes of Joy Division, The Sisters of Mercy and early Simple Minds , possessing all of the fever dreamed intensity and melodrama of their previous work but retooled and armour-plated.
Singer Joshua Smith pours out across the track, describing the song as: "One for the ups, downs, the forwards and the backwards. Accepting that we're all flawed beyond doubt but working to drive your own change as you continue to play out the bad dream in real time". (Bill Cummings)
ALICE LOW
Alice Low's debut single 'Ladydaddy' came out recently on Clwb music. Oscillating somewhere between the playful prog pop Sparks and the 70s glam stomp of Bowie and Scott Walker's more unhinged moments, it embraces and plays with the duality of the masculine and feminine. It's disorientating and delightful in equal measure. Watch the accompanying fourteen minute video below, Low has a unique vision.
"I was moving house, and I was moving body, and I couldn't sleep. Charged with a new name I was determined to access the diverse and confusing emotions that come with the relief from a lifelong repression. I felt free, happy, and light, but also afraid of what was to come, because outside the bubble of my small group of accepting friends and family was a world that hated people like me, and made it difficult for us to exude any power. If the world wasn't going to give it to me, I was going to fake it," says Alice. (Bill Cummings)
My Name Is Ian are back with another wonky existential anthem 'What's The Point?', from their forthcoming album Fantastic Comedy. Black comedy, frustration and trawling through the detritus of popular culture. This stream of consciousness is smeared over processed dance beats and lo fi instrumentals. A chorus for the doomed who sing it arm in arm, while the horns play, awesome!
Flanking Reginald Foxwell's ever-incisive lead vocals are over 20 other singers including members of The Burning Hell, Quiet Marauder, HMS Morris and more. The aggregated effect of this production methodology, musicianship, and spirit of sonic adventurism is a warming, texturally deep and irresistibly catchy set of tracks straddling pop, hip-hop and experimental soundscapes. (Bill Cummings)
KORELESS

Welsh artist Koreless returns with 'Black Rainbow', an anthropomorphic electronic cut rippling with a tapestry of ambient textures and skittering beats. Koreless' first solo material in 5 years, 'Black Rainbow' is with served with a video originally conceived and shot in a ravine in Rachub, North Wales during lockdown 2020.
The video for 'Black Rainbow' is inspired in equal parts by cult 70's coming of age BBC drama 'Penda's Fen', soft orthopedic foam and slow-motion bullet time videos of the Gloucester Cheese Rolling Competition. (Bill Cummings)
Eädyth
Prodiguously talented and prolific Eädyth served up her glowing debut single on Libertino the sumptuous down tempo grooves and gorgeous nu-soul of 'Inhale / Exhale'.
Inhale / Exhale is Eädyth's personal reaction to the uncertainty that the last year and half has brought into all of our lives. She finds the positive as she lets go of the fear, a positivity that shines throughout Eädyth's exquisite vocals, she finds a light at the end of the tunnel and it sounds wonderful.
"Inhale / exhale is a song I wrote, about how I felt during lockdown, the fears and the overthinking about the future and having to keep living life, but in this, trying to keep calm and to find positive ways to adapt into the 'new normal'. I've been inspired by being able to go outdoors and take in the beautiful surroundings of Merthyr, inhaling the positives and exhaling the fears," she says.  (Bill Cummings)
DANIELLE LEWIS
Danielle Lewis's new single 'My Youth' is direct, delIcate and heartfelt, the tumbling chords and Lewis's deeply wistful and exquisite vocals swim deep into a pool of reflection reminIscing longingly on the passing of time. Absolutely glorious.
'My Youth' finds Danielle reflecting on coming-of-age and the myriad of emotions that come hand-in-hand with growing up.
As Danielle voices: "My Youth" was written from a sense of feeling adrift and floating through life, particularly in my younger years.' The lyrics touch upon accepting a part of my youth and allowing the waves of emotion to flow through without judgement." (Bill Cummings)
HMS Morris photo credit: Rhodri Brooks