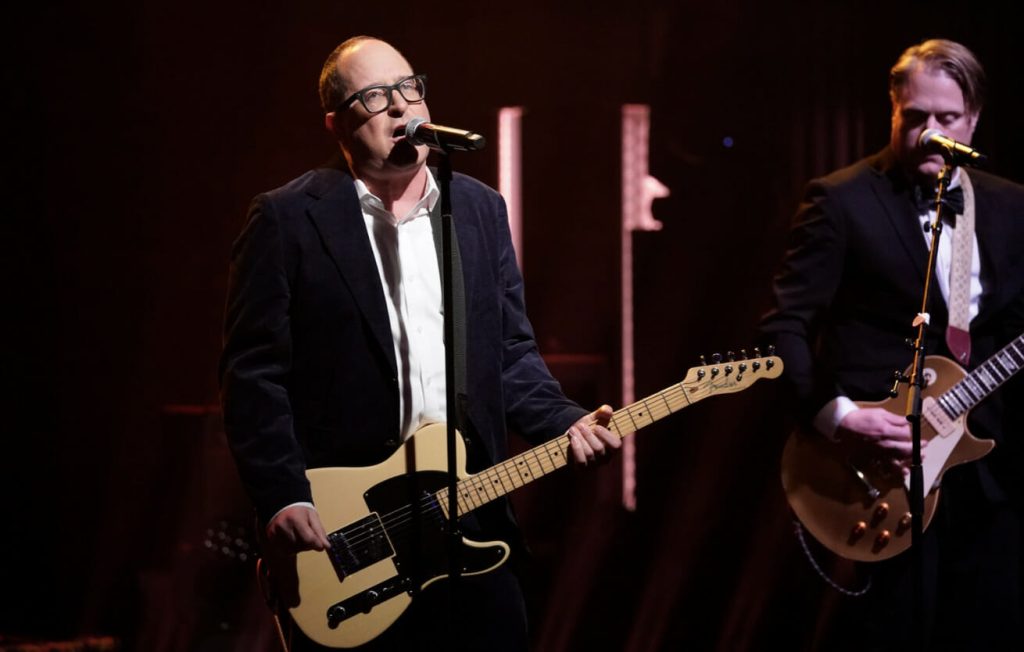 Photo by Lloyd Bishop
Last night, The Hold Steady shared "Sideways Skull," from their newest offering The Price of Progress, on Late Night With Seth Meyers. Frontman Craig Finn and the band dug their heels in during the performance and lifted up the crowd with genuine rock-and-roll, lush with rips, humourous lyrics, and expressions connected fully with the music.
The band–which is celebrating their 20th year together–displayed strength and unity during the musical segment which could only be formed by a commitment to their sound. Their unity was furthered by their matching pristine suits, as Finn sang, "The band would be better if they weren't such burnouts/ The Beatle boots and the glam rock top hat/ Isn't gonna make any difference/ It never works when no one listens."
Along with a tour set through most of the rest of the year the band has created a new oral history book titled The Gospel of the Hold Steady: How a Resurrection Really, which is co-authored by Michael Hann and explores their journey from their inception in Minneapolis through today, through interviews with the band and their contemporaries over 20 years.
Watch The Hold Steady perform "Sideways Skull" below.
The Hold Steady Tour Dates
April 27 – Portland, OR @ Mississippi Studios *
April 28 – Portland, OR @ Revolution Hall *
April 29 – Portland, OR @ Revolution Hall *
May 12 – New York, NY @ WFUV Highline Bash
May 13 – Boston, MA @ Roadrunner ^
June 3 – Austin, TX @ Stubb's Waller Creek Amphitheater #
June 30 – Chicago, IL @ The Salt Shed †
July 1 – Chicago, IL @ The Salt Shed †
July 2 – Chicago, IL @ Empty Bottle
September 2 – Minneapolis-St. Paul, MN @ TBA
September 22 – Jersey City, NJ @ TBA
September 23 – Philadelphia, PA @ TBA
October 7 – Las Vegas, NV @ TBA
November 29 – Brooklyn, NY @ Brooklyn Bowl ***
November 30 – Brooklyn, NY @ Brooklyn Bowl ***
December 1 – Brooklyn, NY @ Brooklyn Bowl ***
December 2 – Brooklyn, NY @ Brooklyn Bowl ***
* We Can Get Together
# w/ the Mountain Goats
† w/ the Mountain Goats and Dillinger Four
^ w/ Dinosaur Jr. and Come
*** Massive Nights 2023