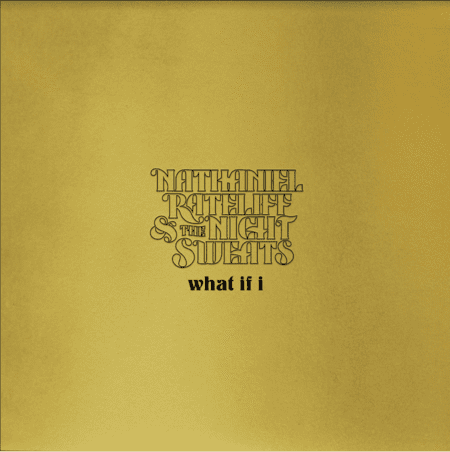 On the heels of their 2021 release, The Future, Nathaniel Rateliff & The Night Sweats have returned with a five-track EP, What If I, due June 2 via Stax. The EP features four previously unreleased songs recorded during The Future sessions and a newly written and recorded track called "Buy My Round." Today, the group has dropped an alternate version of their previously shared "What If I." 
All the material on the EP was produced by Bradley Cook (Bon Iver, Kevin Morby, The War on Drugs) and R.M.B.—the production trio of Rateliff, Pat Meese and James Barone (Beach House). In addition, the track "Slow Pace of Time" features The Preservation Hall Jazz Band's leader and clarinetist, Charlie Gabriel.
"We loved this song on The Future, but man, is it hard for us to sing live," Rateliff said. "Not just me, but Pat Meese (drums, percussion, keys) and Mark Shusterman (organ, keys) are screaming their harmonies. So, we wanted another version to add to some of the other song we held back from the full length."
Rateliff continued, "I gave it over to Bradley Cook and Phil Cook…Phil arranged the piano part he wrote around just my vocal and added a simple clap. Pat, Mark, and Luke Mossman (guitar) added some extra sounds to Phil's arrangement while we were on the road, along with shaker and cabasa from Matt McCaughan. I love the way this version turned out."
After the impending EP drops, Rateliff and his band will embark on an extensive European tour before returning to the United States in mid-July. Once they're back, the group will participate in a handful of festival appearances, making the rounds at the Fairwell Festival, Sea Hear Now Festival, Pilgrimage Music & Cultural Festival, Sound On Sound Music Festival and Oceans Calling Festival. 
Visit their official website to learn more about Rateliff & The Night Sweats' upcoming tour. 
Pre-order What If I now. Stream the title track below. 
Tracklist What If I: 
1. Buy My Round
2. What If I (Cook Brothers Version)
3. That's Your Opinion
4. Slow Pace of Time (featuring Charlie Gabriel
5. Suffer Me