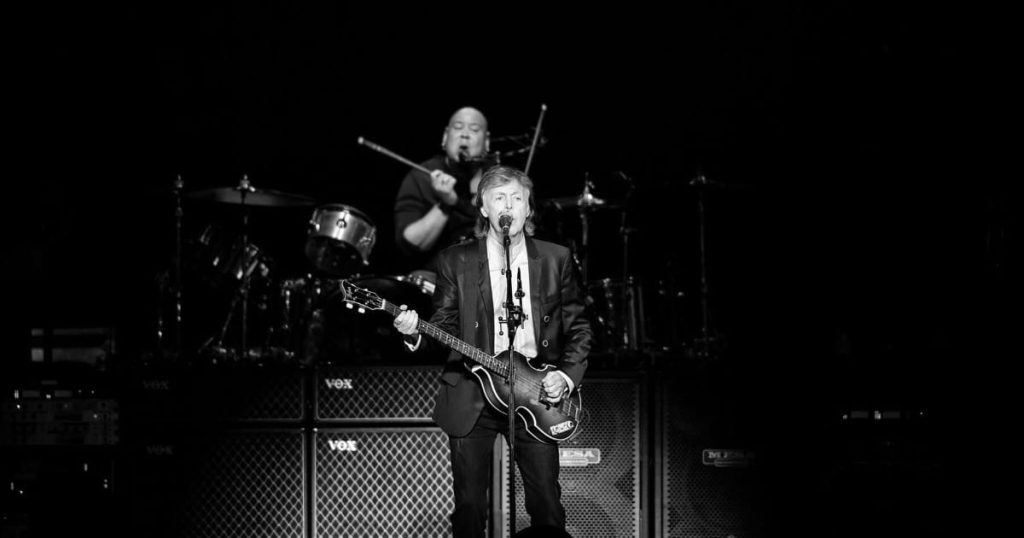 Photo Credit: Marc Millman
Last night, Paul McCartney took his Got Back tour to the Adelaide Entertainment Centre in Adelaide, Australia. The midweek gig represented the kick-off for the current regional run, which will take place in the Land Down Under through Oct. 28. Wednesday evening's extensive frame yielded special moments, including a bust out of "She's a Woman," last played on June 26, 2004, during the Glastonbury Festival. 
The aforementioned occurrence happened after McCartney started the night with one of The Beatles' best-known hits, "Can't Buy Me Love," followed by a pair of Wings cuts, including "Juinior's Farm" and "Letting Go." In typical fashion, the esteemed bassist did not shy away from opening commentary, which led into the bust out, adding tales from the past and coaxing the audience into what was to come. 
"This is from a long time ago," preluded McCartney to the elated response of fans. He added, "Let's hear it for a long time ago," resulting in another eruption from the crowd and a full-on leap into The Beatles' tune, scribed by McCartney and John Lennon in 1964. 
The song served as a B-side to "I Feel Fine" on the album Beatles '65, eventually reaching No. 4 on the Billboard Hot 100. The song is considered The Beatles first tune to refer to drugs, with the line, "Turn me on when I get lonely" alluding to the group's use of marijuana, as referenced in Mark Hertsgaard's 1995 book A Day in the Life: The Music and Artistry of the Beatles.
Also of note, during McCartney's VIP soundcheck with a paying audience, he performed a live debut of "Find My Way," which appeared on his 2020 project, McCartney III, serving as the artist's 18th solo release. The added set of music also took place on Oct. 18 and included some special instrumental moments a la the artist, who played the bass, ukulele, grand piano, and acoustic guitar during the 13-song display. 
Scroll down to view the setlist from last night's concert. Watch a fan-shot video of the bust out below. 
Paul McCartney 
Adelaide Entertainment Centre – Adelaide, Australia 
Oct. 18, 2023 
Set: Can't Buy Me Love, Junior's Farm, Letting Go, She's a Woman+, Got to Get You Into My Life, Come On to Me, Let Me Roll It, Getting Better, Let 'Em In, My Valentine, Nineteen Hundred and Eighty-Five, Maybe I'm Amazed, I've Just Seen a Face, In Sprite of All the Danger, Love Me Do, Dance Tonight, Blackbird, Here Today, New, Lady Madonna, Jet, Being for the Benefit of Mr. Kite!, Something, Ob-La-Di, Ob-La-Da, You Never Give Me Your Money, Band on the Run, Bet Back, Let it Be, Live and Let Die, Hey Jude
Enc.: I've Got a Feeling&, Birthday, St. Pepper's Lonely Heart's Club Band, Helter Skelter, Golden Slumbers, Carry That Weight, The End 
Notes: 
+ Bust out, last played 2004 
& Virtual video duet with John Lennon