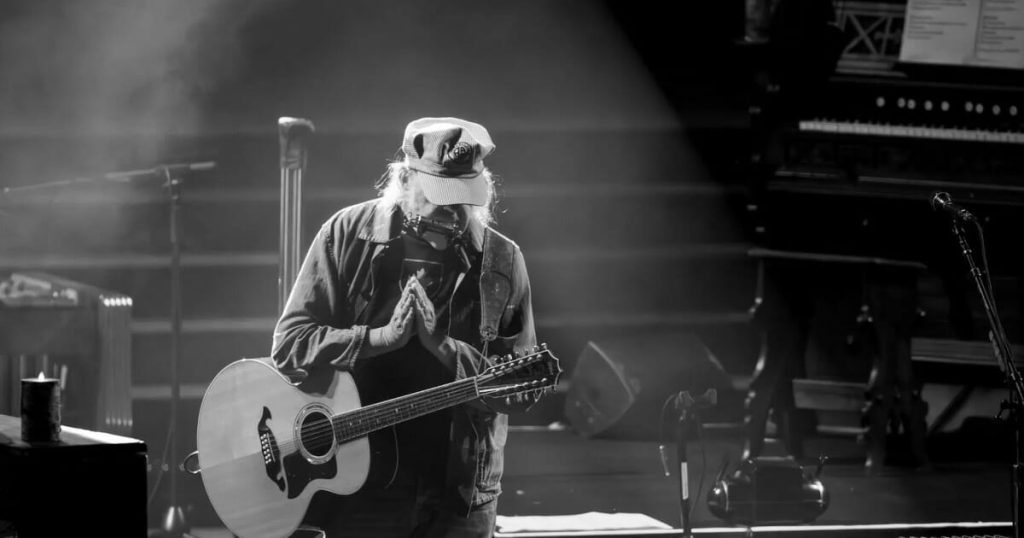 Last night, Neil Young returned to his old stomping grounds, The Roxy in West Hollywood, Calif., to celebrate the long-admired venue's 50th anniversary. Notably, Young and the Santa Monica Flyers served as the opening band during the club's start, and the original sets were turned into Roxy: Tonight's The Night. Beckoning to their shared history, Young and company returned to the location last night, delivering a complete run-through of two famed studio LPs, Tonight's The Night and Everybody Knows This Is Nowhere. 
The lineup of musicians included Young, Micah Nelson, Nils Lofgren, Billy Talbot, and Ralph Molina. Prior to Wednesday night's show, Young teased what was to come, adding a brief clip of the band delivering just a snippet of "Down By The River." See below. The night began with the title track off Tonight's The Night. It continued to present material in the same order it came on the initial record, leading into "Speakin' Out" and "World on a String," followed by "Borrowed Tune" and "Come On Baby Let's Go Downtown." 
Naturally, "Mellow My Mind" unfolded before "Roll Another Number (For the Road)" and "Albuquerque." The group of rockers landed on "New Mama" and then "Tired Eyes," ultimately returning to "Tonight's The Night" to close out the first part of the show. After working through all the songs on the 1975 release album, Young and the band went back in time, picking 1969's Everybody Knows This Is Nowhere as their follow-up. 
Just as the material appeared in the original song list, "Cinnamon Girl kicked off the set," followed by the title track and a special moment with the arrival of "Round & Round (Won't Be Long)," which represented a debut for this unit of players. A jammed-out eight-minute rendition of "Down By The River" came before "The Losing End" and "Running Dry (Requiem for the Rockets)." For the night's final song, the band ran through fan favorite, "Cowgirl in the Sand." 
Neil Young & Crazy Horse return to the storied venue tonight to close out their two-night stand. 
Scroll down to view the complete setlist. 
Neil Young & Crazy Horse 
The Roxy – Los Angeles 
Sept. 20, 2023
Set: [Tonight's The Night] Tonight's The Night, Speakin' Out, World on a String, Borrowed Tune, Come On Baby Let's Go Downtown, Mellow My Mind, Roll Another Number (For the Road), Albuquerque, New Mama, Lookout Joe, Tired Eyes, Tonight's the Night [Everybody Knows This Is Nowhere] Cinnamon Girl, Everybody Knows This Is Nowhere, Round & Round (I Won't Be Long)+, Down By The River, The Losing End, Running Dry (Requiem for the Rockets), Cowgirl in the Sand 
Notes: 
+ Debut